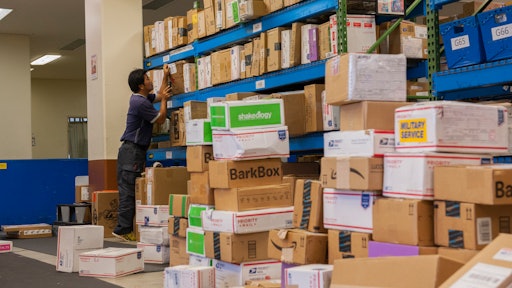 There is no doubt that the holiday season is a peak for retailers' sales, providing an opportunity to make serious money, gain new customers and move inventory. According to Deloitte forecasts, U.S. retail holiday sales are on track to rise 4 to 4.5 percent from the 2016 shopping season. Furthermore, e-commerce sales are expected to hit between $111 and $114 billion during the 2017 holiday season.
The flipside? While digital shopping surges, so do returns. So much so, that UPS declared a National Returns Day and, on Jan. 5, 2017, 1.3 million packages were shipped back to retailers in a single day. Despite the explosive growth in e-commerce, many retailers are still not putting enough emphasis on developing and implementing efficient return strategies. As a result, failure to offer customers a seamless and frictionless return experience may result in consumer backlash and loss of sales.
Return policies are no longer just part of a company's back-room logistics strategy—they're now a valuable lever for brand equity. Amazon, Nordstrom, and Zappos are largely known for leading the way with return policies that are as simple as their purchase process, and shoppers have taken notice. In today's highly competitive retail market, attractive return policies and quick processing is essential to win over new customers, keep existing ones loyal and, ultimately, turn a profit before, during and after the holiday season.
So then, what does efficient return processing look like? While the use of intelligent logistics technology offers part of the solution, return policies must be "human"—personalized, simple and aligned with the needs and expectations of everyday consumers. To provide more detail, here are eight return processing tips online retailers need to consider in order to improve on and ultimately gain a competitive edge in today's post-Amazon world.
1. Provide a personalized return slip.
While providing a personalized return slip may sound counter-intuitive, making it too easy for the customer to return, this simple gesture is the first step to excellent customer service. The label can include customer and item data pre-filled so the only step necessary for the customer is to indicate why the item is being returned. The more steps the customer has to take in the return process, the greater likelihood for complaints and, ultimately, disassociation with the retailer altogether. If possible, provide the personalized return slip in both paper and electronic form.
2. Add a pre-paid return label on the shipment.
Return labels play a critical role in the return shipping experience for shoppers but are often overlooked. Providing a pre-paid return label in or on the original packaging dramatically cuts down on consumer frustration. To make return management even simpler, add a tracking ID number to the return label so that both parties can follow-up on the status of the return shipment. Much like a one-click purchase experience, a quick-drop return process is beginning to be industry norm.
3. Make the return process as transparent as the order process.
Even today, there are still ecommerce players who make the return process as difficult as possible for shoppers by hiding (or not even listing) their return policy for orders, not providing status updates immediately by email, or not notifying the customer when the returned goods have been received. Customer service cannot be deliberately neglected, and constant communication of status should be on the forefront of retailer's minds, no matter what stage the order is in.
4. Speed up your return processing.
To build confidence and rapport, the shopper should be informed immediately when the returned item has been received. Speed is on the side of the retailer as well; goods need to be seen as available in inventory and approved for sale to generate revenue. The quicker the returned item is checked for integrity and re-introduced into the system, the faster sales soar.
5. Keep goods handling and customer service separate.
If the high majority of returns are managed using a standard process, they won't need to be reviewed by a customer service agent. The small number of returns that do need special treatment, then, can be kept separate for customer service attention. By splitting the returns process this way, most returned goods can be put back into inventory much faster, and even shipped more quickly if ordered by another customer. For example, by providing an online portal where consumers can initiate a return, the retailer knows from the moment the return is created what items to expect to receive and when. With real-time knowledge of future inbound returns, the retailer can better manage inventory as returned items won't be available for purchase given they are on their way to the warehouse. While a standard approach may not be applicable for all types of retailers, most will benefit from minimizing the activity of customer service staff in the returns process.
6. Use automation.
Two areas where retailers can speed up the returns process using automation are reimbursement and inventory management. After a return is processed, the amount owed to the shopper should be automatically reimbursed or credited to the credit card or PayPal account. Also, new inventory should be updated immediately via a warehouse management system in the online store and all sales channels to establish the opportunity for the next sale.
7. Minimize exceptions and come up with goodwill rules.
A simple return policy with minimal exceptions helps to keep shoppers happy and make them more apt to come back. It also helps customer service representatives have clear rules to follow and be prepared with the knowledge and competence to decide independently on next steps for a return. When rules are unclear or exceptions are extensive, complications are bound to happen, which may lead to the loss of a sale and/or a customer.
8. Consider returns as an important customer service practice.
One could argue that the "return" burden has lifted off of consumers' shoulders. Today, it's become the responsibility of the retailer to offer convenient and simple return options for customers. The bottom line is that customers care about returns. Retailers that provide a complete end-to-end customer service experience incorporating flawless returns processing are more apt to see repeat customers and increased revenue.
This holiday season, returns won't just be par for the course—retailers will likely see return volumes reach levels like never before, and they need to be prepared to accommodate the surge. Smart e-commerce players who take these tips into consideration will be ahead of the curve with a more sound, common sense return policy and processing strategy that can help them reach—and stay in—the black this holiday season.