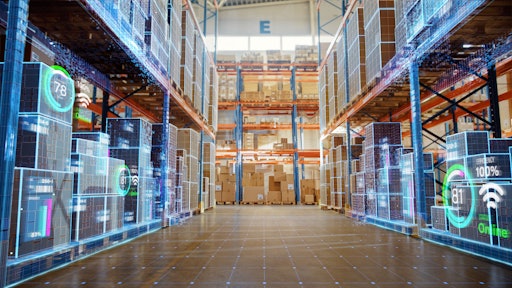 Gorodenkoff AdobeStock_465501008
The implementation of automation in the warehouse is a crucial step in increasing safety, productivity and process efficiency; reducing operational costs; and optimizing warehouse space.
These objectives are top priority for almost every warehouse manager no matter the industry, yet when it comes to automation, we still have a long way to go.
In fact, according to Lisa Chai, partner and senior research analyst at ROBO Global, 80% of warehouses today have no automation at all. Another 15% have some automation, while a small 5% have implemented more advanced technologies.
Despite these numbers, many industry experts believe we will start to see an increase in adoption over the next 5 years, driven by several trends, including an ongoing labor shortage, a more integrated warehouse and the introduction of better and more affordable solutions.
Labor shortage is driving adoption
The logistics industry has been plagued by a workforce shortage for years. While many efforts have been made to attract workers such as increased wages and added incentives like sign-on bonuses and tuition reimbursement, warehouses are still struggling to keep up with demand.
"Working in the warehouse is not the sexiest occupation, right? There are very few folks that go into that with long-term aspirations of being a warehouse picker, so there's super high turnover," explains John Santagate, VP of robotics for Körber Supply Chain Software, adding that in addition to low availability of workers, competition for those workers is incredibly competitive.
Earlier this year, Berkshire Grey released its 2022 State of Retail & eCommerce Fulfillment Report, which found that more than half of executives they surveyed (57%) believe labor shortages have hindered their ability to meet demand. While close to two-thirds of executives (60%) said they were planning to increase hiring to improve fulfillment costs, half of the executives said they are also planning to improve internal processes (52%) and increase investments in warehouse automation (47%).
Without the ability to fill their workforce, automation is rising to the top of solutions.
"Our customers simply can't find the labor force they need to get goods to their customers," says Chris Geyer, VP at Berkshire Grey. "In the words of one of our customers, 'The labor pool just does not exist.' And they can't retain the labor they do have. Some of our customers have reported 300% turnover. That's three people per year for any given role. Many of our customers' shipping volumes have been growing year over year, but the population isn't growing, so lack of labor is an existential threat to these businesses and is the No. 1, 2 and 3 factor leading to interest in warehouse automation."
Software will integrate the warehouse
In today's typical warehouse, each technology or solution is often individually linked to the warehouse management system. This creates operational silos and makes any type of data analysis a manual headache.
In the next 12-18 months, Santagate predicts a trend toward warehouse execution technology consolidation. This means warehouses will be able to orchestrate, execute and standardize across a broad range of technologies using one software platform.
This integration of technologies into a singular interface tied to a warehouse management system (WMS) is a huge step toward a more optimized supply chain, and Santagate notes it will be a major driver toward the commoditization of technologies.
Amy Gracia and Nilopal Ojha, lead research analysts for robotics and automation at BIS Research, note that the availability of sufficient support services will remain critical in the deployment of automated robots.
"If the maintenance/repair of robots takes longer timelines, the warehouse operators will delay or reduce the number of robots on account of time delay and associated disruptions. The suppliers of warehouse automation solutions will need to provide sufficient support and training to their customers for a market wide uptake of these emerging technologies," Gracia and Nilopal say.
Innovation moves full speed ahead
The level of innovation in the warehouse automation space is reaching a pinnacle, with better and more affordable solutions hitting the market every day.
"Innovation is the highest I've ever seen it…Customers are happy, and we are starting to see some type of standardization coming into place," says Chai. "ROI is getting shorter. It used to be 24 months-plus, and now it's down to about 18 months for most of these automation and robotic solutions. And maybe in the next year or two, ROI will go down to 12 months, and that's really going to be a driver of adoption."
Chai adds that while companies often are hesitant to be early adopters, we are now entering a period of time where the early adopters have helped to solve a lot of the challenges of early automation solutions.
"We are coming to a place now where [companies] are more educated…and we have service providers that are educated and familiar with technologies that can install and educate the customer. We have a lot of things still being worked on. I wouldn't say we are there yet in terms of all the robotics solutions being adopted, but we are getting there," she concludes.
Here are four areas of innovation to keep an eye on this year:
A. Mobile autonomous robots
The case for autonomous mobile robots (AMR) is growing as warehouses work to keep up with demand. AMRs are devices that can move around in an active environment without any type of guidance mechanisms, working alongside people in the same aisles.
Santagate says the appeal of these robots is that they can "be deployed into a facility without having to break down your racks and create new workspace for them."
With the traditional approach to automation where equipment is bolted to the floor, there is little to no flexibility.
"What we're seeing now is the evolution to more flexible forms of automation, leveraging mobile robotics that allow an organization to deploy automation without the fixed infrastructure, therefore the cost of the fixed infrastructure, and therefore enable scalability over time," adds Santagate. "Instead of building a facility to support demand for five years down the road, you build for the current 12-month period, and then increase your deployment of the technology incrementally as you start to see demand growth."
Mobile robots also create a multibody approach in a picking environment, which "allows you to decouple the worker from the work itself," explains Santagate. "The worker doesn't have to walk up and down every aisle anymore to do their work. Instead, the worker stays in a smaller zone and picks to the robots as the work is brought to them. It's truly transformative."
Santagate adds that beyond the boost to warehouse productivity, AMRs make training faster and easier.
"You can get trained up on how to pick with these robots in under an hour. In fact, you could walk up to it and be full speed in an hour in your first interaction with one of these robots," he notes.
Chai adds that self-driving drones are another great use case for AMRs in the warehouse.
"The infrastructure is changing. The fulfillment center physical layout is getting smaller, but it is also getting very tall. The average warehouse is now 50 feet tall. That means a warehouse worker now has to climb up on a ladder. What if they don't want to? Then you need a drone to fly around and scan everything on top," she explains.
B. Picking robots
According to Chai, the biggest investment in the next year will be in picking robots that can move goods as fast as possible.
"Sorting and picking and moving is very, very labor intensive and most people don't want to do it, but robots can do it faster because it loves to anything very manual. That's an area we are seeing massive growth," says Chai.
C. Artificial intelligence
There are a lot of promising technologies backed by artificial intelligence (AI) entering the market, and according to Chai, everyone wants it.
"Everyone wants the intelligence. They want to be able to predict what and where and how much it's going to cost," she explains.
AI promises the ability to do just that by predicting and forecasting trends, breakdowns and financial impacts.
And while the technology is not quite there yet, Chai says the future is bright for companies hoping to capitalize on predictive logistics.
Cost remains biggest barrier
With traditional automation the high initial cost and availability of space continues to be a major hurdle for many warehouse operations. For example, the setup cost of robots for an average warehouse operation ranges from $2-4 million for 50-100 robots to $15-20 million for 500-1,000 robots in a large warehouse operation, according to research from BIS Research.
However, a more modern and flexible approach to automation is emerging as a more attainable solution for automation adoption.
"A lot of companies don't want to fork out a lot of money for capital goods," says Chai. "We are seeing companies say, 'I love it, but I can't afford it so what are some payment plans?''
The solution is financing and leasing options such as robot-as-a-service (Raas), which allows companies to lease a certain amount of robots over a set period of time rather than making a large up-front purchase.
"Now, instead of having to spend several million dollars on an automation system, you could spend $150,000 per year for flexible robots that are delivering 200-300 percent productivity improvements," explains Santagate.
Geyer further points to the potential RaaS offers for small- and mid-sized companies looking to invest in automation and remain competitive with the largest players.
"Typically, smaller operators don't have the capital needed for expensive automation projects or will outsource logistics to 3PL firms, but robots-as-a-service offerings from BG and others give these smaller operators access to automation," he explains. "They don't have to put capital up front. They pay subscriptions for modular automation. That allows them to be cost-competitive and maintain control over their operations."