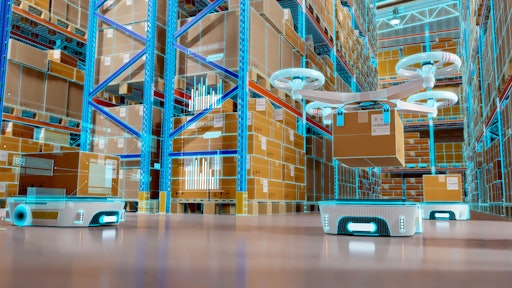 Yingyaipumi/stock.adobe.com
Warehouse automation is at a crossroads. Despite the immense promise of robotics and other automated systems, the technology is only deployed at a fraction of facilities around the United States.
Gartner's 2022 Hype Cycle for Supply Chain Execution Technologies places warehouse solutions in the Trough of Disillusionment category, where interest in the technology wanes due to implementation and experimental failures. Yet, market watchers such as Logistics IQ project rapid growth, with warehouse automation anticipated to reach $30 billion by 2026, growing at an annual rate of 14%.
So, which is it—poised for rampant growth or bound to fade into the background of technology innovations, at least for now? Neither extreme is necessarily true. Still, supply-chain issues, labor shortages in recent years and proven benefits of solutions like Autonomous Mobile Robots (AMRs) have spotlighted automation's potential.
But for warehouse automation to achieve mass adoption, organizations must change their approach to it, and how they think about it. The industry won't achieve projections like those made by Logistics IQ until warehouse automation's software and workflow problems are fixed.
Automation Isn't a Simple Solution
What do software and workflow challenges look like in practice? For many warehouses, these roadblocks occur when teams attempt to implement new robotics and software into legacy workflows. These teams believe automation will answer every bottleneck, address every use case, and serve as a 1:1 replacement for human workers. But robotics shouldn't be confused with magic. These technologies involve complex systems, and most machines and devices don't have the brains to adapt to every use case in a warehouse.
To layer on challenges, warehouses also are evolving, multi-faceted ecosystems, and no two sites are the same. Each one has thousands of combinations of load sizes, aisle widths, human-to-machine interfaces, layouts, legacy technology and other unique characteristics that make any one-size-fits-all approach to automation impractical.
Software Can Adapt Systems to Workflows
The key to addressing all the variables in warehouse settings—from the mix of legacy technologies and differing transport needs to the various use cases and obstacles—is flexible software and workflows. Moving forward, warehouse teams must implement automation with a software-first approach that prioritizes human workflows.
This approach requires a mindset shift in how the industry thinks about robotics. Successful organizations will work with warehousing and supply chain logistics companies to deploy software that makes it easier for:
Humans to work alongside, deploy and manage robots. Automation can save on labor costs for an organization, but it's important to note that robotics will complement, rather than replace, humans in most situations. The increased efficiencies resulting from automation can allow a company and its employees to grow, creating more jobs and new opportunities – but working together needs to be easier, intuitive and simple. Consumer-like touch screens and interfaces can help eradicate challenges here.
Robots to adapt to varying/non-standard pallet, aisle, load sizes and other variables. Software enhancements can, for example, enable an Autonomous Mobile Robot (AMR), such as a pallet jack, to learn how to adjust to different pallet sizes, designs, heights, and weights over time.
Humans to be in-the-loop at many stages of automation. An essential part of automation is planning, which involves input and feedback from the entire organization, especially human workers on the shop floor. Orchestration software can help organizations streamline operations, determine the best assignment for humans and machines and adjust to variables during day-to-day operations to increase throughput and productivity.
Teams to focus on workflows over robots. Companies need to stop thinking about robots as equipment and start thinking about automation as systems that can be adopted to most common workflows (not just corner cases) and scale with the changing needs of modern operations. Just because a team has always done cross-docking or picking and putaway one way with manual drivers doesn't mean it should look the same with automation.
Flexibility Is the Key
The potential advantages of automation in warehouses are undeniable—it can increase the efficiency and accuracy of filling orders, for example, eliminating common errors in picking and packing. It can increase employee productivity and enjoyment by making them more efficient and enabling them to focus on higher-value tasks. And automation can improve safety by taking over risky or exhausting jobs from employees.
To take warehouse automation to the next level, we need to infuse flexibility into everything, especially software and human-to-machine interfaces. That involves planning, understanding an organization's human workflows and having robotics solutions equipped with advanced software to enable their systems to thrive in dynamic environments.