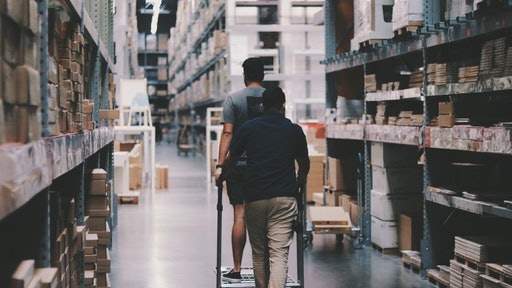 Pexels Alexander Isreb
As customer demands increasingly shrink order cycle times, the warehouse has emerged as a critical success factor in supply chain excellence. But, how can you ensure that your warehouse is up to speed so to speak? Here's how to ensure that your warehouse is not only cost-effective, but also able to satisfy customer demands now and in the future.
Every organization that operates a warehouse (or warehouses) carries out a similar set of processes. These include:
» Tracking inventory deployment;
» Receiving, inspecting and storing inbound deliveries;
» Tracking product availability;
» Picking, packing and shipping product for delivery;
» Tracking inventory accuracy; and
» Tracking third-party logistics storage and shipping performance.
Yet some organizations spend far less to carry out these processes than others. APQC's analysis of data gathered from more than 1,400 organizations finds that top performers spend $2.31 per $1,000 in revenue to operate warehousing, while bottom performers spend nearly six times more at $13.33 per $1,000 in revenue. These dollar figures appear deceptively small, but can add up quickly. For example, a top performing organization with $5 billion in revenue will ultimately spend around $55 million dollars less than a bottom performer to operate its warehouses.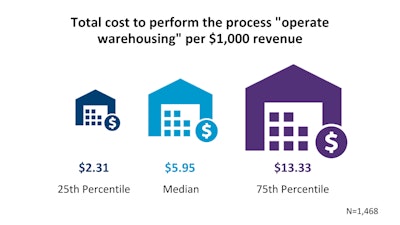 Improving warehouse performance is a worthy investment for ensuring your supply chain can deliver orders flawlessly. However, it's critical to ensure that investment is as wise as possible. It's not just about pouring more money into warehousing, nor is it a matter of slashing costs to almost nothing. Instead, your goal should be to ensuring that your organization has effective and efficient warehouses that help you achieve your business goals.
There are a wide variety of factors that can impact the cost of warehousing, from process inefficiencies to high employee turnover and beyond. For that reason, it's important to take a holistic view of your warehousing processes as well as the physical space of your warehouses to find improvement opportunities that can help drive cost effectiveness and greater efficiency.
Optimize processes
Scrutinizing your warehousing processes for redundancies and bottlenecks can reveal improvement opportunities with the potential to reduce costs. To find these opportunities, it's important to look not only at digital processes and workflows, but also physical process flows within the warehouse. For example, many organizations use separate packing and shipping stations, which adds extra time, extra steps and extra cost to the process. Multi-carrier shipping systems now available on the market can integrate directly with an organization's enterprise resource planning (ERP) system, which means that the same employee can pack the box and then print and attach the label at one station. Looking around the physical space of the warehouse (or hiring a consultant to do so) can reveal opportunities to optimize shelf space, determine the most efficient routes to take, recalibrate the height of shelving or make other changes that enable more efficient picking and shipping.
Empower people
Labor is one of the biggest contributors to warehousing costs, which means improvements toward greater efficiency can pay off appreciably. Leading organizations empower their employees with the right training, tools and technology, and it shows. APQC finds that top performers use about 14 full-time equivalents (FTEs) per $1 billion revenue to operate their warehouses, while bottom performers use nearly six times as many FTEs at 83.
If you find yourself in that latter category, don't underestimate the importance of employee satisfaction and engagement. When employees feel disengaged (whether because of pay, working conditions or something else), they are more likely to look for work elsewhere—especially in today's labor market. High turnover drives labor costs higher as part of a vicious cycle, not only because of the cost of a new hire, but also in the time it takes for new employees to become proficient in their roles. Even as you work to ensure that managers are on the floor training employees, providing them with meaningful feedback and setting realistic stretch goals to boost performance, you should also work to make sure employees feel recognized and valued.
Invest in integrated technology
Investments in new warehousing technology do cost money up front but can lead to big savings down the road. For example:
» Wearable technology like smart glasses can give employees the information they need at a glance, improve time to competency for new hires and leave their hands free for faster and more efficient picking.
» Internet of Things (IoT) sensors can provide real-time data about everything from the condition of inventory sorting equipment (which can help organizations avoid unplanned downtimes) to product location and warehouse temperature (which helps to prevent loss and spoilage).
» Warehouse management systems (WMS) include tracking, documentation and reporting features that provide a single, integrated platform for warehouse management. These platforms can help reduce costs because they provide greater visibility into products while allowing organizations to measure and track warehouse efficiency.
In general, APQC has found that real-time visibility into materials and products provides several benefits. For floor-level employees, real-time data gives them the ability to make quick decisions on where to find and store materials. For decision makers, it gives them confidence to make informed decisions on how to move product efficiently. Real-time data on incoming and outgoing materials enables organizations to identify and act on opportunities to cross-dock or merge in-transit shipments.
Consider more sustainable practices
Adopting more sustainable practices for your warehouse can also lead to savings. For example, better insulation and automatic lighting systems can reduce energy-related costs, while purchasing used containers (like metal bins, wire baskets and pallet containers) can promote re-use and help the bottom line. Packaging is another potential high-impact area when it comes to improvement. Using a larger box than necessary for an order not only means higher shipping costs (now that many shippers use dimensional rather than weight-based rating) but also more filler material and more waste. Reducing unnecessary packaging as much as possible will ultimately reduce both waste and shipping costs.
Take action
Reducing warehousing costs is rarely a matter of optimizing a single area like labor or technology. To lower costs in a sustainable and impactful way, you'll want to look across all of these areas and develop a multi-pronged solution that addresses people, process, technology and the physical environment of the warehouse. While there is no single "best practice" that will lower costs for everyone in the same way, there are many proven strategies to lower costs that can be adapted to your specific context. Consider what works best for your warehouses and don't be afraid to make investments today (whether in new technology, employee development or more efficient heating and cooling systems) because these will pay off down the road in a more cost-effective warehouse.