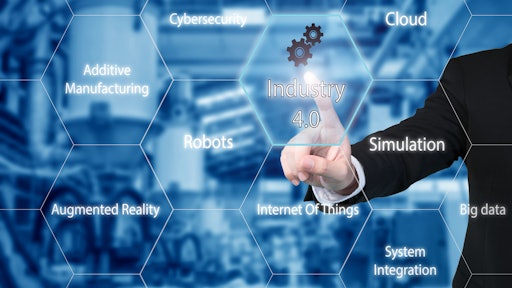 ake1150 AdobeStock_117005033
A whopping 57% of small and medium-sized supply chain businesses have experienced an increase in sales during the Coronavirus disease (COVID-19) pandemic, and they're looking for ways to take advantage of that opportunity, according to a recent survey conducted by BizTechInsights on behalf of Zebra Technologies.
This sales growth is likely caused, at least in part, by the e-commerce boom, as supply chain-related businesses benefitted from a 42% increase in e-commerce in 2020. And, more than half of shoppers report they are likely to continue their e-commerce spending habits post-pandemic.
One way supply chain companies can cost-effectively adapt to this growing demand is by automating their operations. In fact, when considering a warehouse solution, 66% of small and medium-sized businesses surveyed say they want a solution that helps them achieve partial or full automation in the next few years, according to BizTechInsights and Zebra Technologies. But, many are unsure where to start.
Fortunately, most automation technologies are more affordable today than they were even a few years ago, making them accessible for supply chain operators of all sizes. The most expensive or advanced solution is not always the one that will deliver the best return on investment (ROI) for small and growing companies. Those constrained by smaller budgets can achieve a faster ROI by taking a step-by-step approach, one that begins the automation process by putting the right tools into workers' hands.
Step 1: Assess the efficiency of existing operations
Supply chain companies can start by assessing their existing inbound, outbound and internal operations to search out inefficiencies. For instance, determining areas in which operational goals are not being met and if workers are struggling to manage an increasing number of stock-keeping units (SKU) could help prioritize certain types of technology investments. Other considerations should be made, such as whether customer expectations for quality and speed are being met, as well as common tasks that could – or should – be accomplished faster than they are today. Furthermore, if companies anticipate growth in operational volumes or complexity, that should be factored into decisions. It's important to identify limiting and ineffective technologies that may be older and not as impactful as workflows need to scale.
Step 2: Search out solutions that increase worker efficiency
One of the fastest, most affordable ways to increase productivity is by arming workers with technology that is easy to use. This means that small and mid-sized companies can improve ROI by finally ditching the green screen. Legacy mobile operating systems (OS) and green screen applications are outdated and archaic to today's workers who expect intuitive technology.
Many warehouse operators have upgraded to rugged, enterprise-grade devices that support the Android OS. These devices provide a user-friendly interface that dramatically reduces training time. They support instant communication between workers in all areas of operation and faster, touchscreen-based data entry. Many also offer built-in barcode scanners that can consistently read 1D/2D barcodes and even multiple barcodes on the first scan, even when labels or packaging are dirty, damaged or far away.
Rugged Android devices also offer Bluetooth connections to mobile printers that workers can carry with them at all times, so they don't have to travel between industrial or desktop print stations to ready a package for shipping. Using mobile printers, workers can electronically manifest orders by printing shipping labels at the point of pick.
In addition, warehouse technology professionals can easily integrate handheld mobile computers with wearable devices such as heads-up displays that provide workers with visual instructions to help them pick faster and simultaneously complete multiple picking and replenishment tasks.
Step 3: Find ways to improve overall workflow
After providing productivity-enhancing devices to workers, it's time to look at improving overall workflows. For example, smart robots – once thought of as a "big companies only" solution – are now going mainstream. With advancements in sensor technology, integrating robotics automation into operations no longer requires creating an expensive "human free" area filled with conveyor belts and other high-cost equipment.
Instead, autonomous mobile robots (AMR) can now navigate warehouses filled with people and equipment and easily integrate into existing workflows to take over tedious and labor-intensive tasks like materials transport. AMRs also free up human workers, allowing them to focus on higher value tasks they wouldn't otherwise have time for.
Step 4: Select technology that can grow with your business
Because AMRs no longer require huge infrastructure investments, small to mid-size warehouses can easily expand their use of robotic technology as their needs grow.
For instance, a warehouse operator might start by equipping its workers with Android-based mobile devices that support faster data entry and better communications. But, as e-commerce continues to grow, operations supporting 100 lines of picking a day might need to expand to support 100 lines a day per worker, and warehouse operators might want to invest in wearable technology that helps workers simultaneously pick multiple orders and replenish shelves. Next, they may look into "hiring" AMRs to automate as many time-consuming tasks as possible. Just remember, it's critical to have a partner that can serve as a strategic advisor as technology needs change.
Savvy supply chain players are embracing automation
In the BizTechInsights survey, more than half of respondents (57%) said their biggest warehouse management challenge involves "ensuring workers have the right tech tools to be efficient and accurate." Smaller supply chain companies that take a focused approach to automation can reap tremendous benefits by deploying solutions that are designed to cost-effectively solve a specific operational challenge. These solutions allow companies to increase efficiency, boost productivity and make smarter business decisions, and ultimately realize a faster ROI on their automation investments.