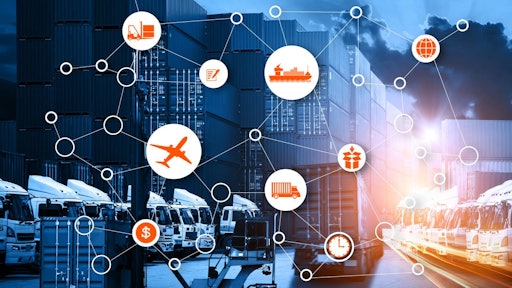 Today marks the halfway point of SCN Summit: State of the Supply Chain week, a full week devoted to knowledge, education and networking about all things supply chain and logistics.
One of the many things I personally love about SCN Summit is the educational aspect it delivers. It's not every day you can sit down with industry experts to discuss heavy hitting topics. And, unlike traditional webinars, these are live video webcasts, accompanied by interactive PowerPoint slides, poll questions, videos, Q&A with the audience and more. Every session is different, yet brings the same quality content each and every time.
Check out the schedule of events for this week, and CLICK HERE to register!
MONDAY, JUNE 7, 10:00 A.M. CST – EXECUTIVE OUTLOOK ON SUPPLY CHIAN TRENDS
Maintaining ROI During Supply Chain Disruption
Supply chain management is complex. That's why supply chain leaders often look to technology to proactively manage disruptions such as pandemics, natural disasters, regulatory changes, geopolitics and more.
Elizabeth Connell, senior director from Thomson Reuters; Suzanne Offerman, senior proposition manager at Thomson Reuters; and Jeff Rohe, VP of product management at Infor, will provide insight on disruptions and the implications of these challenges, future trends and how supply chain managers will need to react to protect profitability.
MONDAY, JUNE 7, NOON CST – WORKFORCE DEVELOPMENT
From recruitment and onboarding to continuous training, workforce development is necessary in ensuring your company has the right people in the right positions doing the right things.
Food Logistics and Supply & Demand Chain Executive editors detail trends and challenges with regards to hiring and training newcomers to the industry as well as upskilling veterans in the supply chain space.
TUESDAY, JUNE 8, 10 A.M. CST – FOOD & PHARMA
Solving the Food Traceability Puzzle with Pieces from the Pharma Supply Chain
The U.S. FDA is proposing additional traceability recordkeeping requirements for its Food Safety Modernization Act (FSMA). This change would enable a faster response to contamination incidents from foodborne illnesses.
Movilitas experts Upender Solanki, managing director, Americas; Mark Highhouse, director of business development, Americas; and Greg McCollum, VP, sales, Americas, will explore how to use best practices and lessons learned from the pharmaceutical supply chain for food traceability.
TUESDAY, JUNE 8, NOON CST – FOOD & PHARMA
Suppliers are hard-pressed with moving temperature-sensitive food and pharmaceuticals in a safe, sustainable and efficient manner. Food Logistics and Supply & Demand Chain Executive editors compare and contrast the movement of chilled and frozen foods with the COVID-19 vaccine and what vaccine distribution means for the future of pharmaceutical supply chains.
WEDNESDAY, JUNE 9, NOON CST – WAREHOUSING
From warehouse automation and cold storage solutions to supply chain visibility and other technologies, Sean O'Farrell, global market development director from Dematic, will unveil what the future of warehousing looks like, and how technology plays into how companies operate.
THURSDAY, JUNE 10, 10 A.M. CST – PROCUREMENT & RISK MANAGEMENT
How to Mitigate Risk with a Single Source of Truth
Today, procurement teams are operating in increasingly complex and uncertain times with high risks of supply disruptions. With current manual systems and processes often falling short of expectations, there is more room for inaccuracies, inconsistencies, risks and data silos. That's why it is essential for businesses to build a strong data foundation to mitigate supply chain risk.
Nick Rose, CFO at Enable, and Kevin Betts, finance manager at Grafton Group, will provide insights into how to create that clear visibility and narrow the gap for business risk.
FRIDAY, JUNE 11, 10 A.M. CST – TRANSPORTATION, PART 1
Your supply chain is only as strong as its weakest link, and sometimes, that's your transportation.
Lowell W. Randel, SVP of government and legal affairs at Global Cold Chain Alliance (GCCA) and Rebecca Brewster, president and COO of the American Transportation Research Institute (ATRI), will discuss how to ensure consistency, safety and efficiency in the transportation arm of your business.
FRIDAY, JUNE 11, NOON CST – TRANSPORTATION, PART 2
The Ins & Outs of Air, Land & Sea
For years, companies have relied on flight, truck, ship and rail to move product from Point A to Point B. But, what happens when a pandemic hits or a natural disaster strikes? What happens when airlines are grounded, a hurricane puts a port on standstill or trucks are forced to adjust how and where they deliver product?
Food Logistics and Supply & Demand Chain Executive editors detail the advantages of each shipping method, how technology facilitates traceability, visibility and quality along the line and how changes in supplier sourcing impact the way companies move product from coast to coast.
SCN Summit is a can't-miss event, so register right now for one, two or all sessions with our multi-portal registration link. Chat live with the speakers. Learn, network and more!
Can't attend live? Don't worry, still register to watch on-demand.
"See" you at 10 a.m. and Noon CST every day this week!