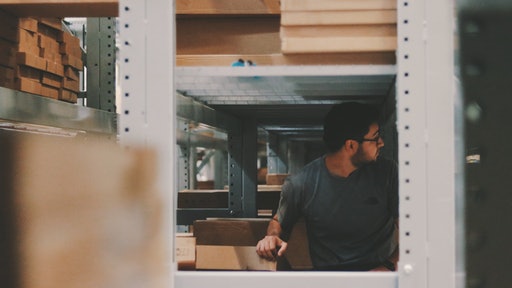 Getty Images
Retailers operate some of the most advanced logistics centers in the world. However, even retailers' distribution centers are facing new challenges with the Coronavirus disease (COVID-19). Everything has changed—from moving inventory to creating space for cross-docking and offloading assets. The increased demand for certain products and the need to ensure social distancing protocols for workers has significantly impacted supply chain processes. To combat this, some of the retail industry's biggest distribution centers are leveraging location data to operate more efficiently as well as address these recent workplace challenges.
Many centers started to prepare for a "supply shock" at the beginning of the pandemic, but very few prepared for "demand shock." Since the onset of stay-at-home orders, the logistics industry has not been able to move stock from Point A to Point B, according to a senior economist at the United Nations' Food and Agriculture Organization. This uncertainty was an industry first.
With the help of location data collected through an Internet of Things (IoT) network housed in overhead lighting, the position, movement and utilization of assets and people can be continuously captured and analyzed. By implementing this technology in distribution centers and warehouses, managers can not only enhance worker safety, but they can also help protect their bottom line and future-proof operations at the same time. According to a Honeywell survey of distribution center managers, roughly one-half of the managers believe an IoT platform will be relevant to their future distribution center operations. These platforms are increasingly being recognized as a way to provide a cohesive look at indoor location and navigation, wayfinding, asset tracking, occupant behavior data and asset analytics -- all data that has become even more critical in a pandemic-led world.
Collecting and analyzing location data can positively impact distribution center and warehouse operations in three major areas.
Worker location
One of the biggest operational challenges that distribution center managers face under normal circumstances is monitoring and understanding employee workflow and activity patterns. Add to that social distancing requirements, the need to monitor employee locations becomes even more important to help prevent congregating in large groups, maintaining six feet of distancing and avoiding worker caps from being exceeded. In addition, as managers focus on short-term needs like staging shifts, redesigning work areas and reconfiguring meeting and break rooms, location data and location analytics can take the guesswork out of operations, enabling managers to monitor employee safety while also improving operational efficiency.
Resource allocation
According to a survey of warehouse and distribution center operations, another challenge managers face is insufficient space to operate within safety guidelines. IoT solutions can help managers better allocate warehouse space with a better understanding of resource usage and utilization patterns across many parts of their facility. Pre-pandemic, there were still operational decisions to be made to provide employees with proper space/equipment to do their job - now there are even more factors to consider in order to provide employees with the needed tools and workspace. Centers already tight on space can use location data to more effectively use and prioritize available space, while maintaining safe work practices.
Sanitation compliance
Since the onset of the pandemic, the idea of "acceptable" sanitization practices has changed. The World Health Organization released recommendations on how to clean workspaces and an Accenture research study notes that customers are increasingly demanding more hygiene and cleaning. Data collecting solutions can help reduce the amount of high-touch surface areas employees come in contact with during the course of a work day. For example, as employees arrive at the facility, location-based technology can recognize their arrival and automatically clock them in without having to touch a computer. This technology can also automatically open doors for authorized employees reducing the potential spread of any germs or bacteria on door handles. Restrooms and common areas can be cleaned on demand, based on true real-time utilization rather than a fixed schedule – further reducing operating costs while improving safety. Adopting these new measures are key to winning and keeping consumers' trust. Putting customers' safety first starts at the distribution center. Again, leveraging location data gives retailers aggregated data showing that policies are being followed.
COVID-19 will leave a lasting mark on the way distribution centers operate by putting a spotlight on worker and customer safety. Distribution centers and warehouses must prepare for the lasting changes this pandemic has brought, and location data is the efficient way to have a full view of your operations and make the necessary changes to help your business thrive and emerge stronger on the other side.