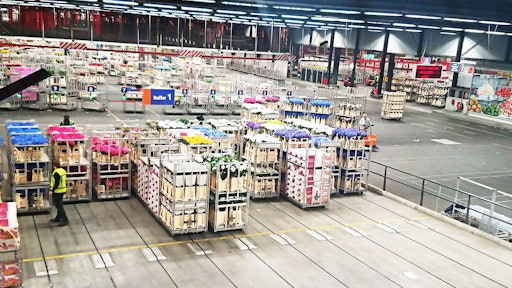 The cold chain is made up of equipment, technology and services that enable the transport of temperature-sensitive products with climate-control technologies and safeguards to protect product integrity. Transporting and warehousing fresh flowers, for instance, require specific temperatures to survive the journey from grower to customer. But the following companies recently demonstrated, in a Georgia Department of Economic Development BioScience media tour, that it can not only be done, but done well, when offering the right mode of transport and technology.
Delta Cargo transports more than 4.5 billion cargo ton-miles annually, including domestic and international flowers. The company touts its Variation Fresh temperature-controlled service—an offering that is ideal for shipping perishables like flowers, which are characterized by a short life span, or rapid deterioration when exposed to extreme temperatures and adverse conditions. The Variation Fresh service comes with a high boarding priority and fast connections.
To deliver flowers to their destination on time and in pristine condition, Delta Cargo needs the capacity and certain capabilities. Gareth Joyce, president, confirms, "Delta Cargo utilizes the cargo capacity of all Delta mainline aircraft globally, as well as a well-structured, temperature-controlled trucking network if needed. We have coolers to support these delicate commodities in our cargo facilities around the world and can provide active, temperature-controlled containers."
Delta Cargo doesn't just move flowers, though; it also offers peace of mind. Joyce says, "We have temperature-control handling codes added to air waybills, so our operations team can handle temperature-sensitive products appropriately. Cargo covers are used, in some cases, to keep the required temperature, while tracking and tracing is possible via DeltaCargo.com."
Seacon Logistics
Seacon Logistics, a logistics service provider specializing in overseas freight forwarding, also handles perishables and flowers. Gé Coenen, senior manager of air and ocean, and compliance officer, says, "We offer a full range of service from import, export, customs clearance, warehousing, value-added logistics and European distribution. Our concept is based on handling cargo via multimodal inland container terminals."
For nearby destinations, Seacon calls upon the help of its partners for road transport, while it offers reefer container capabilities to transport perishables for short-sea and international destinations. If speed is of paramount concern, which is often the case when dealing with flowers, Seacon uses its air-freight operation at Amsterdam Airport Schiphol. "We always choose the best modality in order for the goods to arrive at their destination in the best possible condition," Coenen adds.
Seacon continuously monitors temperatures through temperature-logging devices that are available with a GPS, so it can better control and adapt to temperatures. "In case of overseas services, the Babbler [a wireless, reusable, tamper-evident seal with a temperature log] container security device also could be used, but so far, this device only records data and is not (yet) linked to the refrigeration unit," although Coenen thinks further development is underway.
VersaCold Logistics Services
VersaCold Logistics Services not only operates several asset-based transportation companies, but also a third-party logistics operation with dedicated facilities and assets, such as warehouses and trucks. The company, which transports perishables around the world by air and ocean, handles all kinds of temperature-sensitive products. Thus far, it has only done small volumes of flowers, but that doesn't mean it isn't qualified. When it comes to time- and temperature-sensitive product, such as flowers, VersaCold tends to use air freight. Douglas Harrison, president and CEO, boasts, "VersaCold is the largest temperature-sensitive supply chain company in Canada, one of the top four in North America and one of the top 10 globally."
In order to keep perishables fresh, VersaCold incorporates automated technologies to monitor temperatures on a real-time basis, so it can respond to anomalies quickly to ensure product doesn't deteriorate. "We're very technology-enabled because all we do is temperature-sensitive product. It's an area that requires a real degree of knowledge and investment, specifically around that perishability requirement or sensitivity of the product." Harrison continues, "In time, as the technology is refined, we're looking to be able to allow customers to receive auto alerts, real-time track and trace, and other capabilities, so they can see where the product is, and understand the temperature it's at and when it will be delivered to the receiving location."
According to Royce Aultman Jr., COO of Romark Logistics, "We probably handle the largest propagators in the world." The company, a full-service third-party logistics provider with a fleet of refrigerated equipment, helps coordinate the distribution, warehousing and transportation of propagated material, or flowers. "All of our vehicles are equipped with GPS and temperature tracking, so customers can not only view the position of their product, but also have real-time temperature visibility. That is what we do to ensure timely deliveries without compromising the product," he says.
While the company uses trucks, its primary mode of transportation is air. Aultman says, "Most of the process is like a relay race. The baton is handed to us at the airport when we go to recover the product, which we either pick up and take directly to the customer, or store the product here until it's released, at all times maintaining the cold chain. It's never broken. Flowers are a highly perishable product, so they usually stay no more than 24 hours in our facility—sometimes just a couple of hours."
The company also uses alarm sensors. "Our facilities have 24/7 temperature monitoring with set thresholds," says Aultman. "If the temperature gets close to the threshold, we're alerted via text and emails. We have contingencies [in place] if we do have issues."
Flower logistics is rife with obstacles, but cold chain providers are arming themselves with the right technology and equipment, and their toolbox, as well as their capabilities, are ever-growing.
Companies in this article