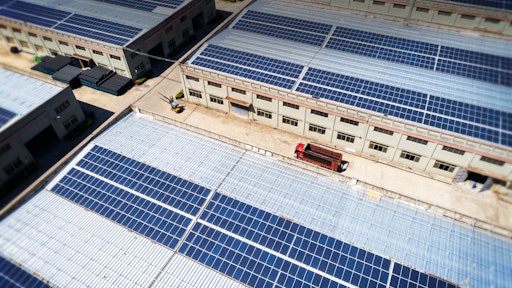 Recycling has become an everyday occurrence and carbon footprints are being left, but not without trace. These issues have also become engrained into corporate social responsibility, but what does this mean for the warehousing sector?
Warehouses may not expel the same amount of carbon dioxide emissions as freight transportation; however, it can be a significant figure and provide major challenges. The growth of e-commerce coupled with consumer requirements for instant gratification has resulted in an increase in the number of warehouses—many operating 24/7, 365-days per year. Fortunately, there are many opportunities to reduce emissions.
Environmental legislation has made carbon the new currency in a 'carbon economy'. This new economy means organizations need to be aware of their carbon footprints, where their emissions come from and how they can reduce them.
The Paris Agreement on climate change contained a commitment to keep the increase in global temperatures to well below 2 degrees Celsius above preindustrial levels. Businesses will have to play a key role in this respect, reducing the emissions associated with their operations and supply chains.
According APL, in order to calculate a warehouse's carbon footprint, there are several helpful primary and secondary sources available. These include government agencies such as the Environmental Protection Agency, Department of Energy, National Institute of Standards and Technology and National Oceanographic Data Center. They also include private or government initiatives such as BREEAM, LEED and EnergyStar.
Many companies tend to concentrate on areas such as lighting and HVAC as they can comprise 37 percent and 30 percent, respectively, of warehouse energy costs.
Using energy efficient LED lighting can reduce a building's electricity usage, saving thousands of dollars every year. There are numerous advantages to LED lighting. LED light bulbs use less electricity than similar fluorescent and incandescent bulbs. They also last longer, with a total lifespan of up to 50,000 hours for high quality LED lamps. They also provide a higher quality, more natural light that creates a more comfortable workplace.
Alongside introducing LED lights, other ways to reduce lighting costs are as follows:
Switching off all nonessential lighting out of business hours
Installing movement sensors, dimmers and timers
Introducing and regularly cleaning skylights and clerestory windows to increase the use of natural light
Switching off internal and external lights when daylight is sufficient
Switching off office lights on exit and introducing motion sensors.
In a recent LED retrofit warehouse project, U.K.-based Minimise Energy replaced 533 400W SON high bay lamps with 140W high bays. Over five years, this provided a 73 percent reduction in kWh energy use and achieved a payback period of 15 months. In year one alone, the cost savings achieved were £84,739 (US$111,627), with a total five-year cost saving of just over £500,000 ($658,652). The carbon emissions saving was 2,469.68 carbons over five years.
As stated in the article "Strategies to Reduce HVAC Use in Warehouses," author Kelsey Raftery says in order to reduce the energy usage of HVAC, companies should use programmable thermostats with time clocks and demand control ventilation. Experimenting with switch on times for heating and air conditioning and switching off the heating well before close of business are other ways of reducing energy usage.
Installing internet thermostats on heaters will allow for monitoring and control of multiple HVAC units that sometimes get left in the heating position even during the summer. Companies also need to consider dividing the building into thermal zones with separate controls based on space function. For example, those undertaking value-adding services within the warehouse are more likely to be reasonably static compared to those areas in which fork lift trucks are operating. Companies also need to ensure the hot water supply is sized in relation to site occupancy, to check insulation levels and increase where practical.
With regard to heating, cooling and ventilation systems, companies should:
Use natural ventilation systems and ventilation stacks.
Introduce atria and automatic window openings combined with automatic control systems.
Introduce passive cooling, such as breathable walls.
Use the effective thermal mass of buildings to reduce cooling and ventilation energy.
Introduce underfloor heating.
Introduce sunlight reflectors.
Use mobile air handling units.
Switch off equipment when not in use.
Ensure all doors are fit for purpose and have sufficient seals to prevent air and water entry.
Ensure dock doors are not left open for long periods of time.
Finally, lowering the temperature by 1 percent could reduce heating bills by up to 8 percent according to the Carbon Trust, a U.K.-based organization helping company reduce carbon emissions.
Although lighting and HVAC systems are the main sources of energy consumption in warehouses and, therefore the areas where companies will concentrate their efforts, the self-production of energy is a serious option for warehouse operators to consider when looking to offset their carbon usage.
For example, Amazon is planning to install solar panels on the rooftops of its fulfilment centers across the world. It will install large-scale solar systems on 15 of its U.S. facilities in California, New Jersey, Maryland, Nevada and Delaware by the end of 2017.
Marks and Spencer, a U.K.-based multinational retailer, has installed the largest single-roof mounted solar panel array of 24,272 panels, generating nearly 25 percent of the energy required to operate its distribution center. With the introduction of other green initiatives, this distribution center has achieved carbon neutrality. It was also partly built utilizing materials salvaged from the old power station that it replaced.
In its sustainability study, DHL reports that wind turbines and the production of energy from biomass can also be a viable way to generate low-lifecycle emissions at an acceptable cost.
There are many other areas where companies can concentrate their efforts in terms of reducing energy usage and therefore carbon emissions, but also reusing and recycling materials.
These include:
The use of ABC analysis to ensure popular items are placed close to the dispatch area and, thus, reduce travel in the warehouse
Reducing unnecessary movement within the warehouse by introducing task interleaving
The optimization of cubic storage space
The use of gas, electric, hydrogen cell or hybrid forklift trucks
Low water uses in sanitary appliances and enhanced water metering
Rainwater collection for reuse in vehicle washing, toilets and the like
Recycling where feasible and cost effective
A move to utilize plastic totes/bins in place of cardboard
Utilization of returnable and reusable plastic or aluminium pallets
In rack charging for narrow aisle trucks and automated equipment
Kinetic energy plates on the access road to produce power from vehicles entering and leaving the site.
During a recent visit to the U.K.-based retailer John Lewis distribution centers in Milton Keynes, it was interesting to see all the waste cardboard produced from supplier deliveries being sent for recycling and the company receiving it back to use in its e-commerce operation.
Miniclipper Logistics has also introduced the following initiatives with regard to recycling and reuse:
Wood, plastic, paper, card and metal is separated and recycled and removed by three recycling companies
Two balers are installed (one plastic, one cardboard) and staff trained to use
Office paper is shredded and used as packing materials in warehouse
No plastic/paper cups in office areas, glass and plastic packaging are recycled
Ninety percent of incoming cardboard boxes are reused for packing despatch items.
As a result, no general waste goes to landfill—a significant environmental and cost saving.
With the growth of e-commerce and the shortage of skilled labor in the warehousing market, many companies have turned to automation as a potential solution. Although requiring energy to power the automation, these systems tend to be more efficient and more accurate than humans. Automated storage and retrieval systems (AS/RS) and mini-load and shuttle systems can all work in the dark and don't require heating or air conditioning.
Lighting is available for maintenance, but the majority of the time these machines work in the dark saving a significant amount of energy. These machines can also produce their own energy as they move up and down the aisles. When an automated machine is in motion, the kinetic energy created from this movement converts electrical energy into mechanical energy that can be used to perform tasks. When a stacker crane stops, its kinetic energy is turned into heat.
There are other aspects, such as encouraging staff to use public transport, staff car sharing schemes, walking or cycling to work. Companies can also consider planting trees and shrubs to assist with the removal of emissions and sourcing materials locally, such as packaging, paper and equipment.
Managers need to continually assess the situation by walking around the warehouse at various times during operating hours and encourage staff to point out areas where energy can be reduced and where there are opportunities for reusing and recycling.
ISO14001 accreditation ensures that companies undertake a full review of their environmental policies and are continually looking at ways to reduce their impact on the environment.
A major challenge across all industry sectors today is ensuring a sustainable supply chain.
Clearly, there are solutions on the market that can help warehouses operate in a more sustainable way. By combining available technologies and solutions in terms of energy savings, heating and cooling systems, and alternative energy sources, a warehouse can be designed that emits 70 percent less carbon than a typical 15-year-old warehouse.
In its research, McGraw Hill Construction found that companies that either built green warehouses or retrofitted green ideas, decreased operating costs by 15 percent and 13 percent, respectively, and attained payback within a maximum of 8 years.
The Carbon Trust emphasizes that "by stimulating resource efficient and low carbon action we contribute to green goals, including the lowering of carbon emissions, the development of low carbon businesses, increased energy security and job creation."
Introducing environmental initiatives can be expensive initially; however, companies can recover their costs reasonably quick and gain access to government grants to assist.
Going "green" makes sound business sense.