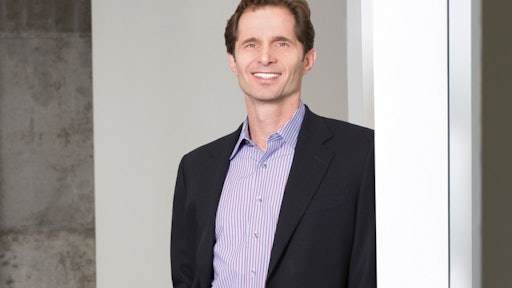 Eric Hills, chief marketing officer at Zilliant, sat down with Supply & Demand Chain Executive (SDCE) to discuss his thoughts on Amazon Dash technology in the warehouse. Hills has 20 years of experience in the design and delivery of innovative front-office technologies, and a deep passion for improving marketing effectiveness.
SDCE: What is Amazon's Dash button and why is it considered a disruptive technology?
Hills: Amazon Dash is—quite literally—a button you can place in your home to re-order daily essentials like coffee pods, detergent, toilet paper or a few shelf-stable foods. Technology like this is disruptive because it gives the buying power back to the consumer, and has the ability to eliminate the need to travel to the store for basic items or order them online. It creates on-the-spot purchasing capabilities, increasing consumer control and eliminating tons of checkpoints that historically guided—or informed—their buying process.
SDCE: What and why do business-to-business (B2B) organizations need to know about Amazon Dash?
Hills: For those who are watching the evolution of Amazon's entrance into B2B, it probably wasn't a wholly comforting announcement. Industrial distributors have to step up their e-commerce channels to compete, otherwise, keeping up with the convenience of the Dash Button is nearly impossible. B2B manufacturers and distributors need to know that the approach shouldn't be to outdo Amazon. They need to focus on the core of their business and define their value proposition to ensure that the customer's needs remains at the center of every decision. While Amazon Dash provides convenience, B2B organizations can provide the customer service and personalization across their channels that customers really need and want.
SDCE: How can B2B organizations step up their e-commerce and omnichannel game to compete with Amazon Dash?
Hills: The B2B landscape is ever-changing and beginning to mirror that of business-to-consumer (B2C). The consumerization of business will continue, so a lot of the things that you see taking place in the B2C market are migrating to the B2B space, and that will only increase as more millennials enter the workplace. Case in point: 74 percent of prospects find buying from a website to be more convenient than buying from a sales representative and 70 percent of the buying decision is made before the prospect ever speaks with the company. e-Commerce giants, such as Amazon, certainly honed this capability, and are causing B2B businesses to seek out B2C-like standards and shopping experiences, especially for tech-savvy B2B buyers. This includes an e-commerce and omnichannel approach to selling.
In order to stay relevant and competitive, B2B organizations need to provide personalization and easily accessible information through their e-commerce sites to ensure customer needs are being met quickly. Across channels—web or in direct interaction with sales rep—buyers expect companies to be able to anticipate their needs with accuracy.
SDCE: How can B2B organizations use predictive and prescriptive analytics to compete with Amazon Dash?
Hills: With technologies like Amazon Dash coming to market, B2B companies have to be more adaptable and nimble than ever before. In order to meet buyer expectations, B2B companies are leveraging advanced analytics to customize buying experiences through e-commerce channels, and to provide sales reps with the guidance about what customers are likely to purchase and what prices make sense to quote in the context of the deal. Customers want their buying experience to be finely tuned to their unique needs from a product perspective, as well as from a pricing perspective. The actionable insights that prescriptive and predictive analytics provide give B2B companies the competitive edge they need when faced with smart technologies such as Amazon Dash.
SDCE: How can B2B organizations leverage pricing models to compete with Amazon Dash?
Hills: In order to remain competitive with the convenience and capabilities of the Dash button, B2B companies must be more strategic about their pricing models. Predictive and prescriptive analytics can help B2B companies establish new dynamic, tailored pricing models that the Dash Button necessitates. Companies that harness the full power of pricing use price optimization software because it is the only approach able to address the massive complexity inherent in transactional pricing. The prescriptive and predictive insights provided by price optimization software shows companies the impact of price changes, and enables them to execute optimal pricing strategies that achieve multiple profit and loss (P&L) objectives. Staying ahead and consistently updating pricing models ensures B2B companies are equipped to perform well alongside the disruptive technologies we're seeing.
SDCE: What kind of data does Amazon Dash collect on consumers? Can B2B organizations mimic this kind of collection? If so, what kind of benefits does this information bring to B2B organizations and how can they leverage it?
Hills: The Dash button uses a home's Wi-Fi connection to collect instant data on the buyer's brand preferences and purchasing patterns. It is also based at the point of need and gathers information on the consumer's consumption rate of a product. This is a strategy that B2B companies are obviously familiar with. Smart companies leverage advanced analytics tools to identify purchasing patterns, and cross-sell and retention opportunities, creating three-dimensional views of customer behavior. This shows what customers were buying, are buying and should be buying, allowing B2B companies to predict purchases.
The Dash button offers some convenient features for industrial B2B companies—both manufacturers and distributors. It gives distributors the ability to reorder consumables from manufacturers quickly. It also presents an opportunity to model the convenience factor into price and manufacturers could use the button to pull end-customer purchase data back through the supply chain.
Companies in this article