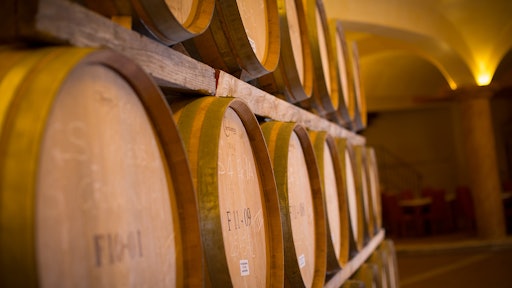 Banville Wine Merchants imports product from Europe and South America, and delivers it to more than 40 states. The New York importer was relying on its third-party warehouse and its fleet—or anyone else the third-party logistics provider (3PL) chose to outsource to—to handle drayage from the port. The rates, however, kept climbing.
"Chassis fees went up first, then congestion fees," says Tim Kealey, logistics coordinator at Banville. "And [the 3PL] would always wait until the last free day to pick up. We always tried to plan for the worst case, but even then we ended up having to push them—every time." Those issues also resulted in late deliveries, Kealey adds.
Banville has a lot of short-haul needs as well, which involves less-than-truckload (LTL) capacity. Most of the freight brokers the company talked to wanted to book full loads, but were of no help with the short-haul deliveries. "We were forced to continue doing business in a way that was neither particularly cost-effective, nor efficient," Kealey explains. "Other people were offering to do the same job, but not for significantly less money and we couldn't risk consistency issues."
The company turned to Cargo Chief, a Mountain View, CA 3PL to solve the problem. Cargo Chief has more than 500,000 trucks via direct carrier relations, more than 40 load boards for posting and capacity matching, dozens of 3PL partners and relationships with multiple corporate-owned fleets. Those connections, along with Cargo Chief's tracking and route optimization technology, as well as its LTL, truckload (TL), reefer, flatbed and intermodal capabilities, made Kealey's choice easy.
In the world of LTL and TL, the carriers often are caught in the middle, while shippers and brokers are doing just fine, according to Russ Jones, Cargo Chief's CEO.
"The large Fortune 100 shippers were accustomed to long-term contracts, fixed pricing and long-term guarantees," Jones explains. "They're willing to be flexible now. Traditional contracts don't work in the new ecosystem that's driving [transportation]." He says the increase in technology and the huge influx of data, used by smart analysts, are changing the game. "Carriers are seeing it. They've been hemorrhaging cash for years on both loads.
"The bigger carriers have capacity and align themselves with the big shippers. The bottom 20 percent are struggling. All small and medium carriers are going to undesirable places. Traditional brokers don't allow that. The carriers are seeing it and feeling it the most. Brokers are doing great. Shippers can get it done, but carriers are struggling with it."
Kealey says Cargo Chief helped him identify a weakness in the system and fixed it. "In the past, our shipments were four or five days late; now they're almost immediate. We do just-in-time delivery, so the on-time delivery ensures we always have safety stock for available inventory. I hate having product just sort of floating out there … which you hope eventually shows up. We were flying blind; now we have fantastic visibility."
A Few Tips
We're in a new shipping environment, according to Brian Brenner, senior vice president of sales at Coyote Logistics in Chicago. He says that market dynamics are "the softest we have experienced since 2009, with loose capacity and moderate demand. As we head into 2016, shippers are asking: When will the market shift? Am I prepared for that shift?"
Shippers need to ensure their vendor partners are prepared to perform in this new environment. The first step, says Brenner, is to ask the right questions, such as:
Are your current vendors experienced in different market conditions?
Are they committed to perform quality work when the market conditions do turn?
"No matter what type of market we're in, customers should look for a provider that strives for the best in quality and technology, and is committed to driving cost out of customers' supply chains," Brenner says. "To avoid any network disruptions when the market shifts, question your long-term alignment, and how you would like to measure success now and in the future."
Measuring success brings us back to data. As Jones pointed out earlier, analytics and big data are changing the game, not only in transportation, but throughout the supply chain as well.
"Data," according to Brenner, "is a key factor in measuring success. Access to transportation data is an ever-present resource in today's transportation world. The ability to gather, interpret and act on this information is more important than ever in protecting and growing shippers' businesses."
Analytics can help predict outcomes and plan for the future. Data can improve supply chain visibility and allow companies to proactively solve gaps in their networks.
"Look for a provider that knows how to build, implement and evolve tools to measure such data in a timely manner," Brenner advises. "Whatever shape the market is in, technology is vital to business success, and is an impactful ingredient in the shipper and transportation provider relationship."
One More Case
Mantua Manufacturing, a 63-year-old maker of bed frames and related products, wanted to focus on its core business. The company decided too much attention was being spent on freight management. Quoting freight shipments, reconciling bills and tracking shipments were not tasks on which the company wanted to spend its time. The goal was to implement a solution that would allow integration into Mantua's internal systems, saving time so that customer service employees weren't spending all of their time keying in freight requests, cost savings and service.
Among the 3PLs and providers that pitched Mantua Manufacturing was Freightquote, which was acquired by C.H. Robinson last year. "When we sent out our requests for proposal (RFPs), we were looking for the best fit for ease of use, time and cost savings, as well as outstanding service," says Kristine Havranek, director of customer relations at Mantua Manufacturing.
While Mantua was ready for an immediate integrated solution, it took about 60 days to install the application program interface (API) of Freightquotes' transportation management system (TMS), eTMS, into Mantua's internal system. However, the company was "able to access and use eTMS manually while integration was completed," Havranek explains. "That was useful in assessing the information that was necessary to share between the systems."
Once the IT departments at the two companies finished their collaboration, the system was rolled out at one of Mantua's six warehouse and manufacturing locations. One other piece had to be worked out, though: Mantua typically worked with drop trailers. One of the carriers Freightquote introduced into the supply chain did not initially supply that kind of trailer, but the situation was quickly rectified.
To ensure that the TMS continues to run smoothly, Mantua stakeholders meet monthly to discuss Freightquote and the specific carriers picking up the freight. "It's time we take to share experiences and keep one another up to speed on what is working and where we'd like to see improvement," Havranek says. "We learned a lot about carrier proficiencies and transit expectations. We found that comparing carriers is much more efficient through the eTMS API than going to each carrier's website for every shipment."