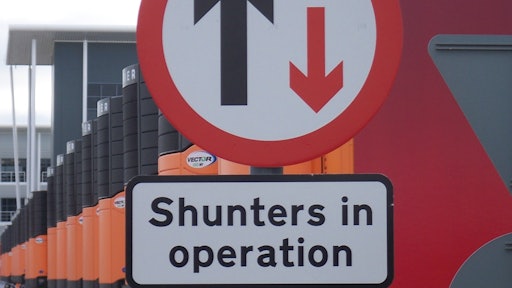 Yard management systems (YMSs) are upping the ante when it comes to transportation and distribution efficiency by automating manual yard processes. Rather than tying up staff with mundane tasks like knowing what and where drivers and inventory are in the yard, the systems plan and optimize daily yard tasks, which helps ensure on-time deliveries, improves inventory and dock management, increases gate throughput and streamlines driver check-ins.
YMSs contain a central control system to store a yard's business logic. "When a load is delivered or a trailer becomes available for loading, the control system creates and allocates the required tasks. The tasks are either allocated through a device installed in the truck or delivered through a tablet/mobile device," says Steve Temple, solutions consultant for Europe, the Middle East and Africa (EMEA) at International Business Systems. "Essentially, automated yard management tools enable real-time tracking and visibility of trailers in your yard. This fills a blind spot that typically exists in supply chain. You generally have an enterprise resource planning (ERP) system that helps you plan resources, a warehouse management system (WMS) that controls your warehouse, and a transportation management system (TMS) that manages the routing and delivery of the end product. There is clearly a disjoint when it comes to trailers."
Much like inventory management in a warehouse, asset management is critical to everything that transpires in a yard. If a yard doesn't manage its assets well, a domino effect ensues, negatively affecting productivity and the bottom line. Greg Braun, senior vice president of sales and marketing at C3 Solutions, offers examples, "Not having sufficient empty trailers on hand at the beginning of a shift delays outbound orders. Therefore, the ability to track, filter and report on assets is significant, not simply for the direct costs, but most certainly for the costly impact mismanagement can have on production and customer fill rates."
According to Temple, if organizations are able to fully utilize assets, such as trailers, they can reduce the number of trailers they need. If companies are not managing their assets, they might request an additional 20 percent of trailers to make up for operational shortfalls and ensure they can find an empty trailer when they need one.
YMSs also increase overall yard throughput by better managing assets, such as dock space, inventory and employees, due to enhanced visibility. "As a yard driver becomes available for his next task, the system establishes the optimal yard move for that driver," says Braun. "This optimization can be realized by making sure an empty trailer that is being released from a door is sent directly to another door that is requesting a trailer, thereby eliminating a move." In addition, Braun says that accurate trailer inventory eliminates drivers searching for trailers. Likewise, yards can further improve driver productivity if they replace two-way radios and clipboards with discrete tasks sent to wireless devices. Dock crews can also improve productivity by minimizing the time spent waiting for trailers to arrive at their door.
Historically, only companies operating large, complex yards with hundreds of trailers to manage invested in YMSs because automating inefficient manual processes over such vast operations achieves a clear cost savings. But that is changing, according to Braun. "Over the past decade, the market for YMS applications has expanded to include a greater diversity of firms," he says. "Some small and medium sized businesses that require logistics excellence to achieve growth are now investing in YMS. These companies are seeking to improve the control, scheduling, and tracking of inbound trucking operations, incoming inventory and overall fleet assets."
Yard Management Automation Solutions
"At a high level, YMSs intend to efficiently manage the yard driver trailer move tasks, provide visibility of trailers in the yard, and properly manage gate arrivals and departures," says Braun. "How each provider achieves these objectives will vary." There is more than one kind of YMS and a range of functionality: There are those included in a supply chain management (SCM) suite, such as a WMS yard module or ERP yard module, or standalone YMSs. There are also standalone systems that can function with or without RFID and GPS positioning devices, and those that are dependent on RFID technology, which requires tag management at gate arrivals and departures.
Yard management modules that come as part of a larger software suite are typically designed to provide basic visibility into yard assets and communicate the simple movement of trailers—from staging to dock door—to get assets to where they need to go efficiently. These software suites also ordinarily include a gate module to enhance gate efficiency and security. Standalone YMSs, on the other hand, offer more functionality, and focus on optimizing yard assets and movements for specific sites. Each yard is different, so standalone YMSs treat them as such by prioritizing how trailers should move specifically in that yard and among that yard's other assets. These systems permit an organization to stipulate exactly how tasks are created and allocated, depending on yard-specific operational requirements. One yard may want to maximize yard driver labor efficiency, while another may want to maximize inventory fill rates. The key differentiator between yard management modules and standalone YMSs, however, is that standalone systems are more robust and flexible for managing the logistics operation.
Temple believes RFID YMSs are trending, especially in yards with more than 50 parking bays and 100 truck movements a day. "Over the last five years, we've seen the re-emergence of passive RFID tags as a technology used to track trailers in larger yards," he says. "The benefit of passive RFID tags is they're little more than stickers with an antenna and small chip built into it, which makes them cost-effective. When the tag comes into contact with the radio waves of the receiver, it uses the radio waves as a power source and starts transmitting its unique code back to the receiver. This does mean that the receiver needs to be relatively close—for example, within 10 meters."
With this in mind, perhaps it's time to take a look out back and see if a YMS could help clean up your yard operations.
Estimated YMS Benefits by the Numbers
A 30 percent improvement in yard driver productivity and a 20 to 30 percent cutback in yard time due to driver efficiency.
A 25 percent reduction in yard trucks and 15 percent reduction in fleet trailers.
A 95 percent decrease in time looking for lost trailers and 20 percent decrease in empty trailers.
A 20 percent increase in dock utilization and 30 percent increase in dock productivity.
A 40 to 50 percent reduction in time at the gatehouse due to visibility into inbound activity.
Decreased detention costs of up to 90 percent by monitoring trailer dwell time and automatically notifying carriers as trailers become available.
A return on investment of less than 12 months, although this is dependent on the level of yard activity.
What to Do with YMS
According to Greg Braun, senior vice president of sales and marketing at C3 Solutions, YMS applications are principally designed to:
Track, control and optimize the movement of trucking assets, including yard driver vehicles, trailers, containers and trailer chassis, within one or more yards associated to a site.
Optimize the driver labor resources that are tasked to move equipment by minimizing task time duration and/or distance traveled.
Manage receiving and shipping dock doors, and parking locations.
Manage inbound load scheduling and receiving based on configurable priorities.
Adjust priorities continuously throughout the work day in response to pressures resulting from peaks and valleys in receiving and shipping volumes.
Manage communications between a centralized control center and all yard driver labor, eliminating the use of paper-based communication.
Forecast vehicle availability through the use of agent technology that looks ahead to prevent equipment shortages.
Provide advanced key performance indicators that give managers intelligence designed to continuously improve operations.