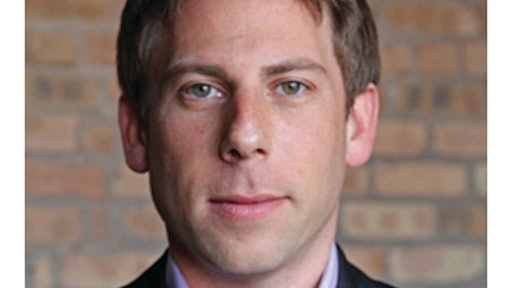 It is becoming increasingly apparent that a shift in transportation strategies must occur if the supply chain industry is to properly handle the heightened demands of today's consumers. Over-the-road (OTR) capacity restrictions, government mandates and unpredictability during peak seasons are a just a few of the challenges that must be addressed in the coming months. With the increase in online consumer shopping, and expectations of swift and affordable delivery, it is clear that traditional OTR shipping—and its inherent delays due to weather and human error—cannot keep pace with the shippers' demands.
Even with the economy in recovery, bottom lines continue to be scrutinized, and supply chain professionals are working to identify means of transporting goods efficiently and economically without sacrificing transit times or service. With its ability to generate savings in practically every category of transportation cost—fuel, labor, equipment, and capacity—more businesses are turning to intermodal rail.
The Drive for Cost Savings and Increased Efficiency
Contrary to popular belief, the benefits of rail intermodal do not correlate directly with the distance of the shipment. Cost savings can begin at 500 miles with the amount saved increasing incrementally for longer hauls. According to the Institute for Civil Infrastructure Systems (ICIS), shippers can average between 10 and 40 percent savings on shipments of 1,000 to 3,000 miles. Factor in that the cost-per-mile rates decline at a much quicker rate than OTR and it is clear that businesses who turn to intermodal are taking steps to improve their financial future.
Investment in technological and infrastructural improvements are bringing supply chain managers cost savings as high as 40 percent. Not only are railroads investing heavily in upgrading tracks, terminals and freight-handling equipment, but they are also implementing measures to remove potential delays caused by human error and/or mother nature. Terminals are being outfitted with technologies such as automated gates and wide-span cranes for speed loading cargo, which lowers product movement, and minimizes congestion and product delays.
By investing in new or modernized terminals, railroads are increasing overall velocity and becoming increasingly more competitive with OTR. According to Burlington Northern Santa Fe Railroad, an expedited rail service can travel 200 more miles per day than a single-driver truck service. Another railroad, Norfolk Southern, released data showing an improvement in train speed and decrease in yard dwell times of 17 and 15 percent, respectively, since 2000.
Utilizing technology is critical to the future of rail intermodal. By improving infrastructure and reducing inefficiency, rail providers can transport goods to areas previously serviced solely by OTR. Furthermore, by coordinating with short-line railroads and short-haul (drayage) providers, intermodal shipping offers a true door-to-door service throughout the U.S. without the need to be near a rail yard or major urban center.
Modernizing Container Technology to Meet the Demand
Along with the improvements being made to terminal infrastructure, modernized containers are making rail intermodal a more competitive option for shippers. Tech-driven improvements in container technology expand the options of goods that can be shipped by rail. Temperature-controlled intermodal containers allow for a wider array of commodities to ship intermodal:
Produce.
Food and beverage.
Electronics and appliances.
Packaged goods.
Clothing.
Paper products.
Many railroads also developed educational guidelines on proper loading. Unlike traditional OTR container shipping, rail intermodal limits the handling of goods, and reduces the risk of damaging freight because the containers can be transferred from drayage to train and back more efficiently than OTR.
On The Fast Track: Stable Capacity
Moving forward, shipping intermodal can significantly help supply chain managers in predicting expenses and capacity during peak seasons. Depleted fleets, driver shortages, fuel spikes, road hazards and inclement weather can all affect expenses during the busiest time with OTR.
Many major railroads are taking action in securing capacity and peak season pricing by launching committed capacity programs. These programs allow customers to lock in capacity and pricing for a set period of time when meeting minimum volume commitments. Shippers who forecast volume with reasonable accuracy can save money and steer clear of delays caused by capacity shortages. Third-party facilitators are an intricate part of this process as they can help connect shippers with these committed capacity programs, and make it even easier for them to get reliable and cost-effective service.
Green-Friendly Transport
The cost-saving potential is perhaps the biggest benefit of shipping rail intermodal, but another important advantage is its environmental friendliness. It is proven that trains move approximately four times more ton-miles per gallon of fuel than traditional OTR. According to the Association of American Railroads (AAR), CSX trains averaged 468 miles per gallon per ton.
Train technology continues to play a major role in helping increase fuel efficiency over OTR shipping. Improvements like new locomotives with multiple diesel engines that are only activated as workloads demand it, real-time energy management systems, auxiliary power units (APUs) and automated engine start stop (AESS) all contribute to better fuel efficiency. According to the Environmental Protection Agency (EPA), these technological advances help freight trains create two-thirds less greenhouse gas emissions per ton-mile than a typical truck.
Estimates from the Federal Railroad Administration (FRA) show that we could save approximately 1 billion gallons of fuel alone by reducing long-haul truckloads by 10 percent. That number may seem daunting, considering the amount of trucks on the highways today, but when we consider that every train has the capacity for 280 truckloads of freight, it becomes clear that it is truly possible.
Taking Action for the Future
By converting to intermodal shipping, supply chain facilitators can accomplish their top priority—providing cost-effective and reliable transportation. Railroads and third-party facilitators are utilizing improved technologies to make changes to their infrastructures and develop more efficient ways to ship goods.
An increasing number of companies are already cutting costs while maintaining truck-like transit times and lessening their carbon footprint. According to the Intermodal Association of North America, more than 14 million rail intermodal moves were completed in 2012 alone. That is an increase of more than 2 million intermodal moves since 2010 and the numbers look to be on the rise based upon industry statistics.
Rail intermodal is quickly proving to be an important mode for the present and future of transportation. Automation of intermodal transportation is an important factor not only in supporting future growth, but also in protecting the environment. Innovative business leaders understand that our actions today, our ability to think and act in a smarter way, can positively impact the future development of the transportation industry.
Companies in this article