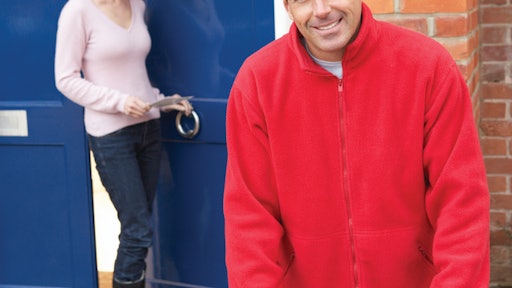 "What do you have to do today that is different than most people think about logistics?"
The question, proposed during a session at WERC 2013 by William Rose, Doctoral Student, Department of Marketing and Supply Chain Management, University of Tennessee, is indicative of a shift in distribution that is evident today. Limited access by municipalities to routes in highly urbanized cities like London or New York City; restricted delivery hours; higher real estate costs; limited land availability; consumer's impact on shipping times to where such retail giants as Amazon.com Inc. provide same-day shipping— all such factors are variables enough to cause distributors to 1). Get this discussion on their radar; and 2). Recognize that there is a need to begin planning for this now. And with the global population expected to reach roughly between 7 and 10.5 billion by 2050, companies and their distributors must continue to re-strategize on the ways they deliver goods to consumers.
"Retail is greatly concerned about the ideas related to congestion, traffic and urbanization and they are doing everything to try and figure out how to address that," said Chad W. Autry, Ph.D., Associate Professor, Supply Chain Management, University of Tennessee. "But distribution is on the customer side and really in many ways, distributors just do what they can do to serve the customer. We think this is a blind spot for logistics as a whole and for transportation, in particular. The transportation companies are a little bit more sensitive to it because they are the ones that have to route vehicles to these places. So the transportation and 3PL industry has a great opportunity here if they can figure out how to use smaller trucks and different types of routes inside cities and do multiple drops per day—similar to that of a newsstand model than a traditional retail model."
Current beverage scenario zones
Yes, the challenges are perhaps not as problematic today as 15 to 20 years from now if not planned for, but such shifts in delivery to goods-to-consumer locations are a key focus right now for congested areas where one-way streets are a commonality. And sure, city ordinance restrictions barring commercial trucks or trucks weighing over a certain tonnage access are not new. But to overcome such scenarios and with limited land, distribution center (DC) and warehouse facilities must also consider satellite offices outside city zones. For example, in the highly-regulated space of wine & spirits, such a retailer may have their main building but then have several cross-dock facilities located throughout that state to which goods are delivered to from the main facility for local delivery near urban areas.
And as consumer demands and expectations put great pressure on the wine & spirits industry, the number of worldwide locations producing wine & spirits grew also, increasing the number of SKUs. And considering that wine & spirits fulfillment happens during the nighttime hours, the increase in volume and SKUs makes the process more complex. The sales teams want to take orders as late as possible but the warehouse needs to start picking so that all of the trucks can be loaded for cross-dock routes which are sent out during the night as well as the local delivery trucks which need to be ready first thing in the morning.
"If you want to keep your order desk open until 7 p.m. or 8 p.m. but still have the trucks leave at 6 a.m., then your automation has to run at a faster rate because you have less time," explained Paul Laman, Vice President of Sales, W&H Systems Inc. "And that adds challenges to the warehouse because now they have less time to get all these orders, put in a reverse-stop sequence and load it on a variety of trucks. Once all the orders come in, they have to sometimes check the credit on the customers; they have to find the most optimal delivery routes to route the trucks; and they have to make sure all the drivers don't show up at a restaurant or a store at the wrong delivery time and have the customer reject their delivery—to where they would have to bring it back a different day."
With more mergers and acquisitions also in the space, as wine & spirits companies get larger and consolidate more, they want to keep their distribution center close to where the big cities and large populations are, Laman added. One of the ways that wine & spirits companies address this is through automated storage and retrieval systems (AS/RS) or smart racking systems in the event that land capacity for a big DC or warehouse is not available. High-rate systems, warehouse control systems (WCS) and other software packages to run the warehouse more efficiently also come to play to enable visibility across the distribution model.
Perishable sustainability
Perishable waste—of greatest concern in the food & beverage (F&B) industry—also helps drive the need for more defined distribution models. In fact, the industry will start to see more strategic infrastructure models for handling perishable supply chains, according to Jaymie Forrest, Managing Director, Georgia Tech Supply Chain & Logistics Institute.
"The current distribution network and infrastructure we have today is really set up for electronics among other things—it was never designed for a perishable supply chain," said Forrest. "Scheduled refrigerated service by rail; better intermodal and perishable centers; improved produce gateways—such ways more back to network design and bigger and better infrastructure models is what we need to handle this perishable product—because we're finally starting to pay attention to it. We're finally coming back full circle to say, 'Hey, perishables need to be handled differently and they need a different supply chain.'"
Important to consider in food & beverage is also which strategy works best for distribution based on target market audience. For example, Peapod, AmazonFresh, HomeGrocer and FreshDirect continue to change the game in perishables when it comes to capturing new market share in delivery direct-to-consumer. Such models do not deliver quite the same objective as a local grocer market, for which majority of the produce comes from international sources via wholesalers and brokers (direct-to-consumer delivery models are more typically sourced by local providers). Nonetheless, they do mix up the dynamics of the distribution center to help re-examine large warehouse facilities versus cross-dock locations.
"The Peapod model is real but that is different because that is looking at new ways to attract the order in the sub space and places that have mass density—they are competing with brick-and-mortar without having the brick-and-mortar," explained Forrest. "They are being creative with electronic data, information and the Web ordering process. People can go to a digital billboard at their local train station, scan five or six items that they want, get in the train, log in to the system, finish their shopping and have it all delivered the next day."
The United Kingdom, for example, is much further ahead in the F&B direct-to-consumer delivery model.
"Our Tesco stores were one of the first ones of the big grocers to deliver to homes and they still do to an extent," explained William Salter, President and Chief Executive Officer, Paragon Software Systems Plc., Surrey, United Kingdom with offices in Frisco, Texas. "In the UK, you'd see someone going around in a store with great big trolleys scanning products onto it and picking for home delivery operations. It was a very clever way of approaching it because it got that operation off the ground really quickly without having to invest in any huge warehouses. But what we see now is a bit more of a move by quite a few of those delivery companies over here in the area of food to having warehouses or locations dedicated to home delivery in the area of food. And as it's taken off, companies found that it's more effective to have a warehouse dedicated for home delivery. So we're starting to see some of these food companies have things like dock stores for food and grocery home delivery. In the UK it's taken off hugely. A lot of people will just go online and do their grocery shopping. It's not as prevalent in the U.S. as it is over here but I don't think it will be long before we see that kind of food home delivery in the urban areas in the U.S."
While such Internet models of delivering food is not a new concept—Tesco has been using Paragon for grocery home deliver for the last 10 years—perhaps more important is its relevance to the impact of consumer demand and need for more efficient distribution models to continue to meet increasingly high demand-levels of customer service.
"The retailers are going through these cross-channel fulfillment strategies right now," said Forrest. "They're trying to say, 'People are buying differently now. How do we service everyone so that we don't lose market share?' And a lot of that tends to be looking at new distribution strategies. And it's causing more supply chain areas that they need to fix and focus on. Retailers are finding that they are able to maintain better margins by having these cross-channel fulfillments of shipping to different locations. So because we're doing that in the CPG space, there is this increased focus on, 'Let's see what we can do here to maintain margin and reduce waste in the perishable space.'"
Plan for your future
As consumer demand continues to drive the retail space, not just in food & beverage delivery models but also with other home goods delivery, companies and distributors alike must increase their focus on their changing operations to address such factors as big trucks in over-populated cities and globalization with cost-effective and efficient strategies.
Paragon Software Systems' platform, for example addresses companies' general mapping problems and traffic challenges in delivering into urban areas at different times of day. In addition, the company helps providers implement a plan that makes the lead time for the customer as short as possible; that meets delivery time windows; and that takes account of all other delivery constraints. With its mapping capability, the company is able to exclude certain deliveries from certain areas at certain times of the day; and apply directional rush-hour bans during the day.
One example of this was during the 2012 Olympic Games in London, during which Paragon had to help its customers work around road restrictions and during which various Olympic routes had to be adhered to.
"We produced a specific map for the period of the Olympics—a calendar based around the different events that would be taking place during the Olympics and we modeled how the congestion would look right across the period of the Olympics," explained Salter. "And then all our customers that delivered into London then used that functionality to model how the Olympics would impact their distribution during that period."
Regardless of the scenario—whether during a special event or on a typical day—companies (warehouse and DC's included) have the opportunity to ask the right questions to address future complexities and plan their distribution models for the future today—and not 10 or 15 years from now.
"One of the things that we're seeing the best companies do, is they are working with people who are experts in urban planning and development to try and understand 'How is the city going to grow and in what directions?'" said Autry. "They do that not only to locate stores—everybody does that—but they are also thinking about it in terms of locating distribution. The Department of Defense is also in front of this. They are the ones that are doing some asset replications. 9/11 shocked a lot of us for a lot of different reasons but one of the things it taught us is to have a back-up plan. So a lot of the lessons from contingency planning that comes out of supply chain risk management are applicable here but people are not seeing it yet. The risks here are much longer term and they seem much more benign because there's this notion of, 'Well, we've got plenty of time to fix it.' What we're saying is, 'Yes, you do but you have to actually go ahead and get planning in order to be able to do that—you're not going to just be able to wake up in 2020 and fix it,'" concluded Autry.
Companies in this article