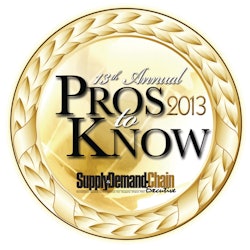 Each year, it gets harder and harder to narrow down the final list of our annual "Pros to Know" awards honoree list. And this year is no exception as the editors of Supply & Demand Chain Executive whittled the final list down from nearly 400 original entries throughout the course of our 2013 awards program. One thing is clear—supply chain executives, industry decision makers and those in the trenches continue to set the pace and improve their efforts to not only better their business but improve the global supply chain flow. They understand the issues at hand, whether it's securing component parts against counterfeit scenarios; or addressing the growing issue of supply chain risk; or perhaps even the lack of visibility that many business still have in understanding the market demand environment. Whatever the scenario, many of them are getting onboard with preventative measures to proactively address what-if scenarios before having to react to any issue that may present itself. Perhaps even more evident this year than ever before in our annual awards program is the number of female leaders who continue to take a stand in the industry in supporting their business growth and supply chain delivery. Don't get me wrong—we're not trying to relay the "rah, rah I am woman, hear me roar" message within our 13th annual Pros to Know awards, as it is made up of a respectable group of leading men and women in the industry. In fact, a number of female supply chain executives we spoke to exclusively this month (see p. 34) supported the notion that to be a true leader in the supply chain, it comes down to hard work; a complete understanding of the issues at hand and concern to address those issues; and perseverance—regardless of whether you're a man or woman. On that note, this month, we pay tribute to those leaders who truly stood out from the rest and who we are proud to name our "Pros to Know" this year.—Natalia Kosk, Associate Editor, Supply & Demand Chain Executive
2013 Top Five Female Pros to Know
Mary Kleespies, Director of Supply Chain Consulting, DiCentral
With more than 30 years of experience, Kleespies is a recognized industry expert in supply chain management and B2B communications between retailers and their supply chain. Through her recently released book, "Ask Mary: Making EDI and Supplier Compliance Simple," industry studies and Webinars, she empowered supply chain professionals to align their practices to better supply chain practices which ultimately affect the company's broader strategy. For example, DiCentral and VCF conducted a survey to address the percentage of retailers requiring vendors to send an 855 Purchase Order (PO) acknowledgement for a PO that has been issued. Together with DiCentral's Paul Wagner, she led a workshop at the annual Fall VCF Conference in 2012 that explored the studies' preliminary findings and solicited feedback from participants concerning their own personal experiences. The final report and analysis will be made available in the Spring of 2013.
Anne Omrod, President and Chief Executive Officer, John Galt Solutions Inc.
As a founder of John Galt Solutions Inc., Omrod has been at the forefront of demand management for nearly two decades. She developed the groundbreaking ForecastX Wizard software for Excel, which helped more than 6,000 customers co-develop and refine their demand forecasting processes. Omrod has also been instrumental as a consultant on dozens of successful S&OP implementations, including major clients such as Dupont, Syngenta and Hasbro. Most recently, she was involved in developing John Galt's new Scenario Analysis software, which allows companies to develop supply strategies based on the stability and predictability of their demand. This allows companies with long lead times to remain stable and responsive in the face of challenging supply issues.
Sharon Nelson, Managing Director, Plan4Demand Solutions Inc.
Nelson earned a reputation with supply chain practitioners as the "place to go" to seek assistance with that stubborn problem that needs a solution that "sticks" for the long term. As supply chain companies continue to address the increasingly complex demands for innovation and speed, Nelson's unique mix of industry experience and innovative technological and organizational solutions enables both struggling and best-in-class companies to achieve a higher level of performance. Currently managing a field of 20-plus consultants, she ensures all projects are delivered on time and on budget with the highest client satisfaction. In one case, she assisted Cintas to optimize their existing supply chain processes and enabling technologies to achieve an inventory reduction in excess of $50 million while reducing customer backorders in less than 12 months.
Rose Kelly-Falls, Senior Vice President, Supply Chain Risk Management, Rapid Ratings
A pioneer of Supply Chain Risk Management (SCRM), Kelly-Falls has been at the forefront of the practice for her more than 20 years in the supply chain field. As SCRM evolved, she worked within and for companies involved in its initial engagement. Kelly-Falls' success in Supply Chain Risk Management comes down to a single fundamental belief that "risk management is not the responsibility of the purchasing organization or the supply chain organization or the finance organization. Risk mitigation is a cross-functional responsibility." Although this can be a difficult challenge for some companies—as many are accustomed to working in silos—shared input and accountability is key. In order to best manage risk, functions within organizations must work together to share information and mitigation practices.
Dawn Tiura Evans, President and Chief Executive Officer, Sourcing Interests Group (SIG)
The leader of a 22-year-old organization that brings sourcing and outsourcing leaders together, Evans looks at the issues facing outsourcing, sourcing and procurement executives and their C-level counterparts both domestically and abroad. Because she is in a unique position of being neither a provider nor a practitioner, she is seen by both as a trusted advisor and is frequently sought out for her knowledge of the industry and insight into the trends. She believes that proper risk management and a strong governance plan are major challenges facing SIG members today, particularly in highly-regulated industries such as banking or insurance. As such, Evans works closely with SIG's members to deliver content and services regardless of their industry—helping them to manage risk and increase their competitive advantage.
2013 Provider Pros to Know
Michael B. Lee, Chief Executive Officer, Airclic
With more than 20 years of experience working with some of the world's top communications and software companies, Lee is an expert in identifying the avenues that will help companies most effectively achieve their supply chain and finance goals. Through his leadership, Airclic revolutionized and improved the performance of organizations' supply chain, logistics and field service operations.
Stephanie Miles, Senior Vice President of Commercial Services, Amber Road
With nearly 20 years of expertise in client services, Miles' unique insight from her work with and understanding of customer issues—as well as her leadership, strategic vision and extraordinary attention to detail—has been integral in Amber Road's remarkable growth. By providing automation, optimization, transparency, controls and metrics, Miles and her Amber Road team work to make it easier for customers to reach and serve new markets; and extend their global market reach.
Ty Bordner, Vice President, Product Management & Solutions Consulting, Amber Road
As a true technology visionary, Bordner led Amber Road to the forefront of the global trade management (GTM) space and helped its multi-national customers tackle some of their most challenging issues in today's global market. He pioneered new product developments that integrate compliance, logistics and supply chain technologies that help today's leading companies automate and manage their global trade operations.
Jim Preuninger, Chief Executive Officer, Amber Road
With over 25 years of software industry experience, Preuninger has been a part of the evolution of the supply chain management market from a domestic focus to one that now encompasses global operations and spans logistics, compliance and trade finance. He founded Amber Road (formerly Management Dynamics) in 1989 and helped define the Global Trade Management (GTM) market.
Robert Shecterle, Vice President of Marketing, Aravo Solutions Inc.
Shecterle's more than 25 years of experience in supply chain management span supply chain process design and improvement; solution design creation marketing; and supply chain analyst research and reporting. He engineered the solution architecture, marketing strategies and product launches of some of the industry's most notable supply chain and e-commerce solutions. Shecterle also helped to create and evangelize the SRM solution category and conducted some of the industry's first research on supply chain sustainability.
Gene Averill, President and Chief Executive Officer, Avercast LLC
Averill continues to provide leadership, direction and his considerable supply chain experience to Avercast LLC, which he formed in 2008. He personally pioneered many of the demand management planning technologies that are commonplace today. Additionally, his Demand Solutions software product is used today by more than 10,000 people in 74 countries. As a result, Averill's software earned numerous industry accolades over the years, all while saving his customers millions of dollars in inventory savings.
Joe Averill, Senior Software Engineer, Avercast LLC
Averill's contributions to demand and supply chain forecasting helped move the industry forward to bring sophisticated Web-enabled collaboration to demand planners globally. He created more efficient and effective systems for accessing forecasting data in a variety of structured and unstructured formats. Soley responsible for enabling the cloud-enabled version of the Avercast platform, he helped improve user interface standards through working directly with planners and field sales forces in wholesale, distribution and retail.
Dan Purtell, Senior Vice President, Supply Chain Solutions, BSI Professional Services Inc.
With over 30 years of experience in supply chain security and risk mitigation, Purtell provides the tools and knowledge to help individuals and companies achieve the best level of security in their supply chain. Under his direction a number of companies acheived best practice status for the implementation of C-TPAT.
Chuck Robinson, Vice President, Account Services, Choice Logistics Inc.
Robinson developed a client lifecycle methodology that transitions a new client from the business development team into operations through the steps of solution design; solution implementation; client transition management; and operations. He directed the development of a new tool used to analyze a company's installed base of technology and recommends the Choice Logistics stocking locations that would meet a given service-level objective. One long-term client which already used the tool identified more than $600,000 in inventory savings.
Steven Wales, Business Development Director, Decideware Inc.
Wales will be a major driver as Decideware embarks on a series of new programs in 2013 to engage large advertisers in global conversations about what advertisers need to optimize the return on their spend with the agencies. This year, he will lead an industry-wide education program to help all major marketers understand how they can be better equipped to manage a more successful and cost effective agency relationship.
Bill Harrison, President, Demand Solutions
Since 2006, Harrison led Demand Solutions to improvements in its applications; the company's relationship with Microsoft and integration with its widely-used, Microsoft Dynamics business software; and provided industry thought leadership in broad issues from effective inventory management practices to technology innovation in supply chain management. Under Harrison's leadership, Demand Solutions became a business partner that looks at how to better enable its customers to operate more efficiently— and improves its customers' business. Harrison supports a comprehensive approach to providing software that works for its customers and for their customers and constantly innovates to provide better technology.
Thuy Q Mai, Chairman, Chief Executive Officer, DiCentral
Responsible for DiCentral's overall company management, direction and strategy, Mai led the organization this year through a successful completion of the SSAE 16 certification, which confirmed DiConnect's ability to meet industry standards. Supply chain leaders like Mai provide customers with service that meet and even exceed industry standards necessary for streamlining EDI processes.
Ann Drake, Chairman and Chief Executive Officer, DSC Logistics
Involved in the field of logistics and supply chain management since the mid-1980s, Drake continually focuses on strengthening DSC's role as a thought leader and process innovator in the industry. Since 1994, Drake guided DSC through a transformation from an extended family of 22 separate companies to a strong network of over 40 integrated logistics and supply chain management operations. Today, Drake sees the need to address key challenges—such as sharing information, ideas, best practices and strategies and finding solutions together—to initiate innovative thinking and collaboration up and down the supply chain. As such, in 2012, DSC concentrated on integrating lean principles into its management system to take continual improvement to the next level.
Stephen Craig, Senior Managing Partner, Freight Management, enVista
Craig helped businesses optimize their transportation processes and significantly reduce transportation costs for the past 15 years. Craig understands the big picture of how transportation can contribute to a company's revenue growth and recognizes the full spectrum of how transportation and supply chains impact the business model. In 2012, under Craig's direction, enVista's Transportation Services team saved enVista clients tens of millions of dollars on their transportation spend.
Davison Schopmeyer, Senior Managing Partner, Supply Chain Services, enVista
With 22 years of industry experience, Schopmeyer led supply chain projects focused on labor optimization; inventory optimization; transportation optimization; and entire supply chain network designs encompassing all areas. Some results from Davison's projects have been a decrease in cost per unit by five percent; reduction of inventory costs by over a million dollars; elimination of two warehouses in a network and providing the same service level; and warehouse operational efficiency gains in excess of 40 percent.
David Hale, Chief Information Officer, E2open Inc.
With over 20 years of experience managing technology and operations in high growth and emerging companies, Hale leads E2open's cloud operations and global support teams. While IT is traditionally associated with servers, storage and network infrastructure, Hale continues to spearhead the movement of the IT function as an important driver of strategic business value—for both E2open and its customers.
Desikan Madhavanur, General Manager, Products and Product Strategy, E2open Inc.
During his tenure at E2open, Madhavanur continued to gain the respect and esteem of his customers. He is particularly well regarded for his ability to incorporate customer requests and "lessons learned" into functional aspects of the E2open product road map. From brand owners with little-to-no direct manufacturing experience, to brand owners with decades of manufacturing experience, Madhavanur and his team at E2open led countless initiatives designed to optimize end-to-end supply chain operations and develop truly customer-driven supply chain programs.
Pervez Qureshi, President and Chief Executive Officer, Epicor Software Corp.
In his 20-plus-year career working exclusively in the software and technology industry, Qureshi focused on building customer-focused cultures to provide innovative business management solutions and outstanding service and support. Under his leadership, Epicor continues to inspire customers with innovation. In fact, 2012 marked the third consecutive year that Epicor has been rated the most visionary vendor on the Gartner Magic Quadrant for Single-Instance ERP for Product-Centric Midmarket Companies.
David Farmer, Group Vice President, Fortna Inc.
With over 22 years of experience, Farmer helped companies design, implement and operate high-performance complex distribution operations that help optimize supply chain performance. For the last 16 years as a solutions provider, he developed broad experience across software solutions, distribution strategy, distribution operations, labor management and material handling solutions.
Scott Miner, Group Vice President, Fortna Inc.
Miner has over 25 years of experience helping companies plan, develop solutions and execute complex distribution transformations. He successfully delivered complex supply chain transformation projects for major retail and high-tech companies. Miner also focused on the challenge of warehouse management systems (WMS) deployment in conjunction with complex operations and material handling equipment transformations.
Rich Seidel, Director, Fortna Inc.
Seidel has over 20 years of experience in project management including over 11 years managing and implementing high performance material handling systems for clients throughout North and South America. He helped companies extend the life of their existing distribution centers (DC's) by retrofitting them with newer technology or outfitting Greenfield DC's with new systems and equipment. The majority of his retrofit work over the past five years enabled his clients to reach new service levels or reduce unit costs while postponing larger capital expenditures.
Derek Smith, Chief Commercial Officer, GHX
With more than 20 years of industry experience and as the leader of GHX product management, Smith drives the development of software solutions that will create a more connected, efficient and streamlined supply chain infrastructure for the healthcare industry. One key deliverable in support of this goal is the initiative Smith currently leads to develop supply chain solutions for the OR, which will track the purchase and use of implantable medical devices (e.g. hips, knees, cardiac stents, etc.), including physician preference items (PPI).
IHS Government, Aerospace and Defense DMSMS Obsolescence Team, IHS Inc.
Team Members: Chuck Austin; Ross Beiler; Bob Braasch; Rick Brittingham; Randy Butler; Kevin Hearn; Greg Jaknunas; Rory King; Vicki Knauf; David Koel; Joe Marlino; Dave Martin; Deana Mobley; Pete Morse; Laura Woods
For over 50 years, IHS helped enable the government, military, defense contractors and sub-contractors with information and analytics to improve mission readiness. The IHS A&D DMSMS team specializes in supplier risk, supply chain management, engineering, logistics and sustainment pertaining to a particular defense supply chain phenomena, Diminishing Manufacturing Sources and Material Shortages (DMSMS). Between 2011 and 2012 alone, over 2,200 global customers and hundreds of thousands of worldwide users relied upon the IHS products and services that provide DMSMS and Obsolescence Management capabilities to advance critical decisions across complex global supply chain networks and diverse value chains.
Steve Dollase, Executive Vice President, Supply Chain, Inmar Inc.
In his nearly 30 years of experience in military and civilian supply chain leadership, Dollase delivered value-creating and life-preserving strategies to maximize the efficiency, precision and dependability of the supply chain. Dollase established Inmar Intelligent Quality (Inmar IQ), a highly specialized team that provides world-class supply chain and process improvement and quality capabilities to improve cost and outcomes across the Inmar enterprise as well as externally in a consultative capacity with Inmar's clients.
Tom Beaty, President and Chief Executive Officer, Insight Sourcing Group
With over 20 years of strategic sourcing and management experience, Beaty rapidly built one of the largest 'pure play' strategic sourcing firms in the country. Insight Sourcing Group not only drives results—it also provides a compelling ROI for clients, exceeding 850 percent in 2012 for year one returns on investment.
Brent Eiland, Executive Vice President, Insight Sourcing Group
Eiland helped lead the development of Insight Sourcing Group's delivery structure, project methodologies and diagnostic tools, leveraging all of these to solve significant client supply chain issues, especially as they relate to procurement and sourcing. Eiland's efforts to hire, develop, lead and retain an outstanding team of analysts, managers and seasoned sourcing professionals within ISG resulted in a company turnover of less than three percent over the history of the firm.
Brian Houpt, Senior Vice President, Insight Sourcing Group
With 18 years of supply chain and strategic sourcing experience, Houpt co-leads the ISG delivery organization; is the practice lead for ISG's innovative Consortiums practice; and leads ISG's Transportation practice. In order to address the management of price changes, Houpt worked with his clients to ensure that there are well-defined mechanisms for determining pricing like tying price changes to a published third-party index or requiring specific manufacturer documentation to support price increases.
Jacob Wojcik, Senior Vice President, Insight Sourcing Group
With over 13 years of experience in management consulting with a focus on procurement, supply chain management and finance, Wojcik helped establish ISG's footprint within the private equity sector in which ISG is now working with over 40 PE firms to drive procurement-related EBITDA improvement across 200-plus private equity holding companies. He believes that procurement and supply chain leaders must learn to navigate stakeholder resistance more effectively and manage through the use of data, facts, and logic.
Danny Halim, Vice President of Industry Strategies, JDA Software Group Inc.
Responsible at JDA for developing strategic supply chain innovations for the consumer products industries, Halim believes that CPG companies are capable of keeping customer happy and winning at the cash register—if they form tighter bonds with retailers and target assortments more precisely than ever before. CPG manufacturers—particularly their category management executives—struggle to stock retail aisles with the right SKUs and assortments. In response to such business challenges, Halim helps his customers find solutions and services to improve category management.
Kelly Thomas, Group Vice President of Global Accounts, JDA Software Group Inc.
Thomas has nearly 30 years of experience in leading teams in design, development, sales and delivery of supply chain management solutions—including implementations at more than two dozen leading practitioner companies across the globe. To face such challenges as demand variability, globalization, new product introduction and increasing customer expectations, supply chain managers should seek strategies that deliver profitability, reliability and agility. As such, Thomas works with clients to implement four strategies to achieve these goals: 1). Segment for profitable, differentiated customer relationships; 2). Drive the supply chain from real demand; 3). Synchronize and provide visibility; and 4). Optimize the use of resources.
Scott Welty, Global Vice President of Retail Industry Strategy, JDA Software Group Inc.
Welty helped hundreds of companies select the proper solutions to attain increased revenues, profits and efficiencies. He believes that today's connected consumers are transforming the traditional retail experience based on their unprecedented access to information—with which comes incredible new power. For his customers, Welty recommends the following steps that will help them deliver a true omni-channel shopping experience: 1). Enhance the customer connection; 2). Break down channel barriers; 3). Build profit intelligence into experience strategy; and 4).Translate loyalty into long-term success.
James V. Kelly, CPM, Chief Executive Officer, JVKellyGroup Inc.
For the past 10 years as CEO of JVKellyGroup Inc., Kelly has been active in charting the course of major corporations in expense and risk management solutions. With an extensive knowledge of sourcing and the effect that our current economic turbulence has on our profession, he believes that we run the real risk of hyper-inflation at the end of 2013 and in 2014—which will devalue the dollar against foreign currencies. This translates into a change since the labor arbitrage off-shoring of the last few years may lose their cost effectiveness and actually cost more. He advises businesses in the supply chain to be to be vigilant and to defend their supply chain portfolio.
Bob Lucas, Vice President, Global Solutions, Kelly Services Inc.
Since the early 1990s, Lucas helped to shape the human capital industry as a well-known subject matter expert on vendor management systems and its application to talent supply chain management. His extensive leadership experience and knowledge across multiple channels in the industry brings a global perspective and creative solutions to Kelly's clients. The leader of Kelly's Life Sciences solution group, he works with Kelly's Life Sciences client portfolio and prospects to design talent supply chain solutions that will provide the access to talent that is required to stay competitive in the highly competitive and regulated life sciences industry.
Jennifer Spicher, Vice President, KellyOCG, Kelly Services, Inc.
With 16-plus years in the human capital solutions industry, Spicher is responsible for the architecture and solutions design, implementation, delivery and overall customer satisfaction of managed service provider programs globally with Kelly Services. She believes that the key challenges our organizations face is the ability to implement a talent supply chain solution—one that takes a holistic view of talent procurement. Each client requires a custom approach based on corporate strategic objectives; readiness for change; and geographic footprint. Utilizing this customized approach, Spicher secured new business equaling nearly $1 billion in managed spend within Kelly Services' client's talent supply chain with the last 24 months.
John Healy, Vice President, Talent Supply Chain Strategist, Kelly Services Inc.
Healy brings an analytical approach—using data and statistical analysis—and years of experience to drive both efficiency and effectiveness throughout the talent supply chain. Healy spends the majority of his time consulting with clients in the design and delivery of workforce solutions built to meet the talent acquisition and utilization, compliance, risk mitigation, cost savings, supply chain and process efficiency demands necessary to succeed in the globally economy.
Jaret Lynch, Vice President of Professional Services, LogFire
With more than 15 years of experience in supply chain software, Lynch has a proven track record of having successfully implemented multiple solutions for retail, pharmaceutical, direct-to-consumer, e-commerce, wholesale and 3PL customers in North America and Europe.
Diego Pantoja-Navajas, Founder, President and Chief Executive Officer, LogFire
Having led LogFire since 2007, Pantoja-Navajas proved to be a forward-looking industry leader, leveraging his deep supply chain expertise to introduce a deep functional suite of Cloud-based SaaS priced solutions and managed services for the supply chain industry
Doug Bertram, Regional Sales Manager, Metafile Information Systems Inc.
For 20 years, Bertram earned the trust and respect of his customers and colleagues with his ability to serve as a trusted advisor versus simply a vehicle for a sale. He believes that the key to success is to ask prospects as many questions as possible; and to really listen to what they are telling you in order to understand their challenges. He works closely with his customers before, during and well after the sale to ensure that each implementation of MetaViewer is as successful and beneficial as possible.
Fred Minturn, President and Chief Executive Officer, MSX International
Through his leadership and refocus on the Managed Service Provider (MSP) solution in 2009, Minturn enabled MSXI to more than double the headcount under contract in three years. The company enjoyed a 100 percent client retention rate. As a result of Minturn's guidance, MSXI is a leader in managing professional placements in the global automotive industry during the recent recovery.
Jon Winsett, Chief Executive Officer, NPI
With more than 22 years of experience leading IT companies in the U.S. and abroad, Winsett worked for the last decade with the world's most recognized retailers, manufacturers and suppliers to improve supply chain efficiency and profitability. In 2012, NPI saved companies more than $620 million on technology and transportation investments. Winsett's supply chain spend management expertise helped more than 400 clients reduce IT and logistics costs; and extend their budgets further.
Aleks Gollu, Ph.D., Chief Technology Officer and Founder, PINC Solutions
A pioneer in the development of solutions using passive RFID technology to track transportation assets and shipments information in real-time, Gollu drives further innovation for the company's best-in-class advanced yard management and visibility solutions. His vision helps Fortune 500 companies and others gain end-to-end trailer/container and shipment visibility; increase productivity; and reduce costs. Gollu's leadership also enabled PINC and its customers to receive more than 15 industry awards, including recognition from Gartner as a "cool vendor" in supply chain management.
Mike McDonald, Vice President of Business Development, Prime Advantage
McDonald is responsible for assuring that Prime Advantage's members are made of top-notch manufacturers. Since 2005, he helped the company double its membership from 350 manufacturing companies to more than 750 U.S. manufacturers in more than 25 different markets in 2012.
Dennis Toohey, Director of Solutions, Puridiom
An advocate of e-Procurement and Puridiom for more than 20 years, Toohey brought procurement automation awareness to manufacturing; health plan organizations; private education; and non-profit organizations. A believer in using technology to reduce cost, he wrote and for two years taught a course on this subject in the Graduate Business School University Wisconsin Madison. Today, he leads the development of Puridiom's new eMarketplace. He also continues to consult with Puridiom clients on Procure to Pay (P2P) best practices.
Treadwell Davison, Assistant Vice President, Business Operations, Railinc Corp.
Davison manages Railinc's business operations and oversees all product lines, which serve to improve the safety and operational efficiency and effectiveness of the North American freight-rail transportation industry. Under his leadership, Railinc delivered 10 rail industry projects and an EDI upgrade in 2012 that met vital demands for rail transportation information and improvements in rail operations. He also directed Railinc's participation in the Asset Health Strategic Initiative, launched in 2012 and projected to save the industry millions of dollars annually upon maturity.
Jon Bovit, Chief Marketing Officer, Resilinc
With more than 25 years of industry experience as a technologist, strategist and marketer, Bovit focused on supply chain and procurement solutions for more than a decade. As customers face many key supply chain challenges ahead in 2013—particularly in the area of supply chain risk and resiliency—Bovit's focus going into 2013 will be to help customers create proactive and scalable strategies for mitigating potential multi-tier global supply chain disruptions.
Greg Silich, Advisory Board Member, Resilinc
Throughout his 15-plus-year executive career, Silich delivered a unique C-level value proposition within rapid growth businesses, an entrepreneurial start-up and a large multi-national company involving organic growth; transformation; market diversification; globalization; tuck under acquisitions; large scale mergers; and organizational restructuring.
Mark Davis, Chief Technology Officer and Senior Vice President of Operations, SafeSourcing Inc.
For the past 15 years, Davis focused his skills on the retail and supply chain side of business helping to develop and market products and services to fit each industry. He believes there will be a continued focus on its customers getting access to mission-critical data and being able to access that data from mobile devices. The company has several new tools and reports that will be available for its customers in 2013.
Ryan Melowic, Director of Customer Services, SafeSourcing Inc.
With over seven years in the procurement industry procuring items from supplies to fuel, Melowic identifies specifications for items and asks the appropriate questions to uncover terms and price protection language. He also helps identify how procurement departments can better align with their company's broader strategy by understanding the major financial goals.
Ronald D. Southard, Chief Executive Officer, SafeSourcing Inc.
With a career in supply chain spanning from the 1970s, Southard is considered an in-depth category specialist across a very wide range of categories and his customers look to him regularly for guidance relative to complex spends. He believes the No. 1 challenge is to bring companies, suppliers and supply chain knowledge workers together in a collaborative and cooperative forum where the sourcing practitioner's view of their category is improved, automated, cost effective and measureable in a triple bottom line view.
Debbie Wilcox, CPSM, Vice President, Marketing & Professional Services, SafeSourcing Inc.
Wilcox helped retailers obtain greater than 20 percent savings on their not-for-resale spend for more than five years by utilizing the latest e-procurement tools and procurement best practices to leverage spend and maximize competition among suppliers. She helps organizations save money on purchases and helps suppliers grow their business. Even in areas that are highly service oriented—such as unloading services—she delivered cost savings and helped organizations turn what was once a company cost into a line of income from manufacturer allowances.
Tony Harris, Vice President of Solutions, Procurement Line of Business, SAP
With over 20 years of experience across both Finance and IT, Harris spent the last 10 years focused on the procurement solutions sector. In that time, he worked with some of the world's largest organizations to define supply chain solutions that drive sustainable cost savings, process improvements and business insight to support imperative strategies. With a technology background of ERP, CRM, business intelligence and procurement, he understands the end-to-end business process surrounding supply chain and is able to combine these various technologies to address the evolving needs of today's organizations.
Dave Brooks, Vice President, Supply Chain Innovation, Software AG
Brooks leads a team that partners with clients to create business value through greater agility, control and visibility across the supply chain. In 2012, he guided the team that brought Software AG's "iKnow" Supply Chain Visibility solution to the market. One innovation that Brooks introduced in iKnow is "Content in Context," combining real-time interactive analytic content within the context of a business process, such as Order-to-Cash. iKnow unites business intelligence and process modeling and execution to provide real-time visibility into the right information at the right time at the right step in the process.
Sean Riley, Director, Supply Chain Innovation, Software AG
Riley works directly with companies, including many of the Fortune 100, to help them create more agile supply chain functions. He also works closely with clients to help them leverage supply chain technology to transform the way they do business. Riley was also a main driver behind Software AG's iKnow solution, which allows customers to quickly identify and resolve supply chain problems before they become major issues within the context of an overall process to ensure the problem is not pushed to another partner or department. With over 10 years of experience, Riley continues to focus on areas which include value discovery and enablement; process improvement; financial and economic modeling; and collaboration enablement.
Glen Margolis, Founder and Chief Executive Officer, Steelwedge Software
Since founding Steelwedge Software in 2000, Margolis' strategy set the bar continually higher, leveraging advanced technologies to deliver higher value from the S&OP solution. He has driven continuous innovations on the 30-year-old S&OP process, allowing companies to leverage the cloud to more quickly identify and react to emerging trends. This addresses four critical customer pain points, including executive buy-in; anytime, anywhere access; big data connectivity; and predictive analytics.
Carlos Tellez, President and Chief Executive Officer, Storeroom Solutions Inc.
In his more than eight years leading Storeroom Solutions Inc., Tellez guided the company through a substantial growth period—averaging 20 percent annually—which included expansion of its international presence to Puerto Rico in 2008), Mexico in 2011) and Costa Rica in 2012), supplementing an already existing entity in Canada. Under Tellez's leadership, Storeroom Solutions continues to adapt to the changing industry landscape by listening to and learning from its customers and prospects.
Robert F. Byrne, Chief Executive Officer, Terra Technology
Dedicated to helping manufacturers improve forecast accuracy, Byrne works with some of the world's leading CPG companies to control the effects of volatility with innovative software solutions that use current supply chain information and new mathematics to provide the most likely prediction of future demand; set more accurate inventory targets; and forecast future transportation and warehouse requirements. Through programs such as Terra Technology's annual Forecasting Benchmark Study—initiated by Byrne— he provides unique insight into supply chain performance for industry; helps customers evaluate their strengths and weaknesses; and adopt forecasting excellence best practices.
Frank McGuigan, Executive Vice President of Operations, Transplace
With more than 20 years of logistics experience in executive leadership, sales and operation, McGuigan focused on the development and implementation of value-based, logistics solutions across the supply chain for Fortune 500 companies. He holds P&L responsibility for all of Tranplace's third party logistics, brokerage and SaaS relationships. For all of its customers, McGuigan and his team leverage the Tranplace engineering group to ensure that they have the right node/transportation balance; mode mix; and maximized payload so that cost increase is not parallel with revenue growth.
Mike Regan, President, TranzAct Technologies
Since Regan founded TranzAct Technologies in 1984, the company completed over 1000 client implementations; and processed over 600 million freight bills representing over $75 billion in freight bill payments. In 2011, Regan recognized the need to address the growing issue of transportation risk management. He founded Active Scout and designed its premier product, Shipper Shield, with the premise that you must know who you are doing business with. Shipper Shield protects shippers from transportation risk by evaluating all of a shipper's carriers and brokers and their operating authority, contracts, insurance, financial position and safety ratings.
Rahul Ahuja and Mark Usher, Co-Founders of Treya Partners
With over 15 years of supply chain experience as a practitioner and consultant, Ahuja helped several private equity firms design and launch successful portfolio procurement programs in categories as diverse as purchased electronic components; small parcel freight; industrial supplies and telecommunications services. With over 20 years of supply chain experience as a practitioner and consultant, Usher helped benchmark current practices and redesign the procurement operating model for a consortium of state governments in addition to having launched an innovative "procurement tune-up" training workshop focused on savings realization techniques for procurement professionals.
2013 Practitioner Pros to Know
Douglas Kent, Global Vice President, Avnet Velocity, Avnet Inc.
In leading Avnet Velocity, Kent finds ways to help customers and suppliers improve supply chain effectiveness and drive Avnet's forward-moving capabilities by focusing on supply chain innovation far beyond what is expected from the distribution channel. This strategy is directly coupled with its corporate organic growth and customer engagement strategies, with significant emphasis placed on the effective use of technology in providing visibility and insight to the evolving dynamics of the global electronics marketplace.
CACI International Inc.
Team Leader: Joseph Boyd, Senior Vice President
Team Members: Paul Carey, Logistics Analyst Manager; William Hershey, Logistics Manager; Robert Hunt, Senior Program Manager; Shannon Metcalf, Quality Manager; Matthew Morgan, Deputy Project Manager; Cecile Strait, Senior Program Manager; Jim Stubblefield, Vice President; Vish Varma, Senior Vice President
Understanding the asymmetric threat to National Security and the global supply chain, leadership at CACI International takes proactive and innovative measures to protect the supply chain of its customers as well as its own. CACI's Enterprise Technology Solutions (ETS) business group is a standards-based organization which promotes the use of management systems to instantiate business best practices in a manner that enables monitoring, control and improvement within the organization. The ETS business group evaluated various disciplines in order to determine which ones could be coupled to address holistic security practices within the supply chain.
Scott Crutchfield, Chief Operating Officer, Crocs Inc.
Crocs, which celebrated its 10th anniversary in 2012 and reached $1 billion in annual sales for the first time, has grown from selling 12 styles to today's more than 300 footwear styles. To manage distribution center efficiencies and increase production timelines, Crutchfield shifted relevant responsibilities—such as value-added packaging and markings on footwear—from distribution centers to manufacturing locations. These changes have resulted in eight to 10 percent total product cost savings.
Steve Schuman, Senior Vice President, Corporate Procurement and General Manager, Managed Services, DG3
As the senior executive in charge of corporate purchasing, Schuman is responsible for defining and implementing strategic sourcing decisions overall within DG3. His strategy is straightforward as implementation of a strategic sourcing methodology is key to DG3's long-term success. The essential element of the methodology is "right" supplier base. Competitive supplier selection is an iterative process. The approach DG3 takes allows Schuman and the company to build a fact base; formulate a strategy; generate requirements; and negotiate pricing.
Chris S. Connor, Director and General Manager, Hy-Tek Material Handling Inc.
At Hy-Tek Material Handling, Connor is responsible for operational problem analysis; solutions design; sourcing; integration; installation; training; and on-going support for their supply chain distribution clients. His strategy is to have supply chain functions provide a significant impact on both lowering costs and providing better customer service by first becoming efficient throughout the distribution channel; and secondly, by meeting challenging customer demands with automated and innovative custom services and error-free deliverables. Only by differentiating from the competition can suppliers earn loyalties and increased profits. Connor was also appointed by the Ohio Chamber of Commerce to advocate actions that result in job creation, business investment and a strong economy in Ohio.
Sam Bethea, Vice President, Process Excellence, SDI Inc.
Bethea drives continuous improvement activities and delivers best results to SDI clients. With responsibilities that include field support, training and managing the nationalized network of over 20 reliability engineers throughout the US, Canada and Mexico, Sam and his team work to find value in—and improve upon—the supply chain of each client.
More Provider Pros to Know
Ross Elliott, Executive Vice President and Chief Technology Officer, Accellos Inc.
Phillip A. Marlowe, President, Chief Logistician, Acuitive Solutions LLC
William Michels, President, ADR North America and ADR-ISM China, ADR North
Trevor Read, President, Agistix Inc.
Slava Apel, Chief Executive Officer, Amazing Print Corp.
Dr. Oliver Hedgepeth, Program Director, Reverse Logistics, American Public University
Tim Minahan, Senior Vice President, Network Strategy and Chief Marketing Officer, Ariba, an

SAP

Company
Robert Steinberg, Customer Engagement Executive, Ariba, an

SAP

company
Laura Rokohl, Supply Chain Manager, Aspen Technology
Paul Garino, Senior Director of Supply Chain Solutions, Axway
John Webster, Vice President, Global Product Marketing, Basware
Chris Bohill, Vice President, Consulting and Product Strategy, Biznet Solutions Ltd.
Marc Kalman, Chief Executive Officer, BizSlate Inc.
David Blinick, Chief Executive Officer, Blinco Systems Inc.
Chandler Hall, Vice President, BravoSolution
Sean Martyn, Account Director,

BravoSolution

Donald Raack, Director,

BravoSolution

John Ryan Shaw, Senior Director, Adoption Services,

BravoSolution

Kelly Barner, Co-owner, Buyers Meeting Point
Derrick Moreira, Director, Censeo Consulting Group
Tom Blanck, Principal and Practice Leader, Packaging Optimization Practice, Chainalytics
Ron Lackey, President, CUSTOMS Info and Co-owner, Global Data Mining, (CiGDM)
Matt Gersper, President, Global Data Mining, (CiGDM)
Torrey Schoel, Director of Operations, Global Data Mining, (CiGDM)
Rob Achtzehn, Director of Sales Development, CombineNet
Steve Brooke, Chief Technology Officer,

CombineNet

Brett Cornell, SVP, Strategic Sourcing,

CombineNet

Rich Wilson, Chief Executive Officer,

CombineNet

Robert Wiedmaier, Chief Executive Officer, CAPS
Patrick Reymann, Director, Strategic Sourcing Operations, Corbus LLC
Unni Vasudev, Vice President,

Supply Chain Services,

Corbus LLC

David Clevenger, Vice President, Corporate United
Jeff Silver, Chief Executive Officer and Co-founder, Coyote Logistics
Belinda Hess, Director of Food Marketing, CSX
Rick Burian, Product Manager, CVM Solutions LLC
Alan C. Veeck, Ph.D., Vice President, Denali Sourcing Services
Ken Wood, Senior Vice President, Product Strategy, Descartes Systems Group
Michael J. Oldani, Director of Strategic Sourcing, DSSI LLC
Rich Katz, Chief Technology Officer, Elemica
William Gindlesperger, Chairman and Chief Executive Officer, e-LYNXX Corp.
Jason Mathers, Senior Manager, Supply Chain Logistics, Environmental Defense Fund (EDF)
David Saroli, Founder and Chief Executive Officer, e-Procurement Services (ePS)
Chuck Baren, Director of Implementation, Fieldglass
Eric Clark, Chief Information Officer, FORTE
Jeff Ross, Vice President, Consulting Services, FORTE
Matt Tormollen, President and CEO, FuelQuest
Andrea Kostelas, Director, FulfillMED
VK Gopalkrishnan (Gopal), Vice President and Global Practice Leader, Genpact
Suresh Iyer, Global Practice Leader for

Supply Chain Services,

Genpact

Dr. Richard Dawe, Director and Professor, Operations & Supply Chain Management Program, Ageno School of Business, Golden Gate University
Robert A. Rudzki, President, Greybeard Advisors LLC
Nick Parnaby, Vice President of Extended Enterprise Solutions, GXS
Roger Layette, Director of Sales, North America, HICX Solutions Ltd.
Constantine Limberakis, Director of Marketing,

HICX Solutions Ltd.

Doug Markle, EVP of Sales and Marketing,

HICX Solutions Ltd.

Gary Nemmers, Senior Vice President of Supply Chain Solutions, HighJump Software
Scott Frew, President and Chief Executive Officer, Iasset.com Inc.
David Bush, Chief Executive Officer, IASTA
Mireia Brancos, Managing Director,

IASTA

David Cravens, Managing Director,

IASTA

Sean Delaney, Vice President of Global Sales,

IASTA

Chris Jasper, Managing Director of Client Strategy,

IASTA

Scott McBride, Director of Global Alliances,

IASTA

Matt McCarrick, Vice President of Client Strategy,

IASTA

Mike Pringle, Managing Director, Europe,

IASTA

Jason Treida, Chief Operating Officer,

IASTA

Greg Laquinto, IBM Product Strategy, Buy Portfolio,

IBM

William Leedale, CFPIM, CIRM, CSCP, Senior Advisor, IFS North America
Michael A. Lyle, President and Chief Executive Officer, InfinityQS International Inc.
Dr. Jeff Karrenbauer, President, INSIGHT Inc.
Alan Drake, Director of Client Services, Integration Point
Lani Hawks, Senior Developer,

Integration Point

Ken Peters, Director of Global Solutions,

Integration Point

Paul Crinks, CEO, International Asset Systems (IAS)
Tim Cummins, CEO, International Association for Contract & Commercial Management (IACCM)
Scott Lewin, President and CEO, Invoiceware International
Christian Hutter, SVP, Food & Beverage, Junction Solutions
Aamer Rehman, Vice President, Industry Strategy and Solutions, Kinaxis
Joe Flynn, Chief Executive Officer, Lavante
Megan Pulliam, Vice President of Channel Sales, Liaison Technologies
John Ames, Senior Vice President of Solutions & Global Alliances, LLamasoft Inc.
Donald Hicks, Chief Executive Officer, LLamasoft Inc.
Mike Edenfield, President and Chief Executive Officer, Logility
Team leader: Gary A. Glisch, Chief Executive Officer
Team members: Mike Beck; Tom Beck; Jerry Hahn; Fernando De Oliveira; Marshall Pierce
Eddie Capel, President, CEO, Manhattan Associates
Anne Kohler, EVP and COO, The Mpower Group
Dalip Raheja, President and CEO,

The Mpower Group

Brian Peters, Region Manager, National Association of Electrical Distributors (NAED)
Mark Burstein, President of Sales, Marketing & R&D, NGC Software
Gregory Brady, CEO, One Network Enterprises
Bernard Gunther, General Manager, Spend Intelligence Platform, Opera Solutions
Brad Lillis, Senior Associate, Pace Harmon
Christopher Stacy, Senior Associate,

Pace Harmon

John George, Solution Leader,

Plan4Demand

Solutions Inc.
Andrew S. McCall, Vice President of Strategy,

Plan4Demand

Solutions Inc.
Martin Nehls, Managing Partner, POOL4TOOL America
Matthias Gutzmann, Vice President, International Operations, Procurement Leaders Network (PLN)
Chad Gottesman, Head of Procurian Energy, Procurian
Charles Clark, Founder, CEO, Rosslyn Analytics
Hugh Cox, Founder, CIO,

Rosslyn Analytics

Jeff Sweetman, COO,

Rosslyn Analytics

Chris Merritt, Vice President and General Manager of Global Retail, Supply Chain Solutions, Ryder System Inc.
Anand Iyer, SVP, Products & Strategy, Serus Corp.
James A. Kandilas, EVP, Principal, The Shelby Group
Henry Popplewell, General Manager and Senior Vice President, SkyBitz Inc.
Omer Abdullah, Managing Director, The Smart Cube Inc.
Nelson Hartunian, President and Chief Executive Officer, Smart Software Inc.
William Dorn, Vice President of Operations, Source One Management Services LLC
Lindsey Fandozzi, Senior Project Manager,

Source One Management Services LLC

Diego De la Garza, Project Analyst and Liaison to Latin American Markets,

Source One Management Services LLC

Joseph Payne, Vice President of Professional Services,

Source One Management Services LLC

David Pastore, Senior Project Manager,

Source One Management Services LLC

Jeff Felix, Vice President, Operations, Sourcing Interests Group (

SIG

)
John Haber, Founder and CEO, Spend Management Experts
Mohan Ponnudurai, Industry Solutions Director, Sparta Systems
George Fowler, Vice President, Spinnaker
Jeff Jorgensen, Vice President, Spinnaker
John Sharkey, Vice President, Spinnaker
Scott Bolduc, Director of Supply Chain Strategy, SPS Commerce
Jim Frome, EVP and COO,

SPS Commerce

Steve Murray, Principal and Chief Researcher, Supply Chain Visions
Joey Benadretti, President, SYSPRO USA
Raja Chandrashekar, Director, Supply Chain Center of Excellence, Tata Consultancy Services (TCS)
Gautam Sardar, Chief Scientist, Global Supply Chain Center of Excellence (CoE),

Tata Consultancy Services

(TCS)
Jacqueline E. Bailey, Co-founder, TidalSeven
Dan Avila, Partner, Tompkins International
Sean Feeney, Chief Executive Officer, TradeCard
Brian Pavlovich, Director of Consulting, Americas, Trade Extensions LLC
Ayush Sharma, Manager, Solutions Consulting, Trade Extensions LLC
Steve Simmerman, SVP, Business Development, TZA
Charlie Zosel, Vice President,

TZA

Ron Kubera, SVP and General Manager, Vocollect (of Intermec Inc.)
Paul Laman, Vice President of Sales, W&H Systems
More Practitioner Pros to Know
Team Leader: Celeste West, Vice President of Supply Chain Management
Team Members: Carole Owens, Director, iSynergy Supply Chain; Derek Stewart, Director,
Supply Chain Support Services
Martin G. VanTrieste, SVP, Quality, Amgen
Shekar Natarajan, Senior Director of Supply Chain Planning, Anheuser Busch
Rob Van Etten, President and CEO, Brighton Cromwell LLC
Patrick Bower, Senior Director, Corporate Planning and Customer Service, Combe Inc.
Jessica Sanchez, Sourcing Systems Manager, C.R. Bard
Brad Tallman, Senior Director of Supply Chain Operations, Cisco Systems
Christopher Irion, CEO, e-Cycle LLC
John P. Willi, Senior Director, Supply Chain Management, Dana-Farber Cancer Institute Inc.
Jim McCarthy, Senior Director of US Procurement, Equifax
Ray Fattore, Procurement Director of Vehicles and Parts, FirstGroup America
Mike Oswalt, Procurement Systems, Fluor
Paul L Romano, COO, Fusion WorldWide
Tunir Chatterjee, Vice President, Consulting Services, GEP
Hennepin County Medical Center
Team Leader: Matthew Werder, Director, Supply Chain Resources and Contracting
Team Members: Jess Becker; Doug Lowe; Yogi Ohneswere; Tom Stang
Team Leader: Jeffrey Wincel, Vendor Managed Inventory
Team Members: Khalid Amer; Jeremy Baich; Eric Clepper; Cassandra Fleetwood; Jannette
Klebenow; Steve Lenzo
Team Leader: Michael Evans, Director of Global Supply Chain
Team Members: Chris Allen; Tim Davis; Toni Dunn; Mark Hamilton; Kelli Pingley; Evelyne
Rivera; Shelly Schaaf; Sourendra Sharma; Linda Shi; Traci Trew
Han Kieftenbeld, Chief Procurement Officer, Ingredion Inc.
Zach Parham, General Manager, J&P Cycles
Keith Nash, Vice President, Supply Chain Logistics, Lennox International
Brian Leinbach, SVP of Systems Development and Field Services, Macy's Inc.
Paul Johnson, Vice President, Global Supply Chain Plan Process, Momentive Specialty Chemicals
Steven M. Foster, Lead Procurement Quality Assurance, Dryden Flight Research Center, National Aeronautics and Space Administration (NASA)
Team Leader: Pramod Singhal, Head of Category Group, DEW Global OPS Global
Procurement
Team Members: Pia Ahlgren, Training and Communications; Andras Bodori, Concept Owner;
Oliver Cufflin, Deployment Manager; Siddhartha Ghosh, Program Manager; Navneet Kumar,
Tempus Reporting Guru; Prashant Singh, Concept Owner
Dave Abeloe, Distribution Center Director, Patagonia
Navin Lal, Commercial Analyst, SCA Hygiene Australasia – Fiji
Brian Daniels, Vice President, Spend Analysis, SciQuest
Tom Russell, General Manager, Enterprise Solutions,

SciQuest

Maurice Sevigny, Vice President of Operations, Contract Lifecycle Management,

SciQuest

David Noble, Vice President of Sales and Marketing, Seegrid
David Sterling, Managing Director, Sterling Solutions LLC
Patti Vora, Strategic Sourcing Manager, TELUS
Trident Technical Corp.: Company Executives: Wallace Shellhouse and Lee Shellhouse
Eric Olsson, Director of Distribution Systems, Under Armour Inc.
Frank Corris, Global Director, Services and Indirect Sourcing, Westinghouse Electric Company
Companies in this article