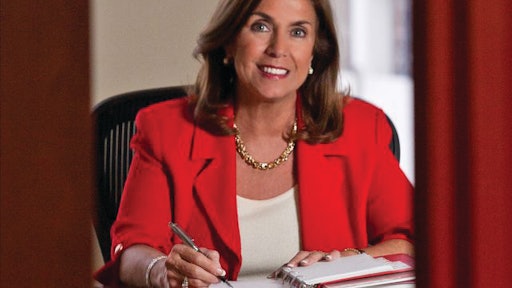 Manufacturing faces a turning point in today's supply chain. Yes, raw material costs continue to be a top cost pressure for many small and mid-sized industrial manufacturers. But streamlining operations and addressing traceability play an even bigger role today to prevent against counterfeit products and improve product safety—perhaps a key indicator why the supply chain witnessed numerous cases of manufacturers bringing production back to the U.S. There is also the prevalent challenge that many manufacturers face today in the area of labor and talent shortage, as the aging population of those in the production trenches of manufacturing today becomes a glaringly obvious factor that, if not addressed, can have some massive impacts to the production supply chain for businesses across the globe.
"The talent search in manufacturing—on both the member and supplier side—is a big issue right now," confirmed Louise O'Sullivan, Founder, President and Chief Executive Officer of Prime Advantage Corp., Chicago, and also Supply & Demand Chain Executive's "Pro to Know" of 2013. "There are products such as pressure vessels where you must have a certified welder take on the task of welding—that has become a lost skill. The average certified welder in the U.S. is 60 years old—that sends a message that the lack of vocational school training over the past decade has presented a challenge to our manufacturers and our suppliers."
While Prime Advantage does not directly work with vocational schools and other educational institutions to address this challenge, the buying consortium does serve as a guiding force in linking its buyer and supplier members together in a network environment to share best practices and information. For example, some existent Prime Advantage members who do address the talent shortage issue in manufacturing pair up with an educational group—providing an opportunity to then share gained tips, tricks and information with other members, or better yet, enable other members to get involved.
"Some of our members have partnered with local junior colleges or local trade schools to re-establish welding and other certified manufacturing skills as a future career," said O'Sullivan. "We have a partnership with a group that is one of our suppliers that provides training for certified service agent talent to actually repair the equipment that is in the field."
A 16-year-old buying consortium that helps mid-sized manufacturers achieve savings and form better relationships with suppliers, Prime Advantage provides members with strategic supplier relationships to provide them with technology solutions; new product development ideas; best practice sharing; and cost reduction through volume rebates and discounts. In the past decade alone, Prime Advantage paid more than $130 million in rebates and discounts to its manufacturing industry members. And while the rebates and discounts are a big benefit—long-time Prime Advantage member Wilbur Curtis Co. witnessed economic results and cost savings almost immediately after joining the group—the extra value-add that the buying group provides in services goes a long way for members.
"When you are in the buying world, you're buying mostly products and items that you can physically hold in your hand as they are for your production line," explained Ron Wilson, Chief Procurement Officer, Wilbur Curtis Co. "But Louise is really starting to delve more into services—something that we are starting to find more use for. For example, she just brought on a house that does translation services. In the last month or so, we brought on a customer that required us to make product labels that are in French. Well now, as a result of that translation house Louise brought on, they can do this for us," Wilson said. And like many other suppliers and buyers who ship more to countries all over the world, having something in English is becoming more of a necessary need.
Webinars to learn not only about a member supplier but connect with them for future business opportunities, increased benchmarking efforts, annual conferences and even interactive technical training that allows members to utilize technical videos to train their service technicians on products before the product installation for a customer—providing members with key services necessary for their business growth is a primary focus of O'Sullivan's in working to address their challenges of today.
While group buying has long been available in vertical markets such as food service and healthcare, perhaps the biggest aspect that sets Prime Advantage apart from buying groups is its benchmarking efforts and constant focus on member needs and current challenges—in addition to O'Sullivan's dedication and commitment she provides in helping her more than 750 U.S. manufacturers.
"One of the issues that came up in the last 18 months is when one of our members said 'I know you have this many suppliers but I still have categories that you don't have a supplier for,'"she explained. "To address that, we partnered with Strategic Resource Management and introduced cost benchmarking, which is different than the traditional buying group concept. And so now, we actually look at specific categories on a one-on-one basis with our cost benchmarking team. We cost benchmark their prices compared to what is being paid locally and across the country, and we then partner with them to either help their existing suppliers reduce cost or bring them a supplier who will reduce their cost," explained O'Sullivan.
"The other aspect that differentiates us is we have suppliers in raw material and components and services and suppliers," she continued. "About 80 percent of our members' purchases are in the raw material and components area and about 20 percent are in the services and supplies area—that is a big differentiation. We also have a field team of regional account managers that work directly with the members and suppliers. That is another differentiator of ours. Most buying groups don't have that. We really spend time getting to know our members, their challenges and their goals. And then we work to pair them with suppliers that will actually meet their needs and solve their problems," said O'Sullivan.
So what does it take to become a supplier of this elite group? Let's just say the process does require jumping through a number of hoops, perhaps the biggest one being that a Prime Advantage supplier has to nominate "said" supplier looking to join. On top of that, the selection committee—made up of 30 Prime Advantage member companies—must approve the nominee based on a large list of factors such as the manufacturing process, quality control, engineering, total cost management and much more. Not to mention, current suppliers are continuously audited throughout the course of their Prime Advantage membership.
"Buyers and suppliers come to us looking for the win-win," said O'Sullivan. "Our big goal is to establish these strategic buyer relationships for our members. We work very hard and our members see us as a unique and essential resource because we bring them suppliers that are pre-audited, that are top global suppliers who are No. 1 or No. 2 in their industry, and that will treat the members uniquely—meaning treat them as special compared to those not in Prime Advantage. And for the suppliers, their win-win comes from that establishment of long-term relationships and growing their market share within small to mid-sized manufacturers that are often hard to locate if you're using some sort of a buyer's list."
With that kind of commitment and drive for supply chain excellence, it should come as no surprise why O'Sullivan ranks as Supply & Demand Chain Executive's top "Pro to Know" of 2013. Today, Prime Advantage serves more than 25 different industries including truck and trailer; packaging; commercial food service; material handling; food processing; and construction.