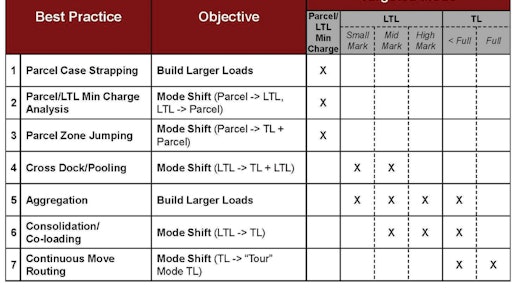 The costs and efficiencies of multimodal—moving products by combining air, rail, road and ocean transportation—are recognized by many carriers and third-party logistics (3PLs) providers, as discussed last month in the first part of this series: "Multi-Modal Management: It's a Group Effort." But several food & beverage (F&B) transportation companies reveal that less than 40 percent of companies make sincere efforts to institute any modal optimization initiatives, according to 2009 data from AMR Research. To improve asset utilization, lower cost-to-serve and reduce carbon footprint, companies and 3PLs need to adopt best practices. Additionally, 3PLs must be involved in multi-party collaboration to extend best-in-class modal optimization practices across a broader supply chain network.
In continuation of our two-part series, this month we identify seven best practices within the multi-modal approach of moving products; and the implications of the operating model for shippers, carriers and 3PLs.
Parcel Case Strapping—Multiple parcel orders for the same customers are strapped and shipped to the customer as a single shipment. This parcel aggregation model often reduces cost because there is an optimal weight/cube bracket within which a parcel is most economical. Shipments that are too light or small and fall outside this bracket are more expensive if shipped independently.
Parcel/LTL Minimum Charge Analysis—Parcel costs and less than truckload (LTL) minimum charges are compared for each shipment and shipped using the cheaper mode.
Parcel Zone Jumping—Parcel shipments for certain expensive zones can be shipped at a lower cost by using a combination of truckload (TL) and parcel. Parcel shipments to the same zone are consolidated and shipped via TL to the zone, cross-docked and delivered to customers via a series of parcel shipments. This helps transporting goods for a majority of the distance via TL, which is more economical than parcel because it avoids parcel shipments' expensive zones.
Cross Dock/Pooling—LTL shipments going to the same three- or five-digit zip codes can be pooled at the origin to build TL loads, shipped to the destination zip codes, cross-docked there and finally delivered to end customers via LTL shipments. This helps to transport the goods for the majority of the distance via TL, which is more economical than LTL.
Aggregation—Aggregation aims at consolidating orders and shipments between the same origin and destination points to build larger shipments to customers without changing modes, e.g., shipping fewer LTL shipments in heavier LTL weight brackets as opposed to shipping a high number of LTL shipments in lighter LTL weight brackets. Similarly, shipping fewer and fuller partial TL loads as opposed to a higher number of and less-full partial TL shipments.
Consolidation/Co-Loading—This is similar to the aggregation best practice with the difference of consolidating LTL and partial TL shipments into full TL shipments.
Continuous Move Routing—This best practice helps convert partial TL loads to full TL loads and minimizes the deadhead miles. Instead of going from point A to point B and back to point A, continuous move routing builds routes such as A to B to C and ultimately back to A. The interim stops can be either for making customer deliveries or picking up loads from suppliers to be carried back to point A.
Adoption impact on shippers, carriers & 3PLs
Once the advantages of multi-modal operation are recognized, the industry will see a "snowballing" effect, i.e., after the first few successful collaborative alliances are established, a landslide of alliances will form. The following looks at the implications on shippers, carriers and 3PLs.
Shippers—Shippers have much to gain. Their most tangible benefit will be lower cost of transportation as a result of both collaboration and modal optimization. Collaboration will lower lane rates and help reduce transportation overhead costs of individual organizations, as the level of collaboration increases and the transportation function is increasingly centrally-managed across all participating shipper organizations. Another less tangible but important advantage is the ability of corporations to focus on their primary businesses. Having off-loaded the transportation function to the internal group created by the collaborating parties, or to the external 3PL hired by the parties, companies can focus on their core competencies such as manufacturing, new product design or marketing. In addition, shipper organizations can better meet their sustainability mandates by playing an active role in reducing deadhead miles and increasing asset utilization—which will reduce the total miles traveled. Sustainability benefits will not be limited to a lower carbon footprint but will also extend to other realms, such as less congestion, noise pollution and needed infrastructure. Shipper organizations can achieve all of this and maintain their competitive differentiation as value sharing in collaborative alliances is based on the individual contributions of each organization—contributions based on metrics such as scale and network footprint.
Carriers, private fleets and 3PLs—Carriers and private fleets will accrue the majority of benefits, which will then be shared with shippers. To start with, collaboration will help carriers and private fleets minimize their deadhead miles and capture incremental revenue with almost the same total miles traveled. The incremental fixed costs associated with capturing this incremental revenue opportunity will be insignificant. Hence, the impact on the bottom line will be substantial, providing these organizations an opportunity to reduce their cost-to-serve and their lane rates. Similarly, modal optimization will reduce carriers' and private fleets' cost-to-serve, as well as improve their asset utilization and lower their capex needs. Similar to shipper organizations, carriers and private fleets will also be able to meet their sustainability goals.
3PL providers will be positioned for a unique opportunity. As mentioned earlier, shipper organizations are likely to appoint 3PLs for multi-party collaboration---at least during initial stages of collaboration as they test the waters and build trust. Thus, 3PLs will have the opportunity to maintain their roles and become indispensable. Key success factors for 3PLs will be seamlessly integrating disparate systems of shipper organizations and working with the different cultures of various organizations. If 3PLs are able to display enough value capture for the collaborating parties, minus 3PL fees, shipper organizations will be hooked.