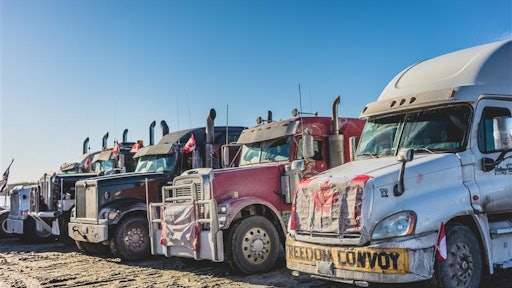 aetb/stock.adobe.com
On Monday, the Canadian Prime Minister Justin Trudeau invoked the Emergencies Act to end a series of blockades in Canada that prevented goods transferring to and from the United States, deeming the protests illegal. The protestors, calling themselves the Freedom Convoy, challenge COVID-19 restrictions from the Prime Minister. While the protests have been ongoing since the end of January, in the past week it spread from Canada to other parts of the world, stirring up copycat protests in other countries. While the Ambassador Bridge between the United States and Canada, previously blocked by the convoy, is now fully clear, highways and city centers in France, the Netherlands, Australia, New Zealand and more were clogged with similar protests.
A statement from the Canadian Trucking Alliance insists that it is a minority of drivers that participate in these protests, and also commends the Prime Minister's decision to enact a State of Emergency to end the blockades.
Per CTA:
With the implementation of the Emergencies Act, those consequences will include fines/imprisonment as well as the towing of vehicles off the roads.

CTA

will also be clarifying with federal officials regarding other legal consequences/penalties facing those engaged in illegal blockades utilizing personal and commercial vehicles.
The implementation of the Act will provide the RCMP with powers to enforce federal, provincial, and municipal laws. Again,

CTA

will be seeking clarification how each level of government in the provinces impacted by the blockades will be working together with the implementation of the Emergencies Act.
"These illegal blockades have had a detrimental impact on our members and customers' businesses. These blockades have also had a very significant negative impact upon our professional driving community. CTA very much welcomes the Prime Minister's leadership today in helping to bring an end to these illegal blockades," says CTA president Stephen Laskowski. "Order must be restored to our borders and critical infrastructure that are being blockaded."