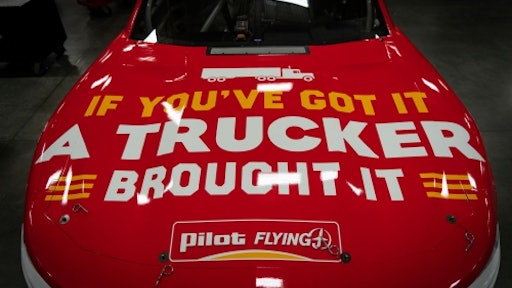 Pilot Flying J
Each year, Pilot Flying J devotes one month to showing appreciation for professional drivers in the trucking industry but this time, it's getting a crucial leg up in visibility during a crucial time in trucking. The truck stop provider partners with NASCAR driver Dale Earnhardt. Jr. in a special endeavor that has the driver sporting a new paint scheme devoted to truck driver appreciation. Earnhardt Jr.'s Chevrolet will debut its new paint job at Daytona International Speedway on Aug. 28, with the phrase "If you've got it, a trucker brought it," written on the hood. This type of appreciation is so important right now as the driver shortage coupled with disruptions and an increase in demand during the Coronavirus (COVID-19) pandemic make trucking a difficult but imperative industry.
Per Pilot Flying J:
It takes dedication, attention to safety and patience, among many other skills, to be a professional driver and we hope that when people see the #1

Pilot Flying J

Chevrolet on the track this September, they will take a moment to #ThankATrucker.