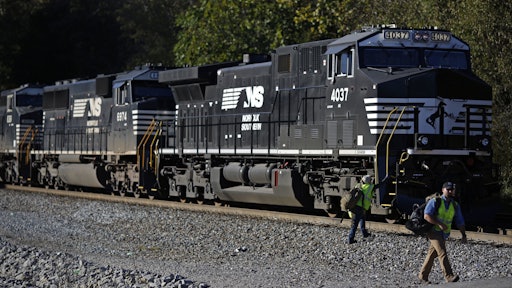 Norfolk Southern
Norfolk Southern Corporation announced plans to deploy Digital Train Inspection Portals to enhance rail safety across the company's 22-state network. The portals feature machine vision inspection technology developed in partnership with the Georgia Tech Research Institution (GTRI), who engineered the hardware, and Norfolk Southern's Data Science/Artificial Intelligence (AI) and Mechanical teams, who built the brains behind the program.
"We are a safe railroad, and we're going above and beyond to become even safer," says Norfolk Southern president and CEO Alan H. Shaw. "These new portals combine advanced technology with human expertise, giving our people and the public further confidence in Norfolk Southern's safe operations. It's all part of our promise to become the gold standard of safety in the rail industry."
Key takeaways:
The project aims to supercharge

Norfolk Southern's

safety infrastructure and inspection processes with over a dozen portals to be deployed by the end of 2024.
This end-to-end process includes hardware, software, and people. First, the Digital Train Inspection Portals are equipped with an array of 24-megapixel trackside cameras and stadium lighting. Together, this machine vision inspection technology captures ultra-high-resolution, 360-degree images of passing railcars. The cameras are synced to the microsecond, taking 1,000 images per rail car on average as they pass through the tunnel at speeds up to 70 miles per hour. The high-speed cameras are strategically placed at angles to capture things difficult to detect with the human eye during stationary inspections. In addition, capturing images while the train is in a dynamic state provides an inspection for various defects that cannot be done while the train is stationary.
AI analyzes these images for potential defects.

Norfolk Southern's

in-house Data Science/AI team has developed 38 advanced deep learning algorithms. These field-proven algorithms have demonstrated very high accuracy levels, while having very low false-positives.
The AI transmits the information to

Norfolk Southern's

Network Operations Center where the data is reviewed by subject matter experts to identify and address issues to proactively ensure the safety of rail operations. Critical defects found are flagged for immediate handling.
The first portal was deployed in Leetonia, Ohio, where trains pass through approximately every hour.