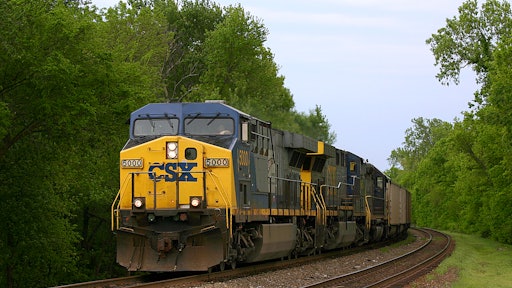 CSX Corporation today announced new growth initiatives for its Northwest Ohio Intermodal Terminal. These initiatives include: a new haulage agreement with the BNSF Railway Company (BNSF) that enhances western access into the Ohio Valley, a partnership with NorthPoint Development to construct an adjacent logistics park, and expanded eastern access to the facility via new service to and from the Port of New York and New Jersey.
"CSX's Northwest Ohio Intermodal Terminal is ideally situated on CSX's main line network 30 miles south of Toledo on Interstate 75 and is surrounded by a population of nearly 30 million within a 200-mile radius. We are excited to transform Northwest Ohio into a regional demand point that provides attractive solutions for customers and supply chain needs," says James M. Foote, CSX president and CEO.
The agreement with BNSF builds on a strong partnership to launch a premium intermodal service product between Los Angeles and CSX's Northwest Ohio terminal. The domestic and international container service is scheduled to begin on Oct. 29, 2018.
NorthPoint Development will build a logistics park adjacent to the Northwest Ohio facility, with access to over 500 acres for the project. The logistics park will include traditional warehousing and distribution capabilities, as well as value-added services such as a container yard and equipment storage, export container stuffing, and transload and breakbulk resources, all within a heavy-haul local corridor.
To enable customers to fully take advantage of the amenities provided by the terminal and logistics park, CSX will expand existing east coast port offerings to and from Northwest Ohio by adding service between the facility and the Port of New York and New Jersey.
This suite of new services and support are enabled by the improved train plan and simplified switching operation at the Northwest Ohio terminal, which will contribute to long-term, profitable intermodal growth.
Companies in this article