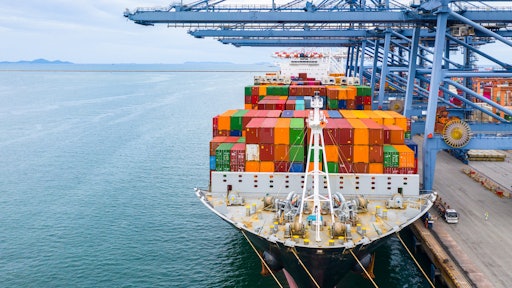 Kalyakan/Adobe Stock
The White House Briefing Room released a report of a new plan to reduce bottlenecks at major United States ports Los Angeles and Long Beach. After a year of ports and ocean freight making headlines for delays and disruptions, the industry is in need of a change and President Biden's new plan aims to reduce these issues. The plan includes the Port of Los Angeles joining the Port of Long Beach in increasing operation hours to 24/7, almost doubling hours that cargo is able to move out, along with numerous other contributions from major companies. Some experts feel that this a good short term solution but will need an impressive number of new workers during a major employee shortage. The jury is out on whether or not this will be a long term fix. The plan comes in time for the holiday season, which is expected to start earlier and cause even more delays in the supply chain.
Per the White House Briefing Room:
The International Longshore and Warehouse Union (ILWU) announced its members are willing to work those extra shifts. This will add needed capacity to put towards clearing existing backlogs. This is an important first step, now the private businesses along the supply chain need to move their operations to 24/7.
Large companies are announcing they will use expanded hours to move more cargo off the docks, so ships can come to shore faster. Unlike leading ports around the world, U.S. ports have failed to realize the full possibility offered by operation on nights and weekends.
The commitments being announced today include:
-The nation's largest retailer, Walmart, is committing to increase its use of night-time hours significantly and projects they could increase throughput by as much as 50% over the next several weeks.
-UPS is committing to an increased use of 24/7 operations and enhanced data sharing with the ports, which could allow it to move up to 20 percent more containers from the ports.
-FedEx is committing to work to combine an increase in night time hours with changes to trucking and rail use to increase the volume of containers it will move from the ports. Once these changes are in place, they could double the volume of cargo they can move out of the ports at night.
-Samsung is committing to move nearly 60% more containers out of these ports by operating 24/7 through the next 90 days. 72% of U.S. homes have at least one Samsung product, from appliances to consumer electronics.
-The Home Depot is committing to move up to 10% additional containers per week during the newly available off-peak port hours at the Ports of L.A. and Long Beach.
-Target, which is currently moving about 50 percent of its containers at night, has committed to increasing that amount by 10 percent during the next 90 days to help ease congestion at the ports.


Across these six companies over 3,500 additional containers per week will move at night through the end of the year.