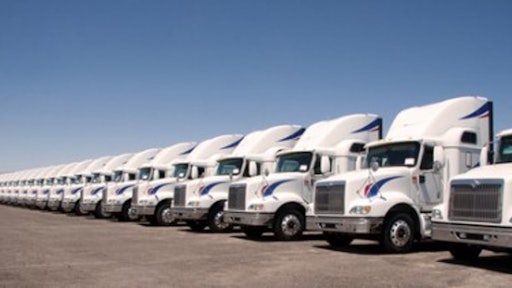 Getty Images
In the past 18 months, everything has changed within the transportation industry causing a huge capacity crunch due to labor shortages and growing consumer demand. Inventory forecasts have been flipped upside down. Trailers are getting harder to find because customer want to hang onto the equipment longer. To address these issues, the industry is seeing an uptick in the number of permits for new trucking companies – last year there were 60,000 new permits issued; this year, there have been 82,000 so far. Many of these trucking companies have 1-2 truck drivers, so the trend is for smaller carriers to start their own business and try to take away some of the business from bigger carriers. To be successful at doing this, however, it takes technology.
Here are the trends in the industry and how certain technology and solutions can help.
1. Driver shortage. The United States has had problems with hiring new drivers for years. Carriers can't put new truck drivers to work after a couple of hours of on-the-job training. A new truck driver faces months of professional training, licensure and testing. Too few people are lining up to take on the responsibilities. Several news outlets report that the trucking industry is currently short 80,000 drivers with the number climbing to 160,000 by 2030.
Technology for driver shortage. Technology, ranging from transportation management solutions (TMS), mobile apps and telematics, can be the right solution for the driver shortage because it improves operations' efficiency and driver's productivity. While there is a truck driver shortage, there are actions that companies can do to improve driver efficiency, which will help address the shortage issue. Eliminating paper-based processes means drivers can focus on driving rather than paperwork. Truck drivers often use documents that need signing upon delivery of the load. If these papers are scanned and put on a mobile phone or laptop, the driver can have the customer sign electronically, which helps the driver avoid shuffling through a bunch of papers to find the correct documents. Reducing the need to handle paperwork gives hours back to the driver. The ability to upload documents directly to the home office while out in the field speeds invoicing and shortens driver settlement times.
2. Trucking capacity. There is a shortage of capacity in the truck market due to the continuing pandemic, increased order volume from consumers, the booming holiday season and lack of truck drivers. Analysts estimate this capacity shortage is not going away any time soon and that consumers will just have to get used to shipped delays.
Technology to solve capacity issues. Carriers are using technology, such as ELDs and telematics devices, to track trailers and the hours of service of truck drivers. You can keep KPIs on shippers to see who is holding the trailer for excessive periods of time. Carriers use route planning solutions to create optimal routes, then measure whether the driver followed that route.
Solving the truck capacity issue involves more than just adding technology. Putting more trucks on the road can help with capacity, but you still need truck drivers. Reaching out to non-traditional recruits, like women or military, holds a promise for finding more drivers. Plus, changing the rules so that those younger than 21 years of age can drive trucks will help. Finally, filling trucks as full as possible, including putting long, thin items on top of pallets, so that all of the available space in the truck is used.
3. Unclogging ports. The nation's ports are clogged. While unclogging ports may move trucks around, it will not fix the supply chain's even bigger woes with trucking capacity. And, juggling trucks won't help the nation grow a larger driver pool. The need is to position—or reposition—existing drivers so they are in the right place at the right time to drive trucks. President Biden has asked the ports to operate for longer hours (24/7) to help unclog them. But, now there are traffic jams building up in neighborhoods around the ports. Dock workers are leaving in favor of better working conditions. It's a perfect storm that is not going to be solved easily.
Technology for ports. When shipping intermodal, it is best to join a pool of chassis managed by a chassis management company. The chassis can be rented by motor carriers to move freight from the port. These chassis pools enable operating savings by reducing the need to store and maintain chassis.
4. Drivers moving to smaller carriers. Since the beginning of the pandemic, more drivers have moved to smaller carriers or found jobs in the final-mile delivery segment, which is somewhat like heavy-duty trucking but with less federal oversight and potentially more flexible work schedules for drivers. These smaller carriers can be more flexible in their pay and benefits, but also offer drivers the loads they want to carry.
Technology for smaller carriers. For small to mid-size carriers to keep up with the increase in demand and to better compete against bigger carriers, these smaller carriers need to utilize a TMS that can help find the most profitable loads. The TMS can connect to a variety of load boards to search for loads. An optimized TMS will factor in driver preference, hours of service availability, customer demand and available assets to secure feasible loads that generate the most money.
5. Trucking companies spending incentive money. If you're a trucker, you may be leaving money on the table if you haven't yet tapped into incentive dollars available through the federal government. Congress signed the Coronavirus Aid, Relief and Economic Security (CARES) Act into law on March 27, 2020 to provide employers with federal loan and financial assistance options. Backed by the Small Business Administration and U.S. Treasury Department, the law helps truckers maintain payrolls and cover other operating expenses. Truckers can use PPP loans to cover employee salaries, insurance, healthcare benefits, mortgage interest and more, including buying technology to help manage your business.
Technology to manage incentive money. Have leftover government funds or pandemic incentive dollars you need to spend before the end of the year? Want to use those funds efficiently? A TMS is like the gift that keeps on giving—helping you find the most profitable loads, meet customer demand and grow your business profitably.
6. Truck utilization. Active truck utilization is a complex mix of driver demand, driver supply and truck and driver productivity. And unfortunately, truck driver productivity has suffered as drivers chase bonuses and hop from one fleet to another, losing time during transitions and making it difficult for shippers to find the right resources to meet demand. Meanwhile, post-holiday consumer demand will likely remain high in 2021 and into 2022, as shortages of certain products could lead to a bump in the sale of gift cards that will push more holiday shopping into early 2022 and keep freight lanes full.
Technology to improve asset utilization. Business process automation solutions can reduce person-hours and errors and maximize assets and revenue. A TMS that automates processes and contains features like centralized load management, smart tracking of driver schedules and location tracking of all assets – drivers, tractors, trailers, loads – all in one place on the map as they move from location to location helps you stay on top of your assets. Back-office automation for customer invoicing, driver settlement and document management speeds accurate, timely processing.
Technologies like an optimized TMS, route planning software, driver schedule planning systems, automated linehaul network planning software and more can help address these growing challenges within the transportation industry.
Click here to hear more about trends in trucking: