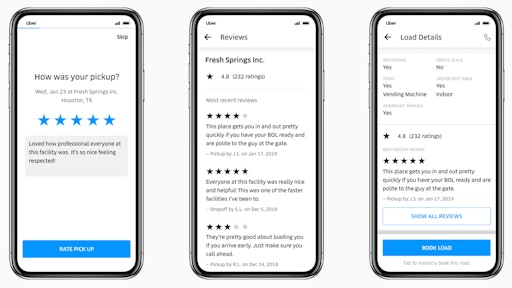 Uber Freight
Uber Freight has introduced a new feature to its trucking platform that allows drivers and carriers to provide feedback to the facilities they visit, much like in Uber's original rideshare app.
"When Uber introduced ratings to its rideshare platform, it transformed the transportation industry. Ratings in the Uber app help enable high-quality experiences for both those behind the wheel and in the back seat. Today, Uber Freight is bringing that same transformative power to the trucking industry with the introduction of Facility Ratings," Uber Freight announced in a blog post.
While we tend to think of truck drivers on the road, the fact is they spend nearly as much time at the facilities where they go to pick up and drop off shipments, often even spending the night at these facilities. Detention time, bathroom access and parking availability are a few factors that can either incentivize or discourage a driver from choosing loads at a certain facility. In fact, according to a survey of 150 trucking companies in 2018, 80 percent of carrier respondents refused to take loads from facilities for reasons including inflexible appointment hours and lengthy detention times, which the U.S. Department of Transportation (DOT) estimates costs truckers a total of $1.1 to $1.3 billion in earnings each year.
Uber Freight hopes its Facility Ratings feature will help change this by allowing drivers to "share their experiences with those who have the power to improve it."
Drivers can rate facilities on scale of 1 to 5, with the option to leave a review. These ratings are available to all Uber Freight users.
"When drivers are deciding whether or not to book a load, information around bathrooms, parking, on-site scales and more will be available at their fingertips," Uber Freight explains. "This information is key in helping carriers choose the right load for their needs. It also enables a feedback loop between carriers, drivers and shippers, allowing for more collaboration and improvement across the freight industry."
This information also has benefits for the shipper that relies on these facilities to operate efficiently throughout its supply chain. Facility Ratings data can be accessed through Uber Freight's shipper platform, so they can identify areas of improvement and make informed changes to their operations.
"To maintain a healthy, efficient supply chain, it's key to prioritize carrier needs and feedback. The data that Uber Freight is providing with Facility Ratings in their platform is a great validator for making improvements to our operations, whether that means reorganizing personnel shifts or even moving to a bigger facility," says Robert Fisher, Nestle North America Procurement. "I've never seen this granular breakdown and level of visibility into facility activity before; it's eye-opening, and exactly the kind of data we want to look into."