Coast Guard Netherlands
Some 207 containers carrying chemicals and consumer goods fell of the MSC Zoe during a storm Jan. 1 in the North Sea.
Children's toys, shoes and other consumer goods are among the items washing up on Dutch and German beaches this week. Three containers, however, contained toxic substances such as peroxide powder.
MSC announced in a news release Friday it will be directly taking over clean-up efforts. In collaboration with local authorities, the shipping company said is now working with a number of salvage companies and is also taking over contracts initiated by local authorities as part of an emergency reaction to the incident in order to provide a sustained and effective response operation. That operation is being coordinated through a single specialized response company, appointed by MSC and its insurers, in order to centralize and monitor the cleaning work.
The clean-up is concentrated around the Dutch and German coastlines and notably on Frisian islands such as Vlieland, Terschelling, Ameland and Schiermonnikoog.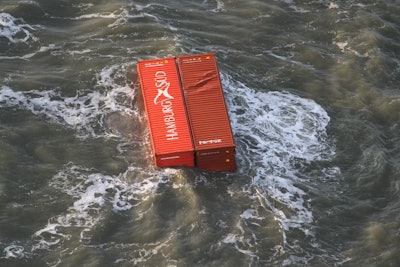 Specialist equipment, such as drones used to scan the area, is being used to accelerate the clean-up process. Additionally speed boats are being used to pick up and tow drifting containers, and sonar-tracing vessels are helping aid in underwater recovery. These boats use a hydraulic, remote-operated grab function to pick up the boxes.
Some materials collected from the Frisian coast have already been passed on for recycling and for use as building insulation. It is expected that all material collected from the islands as part of the official clean-up operation will be sent to the mainland for storage and treatment.
In addition to the debris clean up, MSC is also working to collect all missing containers. While a number of containers have already been collected, according to the release, fly-over operations by Germany's Havariekommando (a federal maritime emergency service) are helping to determine the location of boxes within German waters.