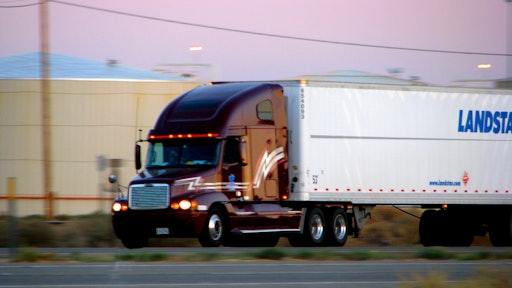 The trucking industry is experiencing a tightened capacity this year as freight levels grow, productivity decreases and the driver shortage continues. Carriers and intermodal providers are focusing on efficiency to meet increased demands.
At the Intermodal Association of North America's Intermodal Expo 2018, a group of panelists spoke on the capacity shortage discussing details on how they're working together to stay ahead of traffic and improve terminal throughput.
Transport Topics reports that drivers are currently facing congestion at terminals and that companies are investing in technologies that enables drivers to schedule terminal times to improve productivity.
Some companies, like C.H. Robinson, are tracking the amount of time it takes for drivers to get in and out of a facility so that shippers can invest in driver amenities and on-site parking, Transport Topics reports.
However, driver challenges are greater for the drayage community, Transport Topic reports. A lot of challenges the drayage community faces is often outside of upper management's control at rail yards, ports and chassis.
Meanwhile, the driver shortage continues to be a challenge for companies as they struggle to recruit and retain drivers. J.B. Hunt are targeting drivers in the Upper Midwest and raising pay in certain regions to meet market conditions.
Transport Topics reports that the panelists are seeking to have velocity improvements by next year so that there isn't any increased congestion. Schneider, for example, has added 4,000 containers this year to address capacity constrains, and as rails slow down they're able to see how many they will need in the coming years.
To read the full original article, please click here.