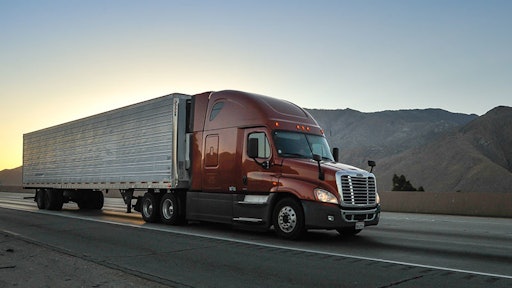 The trucking industry continues to tighten as the driver shortage continues. The lack of available drivers is effecting the entire supply chain, causing goods to be delayed and prompting some companies to increase prices, the New York Times reports.
Companies are trying to alleviate the problem by upping pay and loosening federal rules to attract nontraditional drivers like women, teenagers and minorities.
The New York Times reports that the Transportation Department has tabled a number of safety regulations that trucking lobbyists claimed to have posed unnecessary burdens but that the trucking unions supported, such as requiring that rigs be outfitted with speed-limiting software and that drivers be screened for sleep apnea.
The White House is also backing a pilot program that allows younger drivers with military training to operate commercial vehicles across state lines, according to the New York Times. While the program is only a trial, it is allowing drivers under 21 to make deliveries that some federal regulations currently prohibit.
Younger generations have expressed less interest in the trucking industry and wages started to lag. According to the Bureau of Labor Statistics, the median wage of a driver is around $42,480 a year.
The e-commerce boom is starting to shake the industry, and demand for trucks is now outpacing the supply in drivers. Freight carriers are setting higher rates and companies are raising prices on products, the New York Times reports. Food companies have noted higher freight costs weighing on profits, forcing them to hike prices on products to make some money.
For now, attracting underrepresented candidates is necessary, especially since it's an already difficult industry to enter.
Currently, women and minorities make up just a fraction of the overall trucking population. According to the American Trucking Associations, 94 percent of drivers are men and two-thirds of all drivers are white. The trucking industry desperately needs to "rebrand" themselves.
The New York Times reports that Kristina Jackson, a 22 year old African-American truck drive is the type of person the industry wants to attract. Trucking wasn't an option for her until her boyfriend's father encouraged her to try it. Yet, a year into the industry she is reminded that she's an outlier in the industry.
Jackson tells the New York Times, "When people found out I was in trucking, they were shocked because of my gender and age. The first thing oyu think of is an old white male. People say to me, 'You don't look like a trucker." I say, 'What does a trucker look like?'"
For Jackson, the younger generation could be easily persuaded to join the industry and has recruited 10 of her friends. However, a problem that recruiters have in attracting young drivers is by not representing them in their pitches.
According to the New York Times, the Trump administration is attempting to target high school graduates to join the industry, a demographic that has remained out or recruiters' reach. Students graduating from high school and not entering the military or going to college can't get into the industry because you have to be 21 to drive interstate freight. Most people won't sit and wait for that time to come.
Currently some states already allow those under 21 to drive trucks within state lines, the New York Times reports. However, the administration's age proposal is controversial due to safety advocates arguing that "riskiest cohort of drivers" shouldn't be able to drive across state lines.
The industry remains hopeful that the pilot program will succeed and eventually prompt the Trump administration to reduce the driving age for all types of people, not just those with military training, the New York Times reports. The program seeks to recruit 200 drivers under the age of 21 serving in the National Guard. The department will collect data on the young drivers and compare it with those of new drivers between the ages of 21 and 24.
So far lowering the driving age is just one hill that the industry is climbing. Companies still have to reach out to women and minorities and ensure that they are safe while working.
"There's still men out there who think women shouldn't be driving trucks. They're few and far between, but they're vocal," Ellen Voie, president of the Women in Trucking Association tells the New York Times. "The experience has changed a lot over the past five years because carriers are trying hard to make sure women have a good experience."