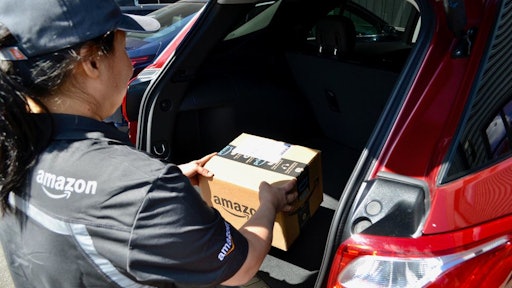 Amazon announced a new extension of its Amazon Key program, seeking access to customer's vehicles to leave package deliveries inside.
The e-retailer is partnering with General Motors and Volvo to use connected technology that is embedded in modern vehicles. The service will start rolling out in 37 U.S. cities.
Amazon has been testing the service in California and Washington for the last six months. In a video released by Amazon, customers raved about the service saying that it allowed their children to nap without being disturbed and not have someone snoop for birthday presents.
Packages that weigh over 50 pounds, are larger than 26 X 21 X 16 inches in size, require a signature, valued over $1,300 or come from a third-party seller are not eligible for in-car delivery.
The service is currently only available for Amazon Prime subscribers and those who own GM and Volvo vehicles with model year 2015 or newer and have active OnStar and Volvo on Call accounts. The company plans on adding other automobile brands over time.
To access the delivery service, customers will have to add their vehicle to the Amazon Key app and include a description. The vehicle will also need to be parked within a certain radius of an address used for Amazon deliveries, however, driveways, parking lots, parking garages and street parking all possible to have your package delivered.
Couriers will have access to the vehicles GPS location and license plate number, as well as an image in order to find the car. The employee will then scan the package and request the vehicle to be unlocked from the connected car services. Amazon will not have access to the customer's connected car login details and communications between the company. Couriers won't be able to move on to their next location until the package delivery is verified, the trunk is closed and locked.
Amazon could potentially face some challenges, however. The Verge reported that during beta testing the company didn't know the location of the car until six hours before the delivery was scheduled to take place, challenging its last-minute supply chain.
To read the full original article, please click here.