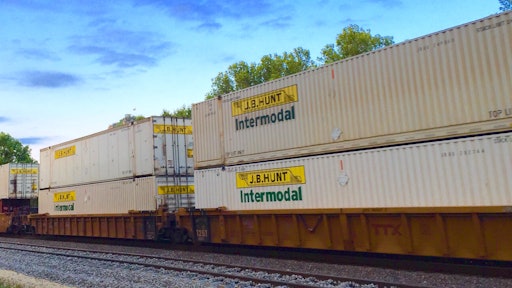 U.S. intermodal rail traffic is on pace to set a new annual record this year, with strong gains in November and the first week in December marking the best intermodal week in history, the Association of American Railroads (AAR) reports.
U.S. railroads logged 1,369,160 containers and trailers in November, up 3.8 percent, or 50,029 units, from the same month last year. Although U.S. railroads' carload traffic slipped last month 0.9 percent to 1,307,521 units, the combined total of intermodal and carload activity rose 1.5 percent to 2,676,681 for the month compared with November 2016, AAR officials said in a press release.
Last month, 12 of the 20 carload commodity categories tracked by AAR on a monthly basis posted increases. They included crushed stone, sand and gravel, up 16,402 carloads or 14.8 percent; metallic ores, up 5,810 carloads or 22.8 percent; and chemicals, up 5,465 carloads or 3.6 percent.
Commodities that posted declines included coal, down 22,560 carloads or 5 percent; grain, down 16,311 carloads or 12.7 percent; and petroleum and petroleum products, down 3,877 carloads or 7.2 percent.
To read the full original article, please click here.