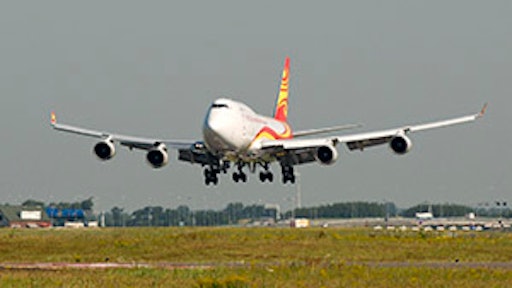 Shanghai—Sept. 10, 2013—Yangtze River Express is the latest freighter operator to introduce services to Amsterdam Airport Schiphol. The Chinese airline now operates twice weekly from Shanghai to Schiphol, using B747-400SF aircraft. The services replace twice-weekly flights from Shanghai to Luxembourg.
Founded in 2002, Yangtze River Express operates a fleet of 18 freighters on 200 scheduled services to 22 domestic and international destinations.
Schiphol is now served by 300 freighter flights per week operated by 25 full freighter carriers, connecting the airport to 134 cities in 70 countries.
Amsterdam Airport Schiphol Cargo at a glance:
Third largest cargo airport in Europe
17th largest cargo airport in the world
Air cargo community employment of more than 26,000 people
1,483,448 tons of cargo in 2012
317 scheduled airline destinations in 90+ countries
106 scheduled airlines
25 scheduled freighter operators
Highest share of (non-integrator) main-deck capacity in Europe
25 dedicated full freighter stands
Five main runways, ranging from 3,400 to 3,800 meters in length
Ability to handle multiple A380s and B747-8Fs
Eight cargo-handling companies
400,000 square meters of cargo warehouses of which 60 percent have direct air side access
11,000 square meters of new cargo buildings under construction with direct air side access
Airside access for logistic service providers
More than 150 logistic service providers situated at or in vicinity of Amsterdam Airport Schiphol
More than 50 percent of all American and Asian European distribution centers located in the Netherlands
Airport-seaport synergies: Amsterdam Airport Schiphol close to Ports of Rotterdam and Amsterdam
European road feeder and distribution network
Operation of more than 25 trucking companies at the airport
Companies in this article