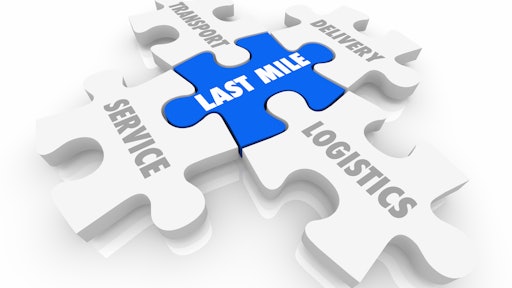 AdobeStock_246967569
Less-than-truckload (LTL) freight offers an essential choice for shippers. LTL shipments usually consist of palletized freight and cost a fraction of full truckload (FTL) freight, making LTL a must-have for most shippers, especially those with frequent shipments that don't fill an entire trailer.
But, the LTL hub-and-spoke model, with terminals placed in key cities throughout direct service areas, has its flexibility and price tradeoffs. The Motor Freight Classification (NMFC) system impacts every item shipped LTL, which assesses a freight class based on freight weight, length, height, density, ease of handling, value and liability.
LTL's rating and cost complexity doesn't stop there.
Shippers must factor in pick-up and delivery locations (calculated based on zip codes) and special services like lift gate pick-up/delivery, inside pick-up/delivery, residential pick-up/delivery and like, all of which can impact fees and add accessorial.
Changing last-mile delivery demands and trends
Unlike LTL's out-and-back delivery model, most last-mile uses a simple, one-way route approach.
But, last-mile delivery is impacted by its complexities and constantly changing demands. Since 2019, consumer demand and e-commerce volumes have surged, as delivery windows have shrunk from 5-day to 2-day and even next-day and same-day. Meanwhile, the pandemic has highlighted the need for contactless delivery.
To meet demand, some retailers partner with last-mile fleets. But, a dearth of trucking capacity and drivers has meant companies continue to struggle to find and retain drivers. Some keep full-time drivers on staff and use apps to "crowdsource" hourly drivers—all of whom now have frequent customer interaction and serve as roving "brand ambassadors" and are crucial to the enhanced customer experience.
Shippers today must balance other shipment options vis-à-vis LTL too, each of which has pluses and minuses:
With parcel shipping, packages move through several checkpoints, making them more prone to damage than palletized LTL freight. On the plus side, parcel volume discounts allow zone skipping (bypassing a parcel carrier's zones, so shippers avoid charges from crossing multiple zones in a single trip). But as the capacity crunch continues to loom, carriers are becoming more selective about the maximum lengths included in their standard pricing structures as well as the freight and routes they are willing to take.
Partial truckload (PTL) shipping typically takes up four pallet spaces or more (or up to three-quarters of space on a trailer) and is more cost-effective than LTL. However, multi-stop loads mean PTL transit times are slower than LTL. Any savings accrue due to shared trailer space.
Full truckload (FTL) shipments encompass freight of over 20,000 pounds or on 20 or more pallets, offer no transfers or stops and enable quick shipment to the destination with only one load/unload.
Why an accurate, real-time hybrid LTL/last-mile solution makes sense
LTL is still a primary choice for many shippers. But, most standard LTL route optimization tools only optimize for the first portion of the delivery—the outbound trips-- not for back-haul (hence the return trip "empty miles" that bedevil LTL carriers).
Any company with a truck and a driver can do last-mile deliveries, the trick is to do them efficiently while meeting all your customer commitments. For LTL, this is twice as tricky because they are worried about making deliveries and pickups efficient for their customers.
It's not enough to treat pickups like deliveries, tricking the system into being more efficient.
Route planners can only create an efficient path to meet customer commitments by optimizing LTL freight and last-mile deliveries in real-time; this means they need to know the product size, truck capacity and equipment needs, and other parameters for the return trip.
Complex planning like this requires a solution which optimizes for both LTL pickups and last-mile deliveries, reducing the number of drivers needed by over 5%, miles-per-stop by more than 5% and route planning time by up to 50%.
A route optimization solution needs to include:
An advanced optimizer honors all the variables–delivery time windows, multiple trailer types, freight arrival times, driver availability, historical pickup density and the like–and creates workable optimized routes.
Intelligent dispatching with real-time visibility of all drivers and stops lets the user drill down into specific routes or stop details to ensure route compliance.
High-performance mapping gives dispatchers a bird's eye view of all drivers, supporting dual monitors with pop-out maps and an ever-present live view.
Continuous re-sequencing of remaining stops means users can easily re-sequence based on time commitments, current traffic and new pickups, so drivers achieve on-time service goals.
A smart mobile app eliminates the need to switch between apps and automate data entry for all route-related tasks and paperwork
Third-party integration with apps supporting limited access detection, geocoding, real-time tracking for customers and shippers, electronic bills of lading, speeds dispatch.
Dock and route compliance reports inform leadership of deviations from the plan to facilitate coaching and maximize ROI.
Built-in standardized text messages, smart replies, and a simple interface speed dispatcher-driver communication.
Real-time trailer capacity visibility tools so that dispatchers know how much room each driver has for additional pickups.
A regional LTL carrier recently gained visibility into its assets and drivers with a route optimization solution. They had been moving paper delivery receipts from linehaul or trap manifests into delivery manifests—even as the dock was busy moving freight. Personnel had no way of knowing how a decision about an individual bill or route would affect the pickup and delivery operation cost, much less whether a driver could hit all his appointment windows.
The carrier now makes informed route decisions around the maximum number of stops/routes, equipment and vehicle specifications, cube calculations, service times for each customer, driver start times and delivery windows, to name a few. Historical pickup density information ensures delivery routes end at strategic locations at ideal times for driver pickups. Their intuitive map-based displays and fluid workflows help them visualize routes and make changes on the fly. Proactive alerts on late-arriving bills or equipment shortages and data-driven feedback on impacts from manual route changes help planners make the best decisions quickly.
It can be incredibly daunting to make the right LTL and last-mile routing choices. So, it can make sense to explore a robust, scalable and secure solution designed to handle the complexity and uncertainty of LTL pickup and delivery operations to meet growing and changing business needs.