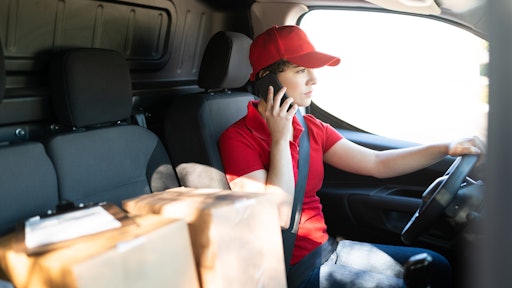 antoniodiaz/adobe.stock.com
Once upon a time, the retail world was a happy place. People went to the department stores to buy the products they wanted. They looked at the price and products, they loaded their carts and returned home with their goods, and retailers made bucketloads of money.
Then, the phone and the computer screen became the new supermarket. While the shift from brick-and-mortar stores to online marketplaces was mostly smooth, the post-purchase and last-mile delivery experience hasn't given consumers the experience they were looking for.
Online shoppers face a range of challenges. The phone they ordered never arrived on the promised time. The team jersey they wanted showed delivery times only after the game. Once consumers order their favorite items over the internet and they expect them to be delivered as quickly as possible. Retailers and carriers cannot match up to the speed of demand consumers want.
The pandemic flipped another switch. E-commerce grew globally nearly 2-5 times faster than pre-pandemic levels. Shackled by legacy last-mile practices, overwhelmed by the exponential rise in deliveries and pressed by global supply chain snarls, retailers and shippers struggled to meet consumer demands.
Flawed last mile delivery experiences left consumers frustrated. Brand loyalty went out the window as consumers searched for retailers that focus on creating their favorite products and providing fast delivery experiences.
A consumer survey revealed that 85% of consumers will not choose a retailer again due to a poor delivery experience. In order to regain consumer loyalty and rebuild brand equity, companies need to reshape their last-mile operations.
Last-mile delivery is no longer an afterthought. It's a blueprint for building perfect consumer experiences. What retailers and shippers need in this age of e-commerce is a last-mile mandate, a lighthouse that helps companies navigate the challenges in last-mile logistics.
The benefits of optimizing last-mile operations
By knuckling down on last-mile optimization, enterprises can reduce costs. Last-mile delivery accounts for 53% of overall shipping costs while omnichannel fulfillment, which costs roughly 10-20% of overall sales in omnichannel retail, adds another layer of complexity. Omnichannel retail costs can be lowered with effective last-mile operations.
Another added benefit of an optimized last mile is enhanced consumer experiences. In the United States, 59% of consumers will walk away after several bad retail experiences and 17% after just one bad experience. Last-mile delivery is central to delivering a superior consumer experience.
Last-mile delivery can become a playground for creating differentiated offerings that match the changing needs and demands of the consumers. An effective business process management solution can enable enterprises to deliver unique, on-brand consumer experiences throughout the order-to-delivery experience.
The last mile can also drive savings in emissions and have a notable sustainable impact. According to a World Economic Forum report, demand for urban last-mile delivery is expected to grow 78% by 2030. Leading to 36% more delivery vehicles in 100 cities around the world and ultimately contributing to a rise in carbon dioxide emissions. With an efficient last-mile delivery process, enterprises can do their bit for the environment and make their logistics operations sustainable.
Delivering a positive consumer experience: enhancing visibility, agility and sustainability to win over customers
Enterprises aiming to make their logistics operations more customer-centric must put a greater emphasis on the delivery experience. Simplifying complex last-mile logistics processes for consumers will be crucial to retailers' long-term success. By moving away from legacy methods, retailers are able to focus on the aspects of deliveries that truly matter to the average shopper, and the three pillars of visibility, agility and sustainability.
Delivery visibility starts with knowing packages' locations, what factors could impact on time delivery and how to adapt to mitigate those factors; this often means optimizing routes to specific needs and accommodating potential delays. By factoring in traffic patterns, weather and road conditions to create dynamic routes with optimal efficiency, retailers are acknowledging that there is no "one-size-fits-all" method for deliveries. With the help of modern tech and data, retailers and shippers can optimize delivery routes to create more flexibility and efficiency, translating to more cost savings for the retailer and consumer.
Once retailers and carriers achieve complete delivery visibility, this will lead to a more efficient last mile and ultimately a superior consumer experience. Dispatch managers can utilize real-time information on the loading and unloading of packages, the assigned delivery agents and how near or far these agents are from the package drop location. Enterprises can use delivery visibility to inform consumers about their packages through text alerts. These alerts usually contain the order number, delivery vehicle and delivery agent's phone details.
Personalizing the last-mile delivery experience is also critical for creating a great consumer experience. Personalization is about more than just integrating consumer preferences while making deliveries – it applies to returns as well. A McKinsey report says that 33% of repeat consumers would choose to abandon a retailer if they had a difficult returns experience. When it comes to building brand loyalty and long-term consumer relationships, retailers must focus on delivering a flexible and easy returns experience.
An optimized last mile is also a driver of sustainability and lowered emissions through route optimization and strategically planned delivery fleets. For example, utilizing green delivery fleets that are more energy efficient, including electric vehicles and alternate delivery vehicles such as drones will help reduce carbon emissions. Optimizing the deliveries themselves to create the most efficient routes includes driving fewer miles overall, contributing to a reduced carbon footprint.
If retailers want to meet the needs and demands of online shoppers and ride the e-commerce wave, they must rebuild their last-mile operations. The only way enterprises can upgrade their obsolete last-mile processes and make them more adaptive and agile is by giving its logistics operations a long-term reset.