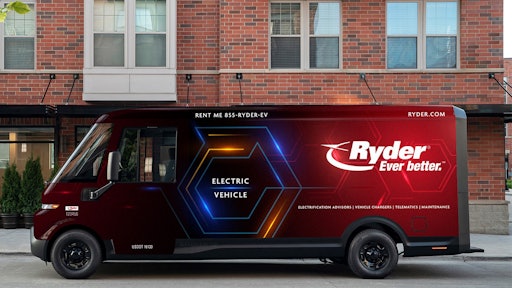 Ryder System, Inc.
Ryder System, Inc. unveiled RyderElectric+, a new turnkey electric vehicle (EV) fleet solution that provides electrification advisors, vehicles, charging, telematics and maintenance all in one.
"By combining our expertise, advisory services and relationships with vehicle manufacturers and charging companies, as well as our integration with telematics providers, we help companies build and maintain an electric fleet that fits their needs," says Karen Jones, Ryder CMO and head of new product innovation. "We aim to help make the integration of electric vehicles as seamless as possible by offering solutions that are streamlined through one provider at one cost."
From BusinessWire:
RyderElectric+ will serve as a centralized source for Ryder's best-in-class fleet-management services in financing, facility infrastructure, charging and maintenance for commercial EVs.

This includes electrification advisors designed to help customers assess vehicle fit, estimate potential emission reduction and total cost impact, evaluate charging service requirements, provide guidance on availability of potential grants, and build out an EV transition roadmap.

The new solution also provides access to Ryder's inventory of advanced vehicle technology that would include financing, warranty and safety options, as well as the company's national maintenance footprint,

24/7 emergency roadside assistance, on-the-road usage/telematics for fleet insights and EV chargers at select Ryder locations.
"As demand and adoption of commercial EVs continues to accelerate across the transportation and logistics industries, this latest offering provides Ryder customers with an end-to-end solution for zero-emission commercial fleet management, deployment, fueling, and maintenance," adds Carlo Rodriguez, group director for advanced vehicle technology for Ryder.