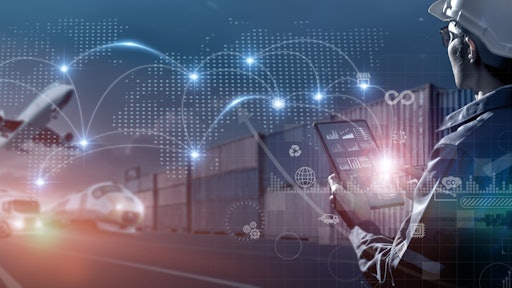 MangKangMangMee/stock.adobe.com
Not surprisingly, given the spike in e-commerce, the focus in supply chain operations has been on the last mile. In 2021, Statista reported retail e-commerce sales at approximately $5.2 trillion worldwide and projected its growth by 56% over the next few years to reach an estimated $8.1 trillion by 2026. A Pitney Bowes study noted that, in the U.S. alone some 55 million parcels are delivery daily; a volume expected to double within the next five years. In response to this growth, manufacturers are automating their production, warehouse operations and inventory management to improve productivity, provide shorter lead times, and better manage custom orders.
But what about the first mile? While it plays a critical foundational role for both the middle and last miles, it has been largely ignored by logistics service and technology solution providers, as well as shippers and suppliers. It is now, however, starting to be addressed by forward-thinking organizations who recognize the need to optimize the first mile and are introducing advanced technologies to support vastly improved first mile logistics. Understanding today's market conditions, which make first mile optimization essential and how new technologies are tackling first mile challenges is important for all businesses operating on the supply chain.
Supply Chain Market Overview
According to Contrive Datum Insights (CDI), the global first and last mile delivery market is forecasted to reach $288.38 billion by 2030, reflecting a compound annual growth rate (CAGR) of 6.12% over the 2022 to 2030 forecast period. These projections are based on expected market drivers which include the continued growth of e-commerce, declining shipping costs, improved ground delivery vehicles, more automated warehouses and the introduction of new supply chain platforms to improve processes.
In addition to the explosion in e-commerce, several other trends are dominating the logistics and supply chain market. We're seeing:
More outsourcing of work to gig workers in response to persistent labor shortages
The entry of more start-up logistics companies as evidenced by the estimated $28 billion venture capitalists invested in these firms over the past several years
New approaches to purchasing and procurement such as re- or near-shoring of certain products/components to gain greater resilience
The replacement of supply chains with supply networks which facilitate collaboration and secure data exchange among

purchasing executives, suppliers, factories, logistics service providers and other players on the supply chain.
Also apparent is the adoption of new technologies to support more reliable, efficient, faster and cost-effective processes. This is particularly true for first mile logistics, which is plagued by many challenges.
Challenges Impacting First Mile Logistics
To date, the first mile has been mostly invisible and hindered by largely manual, paper-based processes applied across the spectrum from transport to consignment. This is despite the fact that the first mile is complex with many factors and intricacies that need to be considered (i.e., order booking, tracking and shipment management; inventory management, documentation and reporting, etc.). In addition to shipment booking and tracking, manual processes are also used in labeling, often resulting in missing required information fields which, in turn, slows down dispatching and leads to delays, as well as packaging which when performed improperly can lead to damage during loading or in transit. Additionally, as with the middle and last miles, the first mile must contend with transport-related disruptions (i.e., road closures, weather impacts, ground vehicle breakdowns, etc.).
For the first mile, there has been minimal focus on key performance indicators (KPIs) related to on-time performance, emissions, products arriving undamaged, etc. Communications between buyers, suppliers, freight forwarders and other logistics partners is inefficient or virtually lacking in many cases. This has led to fractured or nonexistent collaboration and the failure to capture, analyze and leverage data, all of which is essential for accurate lead time projections.
The good news is that manufacturers, suppliers, freight forwarders and logistics companies are now turning to automation, digitalization, and new technologies. They are leveraging Artificial Intelligence (AI), Machine Learning (ML), predictive analytics, fuzzy logic, and Industry 4.0 technologies to mitigate first mile challenges.
Solutions to Improve First Mile Logistics/Processes
There is a wide range of solutions designed to tackle one or more of the first mile problems. Optimization software, for example, using advanced algorithms, is supporting complex business processes including warehouse and inventory management, fleet management, order tracking and resource management. Digital twin technologies are offering visual supply chain simulations and helping with disruption management. Transportation management systems (TMS) help support such processes including shipment contracts and carrier contracts, GPS tracking, proof of delivery functions and real-time shipping information.
In addition to these software solutions, there are new online platforms, some of which are cloud-based, designed to digitalize first mile processes. They offer various capabilities from connecting shippers, suppliers, freight forward and government entities, and enable all parties to view the same documents. Shippers can use the platform to vet suppliers and compare pricing. After the supplier is selected, the purchase order can be booked and entered into the system, along with all other pertinent information associated with the order. This information can then be shared with a freight forwarder and the shipment tracked until it arrives at its destination (i.e., a distribution center).
Next-Gen First Mile Platforms
Recently, there has been the introduction of even more robust first mile platforms – those that offer full first mile supply chain visibility, enhanced communications and action-based collaboration and advanced digital decision-making and planning support. Designed to alleviate the pain points and obstacles associated with the first mile, these next-generation platforms deliver lead time accuracy through order and shipment visibility and, real-time 360°collaboration between shippers' internal teams, suppliers and logistics providers. Using the platform, buyers, shippers, forwarders and logistics providers are able to identify and resolve issues that would otherwise impede on-time order delivery.
These leading-edge platforms facilitate context-specific, action-based collaboration that eliminates the need to have separate applications in which manual data entry is required. Instead, there is the automatic collection of relevant data, backed by real-time updates, so that full first mile visibility into suppliers' activities is accessible.
Important exchanges are visible on the platform. These include orders, bookings, shipments, notifications, approvals and incident reports. Suppliers can access order status such as: accepted, partially accepted, rejected, ready to book, pending and ready to ship. Shippers can message suppliers on the platform (e.g., "Please accept this order."). Suppliers can update order status, drilling down to timely details (e.g., "Order is ready to ship."). Forwarders and logistics providers too can access order status. The need for endless phone calls for all parties is eliminated as the platform enables the complete chronicling of a shipment's movement.
Achieving Agile First Mile Planning, Resource Management and Decision-Making
Using today's advanced technologies, first mile operations can be significantly improved delivering important benefits to manufacturers, suppliers, forwarders and logistics service providers. In addition to improving lead time accuracy and on-time delivery with more effective, real-time disruption management and optimized route planning, there is the opportunity to reallocate human resources to higher-level tasks, while also helping to minimize labor shortage impacts. Digitalization also drives operational savings along with the ability to offer more competitively priced products. Customer satisfaction is enhanced, and regulatory compliance supported with accurate documentation and reporting. Overall, advanced digital technologies help build manufacturer and supplier resiliency which is essential as our supply chain will continue to be affected by weather and natural disasters, wars and social upheavals and economic volatility.