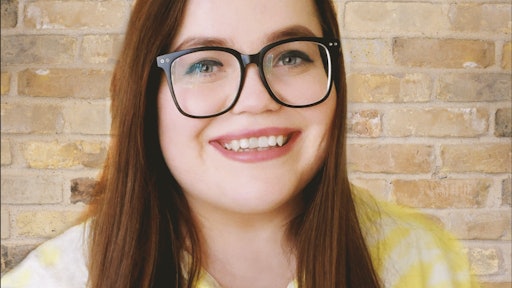 I haven't had the best luck when it comes to last-mile delivery, and if I can be completely honest, I'm starting to take it a little personal.
I am a devoted online shopper, I mean, I tow the line between Millennials and Gen Z. I grew up with the internet at my fingertips, so if shopping online saves me a trip to a physical store – I am down for it. I even bought my mattress from Amazon - that's how loyal I am to the web and my debit card.
But, since Target accidentally sent me two Christmas trees in 2019, the last mile has continuously let me down ever since then.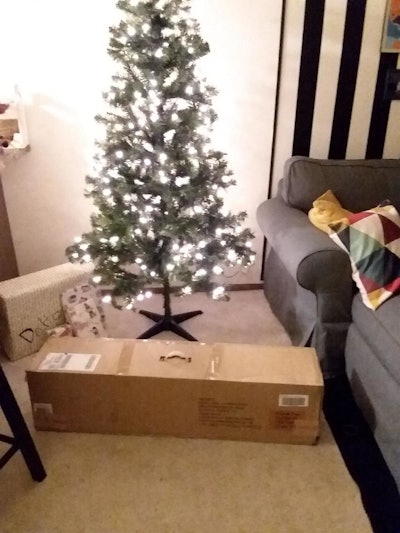 The Christmas tree debacle of 2019 started when Target lost my package in one of its warehouses. Even though I qualified for two-day shipping, I never received a notification for shipment. After a week passed, I reached out to customer service to see what was going on. They apologized, said that they were sending another tree my way and that I didn't need to worry about the old one at all. Then a few days later two six-foot trees arrived at my doorstep.
I was able to get through the rest of the 2019 holiday season reasonably unscathed, but then 2020 came. The Coronavirus disease (COVID-19) sent nearly the entire United States into a lockdown, only allowing people to shop for essential items in stores. In a May 2020 survey by Ware2Go, 88% of respondents said they changed their shopping habits due to the pandemic.
"Most sellers have experienced the huge shift to e-commerce orders as a result of current conditions," Steve Denton, CEO of Ware2Go said in a press release. "For numerous merchants, supply chain and infrastructure requirements have changed. They need a solution to manage the surge in consumer sales, and many require a flexible fulfillment solution like ours, which can seamlessly pivot between B2B shipments and B2C e-commerce deliveries as demand evolves."
In April, I was running low on hand soap and put in a bulk order to Bath and Body Works, knowing that the order could potentially be delayed significantly because of the pandemic. However, when the package was in the nearest warehouse to my town, it was re-routed to Utah and then back to Wisconsin. Several weeks later, I got my soap in perfect condition.
In October, I ordered three glass storage jars from Target. Two arrived in pristine condition. One arrived completely shattered and I cut my finger on the shards. The company sent me a replacement the very next day.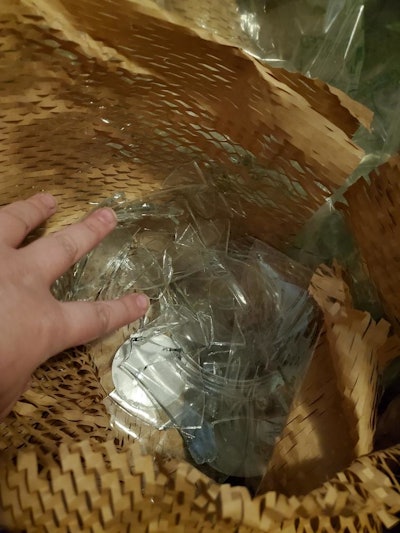 In our second episode of Unboxing the Last Mile, I purchased pajamas and slippers as a Christmas present to my mom on Nov. 12, and they arrived on Dec 1. The company had notices on their home page alerting customers that just processing the orders could take 12-14 business days, on top of the 12-14 days anticipated for delivery. When my package arrived 19 days later, there was a visible footprint on it. The retailer at least provided me with a $5 coupon for the long delivery times. No compensation for the footprint, though.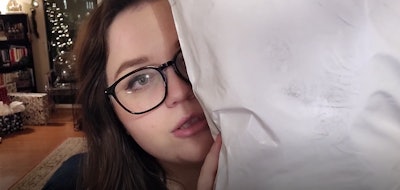 A survey by ShipStation found that the speed of shipping are often non-negotiables for online shoppers, with 92% of respondents saying shipping speed is important when making online purchases. However, the pandemic did help reset consumer expectations when it comes to delivery times. The survey also found that consumers now expect to receive their purchases in eight days, rather than the previously expected five days in 2019.
Meanwhile 87% of shoppers say that if they have a negative shipping experience they are less likely to shop with the retailer again in the future. However, 93% of respondents say that if the company acknowledges the poor delivery, they would continue to purchase from them.
"Companies in general are starting to realize that if they cannot get their product into consumers hands, they either are going to be processing a lot of cancellations, or that customer is not coming back," says Karen Tyndall, director of customer solutions, GlobalTranz. "There's always somebody else out there that's going to stock that product that's going to find a way to kind of hook you and figure out how to get your business. So, companies are really tasked right now with a unique challenge of trying to balance a very uncertain economy."
My logistics woes continued a few weeks ago when I paid $8 for next-day shipping only to have my package arrive four days later. I didn't even get refunded. Another package came in completely stomped on. A few came later than expected. I even had a packaged delivered to the wrong address.
But, the real kicker, reader, was when my Amazon package arrived unsealed and empty last week. I don't know where my product went, but it definitely didn't get to me. I at least got my money back.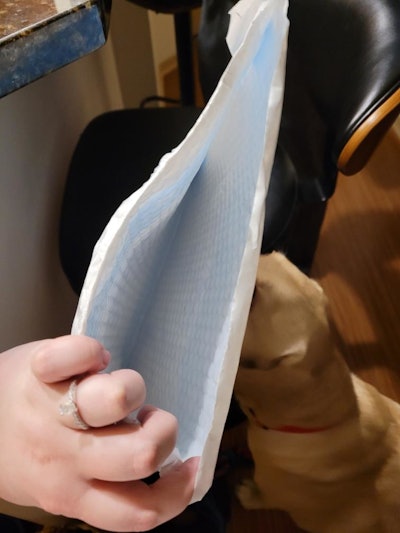 I write for the supply chain, though. There will always be a series of challenges and the last mile will continue to be one of the toughest ones, regardless of the pandemic. As long as companies continue to prioritize this section of the supply chain, they will gain customer loyalty. Even though some of these companies have wronged me, they're navigating the pandemic the same way I am, and we're all just doing the best we can. Except for the company that didn't refund my $8, I'm still holding a grudge for that one.