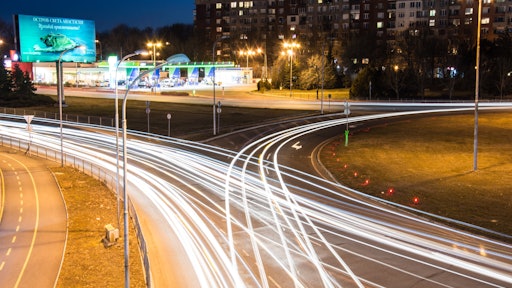 Pexels
Expectations for fast and accurate delivery are soaring among both business and consumer customers. The "Amazon effect" is pressuring businesses and transport providers to achieve new levels of speed and cost-efficiency in transportation and logistics.
The stakes have never been higher, but it's not a new challenge. For many years, the transportation industry has applied software, telematics and human ingenuity to balance speed of delivery against cost implications. Yet results have been mixed, and logistics leaders recognize that more payback remains to be captured in a fast-changing industry.
Consider: Nearly two-thirds (65 percent) of transportation-focused executives believe that logistics, supply chain and transportation processes are in the midst of a "profound transformation," according to joint study by Forbes Insights and Penske.
The report notes, "But of the most visible forces of change, perhaps none carries more potential for innovation and disruption than the evolution of artificial intelligence (AI), machine learning (ML) and related technologies."
I couldn't agree more. Cognitive automation, powered by AI and ML, has the capacity to deliver game-changing improvements in transportation and logistics with data access and compute power far beyond what can be accomplished through traditional tools and human decision-making.
Unlocking Value from Transportation Data
As it is, transport managers have limited visibility into the many supply chain dynamics that effect logistics performance. On-hand inventory, demand spikes, carrier availability, capacity, locations and more go into the logistics equation. Those data points are typically scattered across multiple internal and data sources.
Crucial data isn't instantly accessible when a shipping disruption occurs, while transporters contend with volatile freight rates, fuel costs, port backlogs, highway construction and other variables that make up a large chunk of any company's cost of goods sold (COGS) metric.
It's virtually impossible to balance all the competing factors to consistently achieve high service levels with on-time, in-full (OTIF) deliveries while minimizing costs. Meanwhile, companies can lose ground to competitors like Amazon, which as detailed in an NPR report, is making use of AI across its supply chain.
The time is now for businesses and transport providers to explore and embrace AI in the logistics value chain. One reason is simply the growing treasure troves of historical and real-time transportation data waiting to be exploited for new speed, precision and customer satisfaction.
The industry generates vast volumes of data, the foundation for cognitive automation. That raw data, from a transportation management system (TMS) to in-vehicle electronic logging devices (ELDs) and other IoT sources, is ripe to be analyzed for real-time logistics optimization and informed strategic direction.
A second reason is that businesses and transport providers have built highly digitized environments that function well, despite limitations. Cloud-based cognitive automation augments those systems with the power of AI to capture data, conduct real-time analysis and make recommendations — without a rip-and-replace of existing infrastructure.
Cognitive automation delivers advantages in areas including:
Transport capacity. AI makes it possible to predict and manage transportation capacity at a highly granular level, while virtually eliminating manual work and best-guess decisions. AI accounts for the full set of constraints, such as availability of trucks, containers and drivers in a given area, volume to deliver and available-to-promise (ATP) delivery schedules.
Transport lead times. AI monitors and adapts lead times needed due to volumes, wait times by ports, distribution centers, national borders, highway congestion or equipment failure. And it can account for destination type — for instance, delivery to a single-family home is typically faster than to a business location — or a shortage of drivers or vehicles in a given area.
Real-time decisions. AI insights and recommendations present clear options make the best decisions in difficult situations. For instance, if a shipment is stalled at a warehouse, do you expedite transportation (extra cost), or miss service level metrics (revenue loss, potential penalties)? Granular details and AI recommendations help managers choose the lesser of two evils.
End-to-end supply chain. AI-supported transportation shouldn't exist as a silo. Cognitive automation ties transportation and logistics to supply chain processes such as demand forecasting, production and inventory management. That gives logistics teams early warning of upstream disruptions that could impact downstream delivery schedules, and it supports more proactive supply chain management.
Amazon is a great example of a company that's embedding AI in its end-to-end supply chain, "from the website to the warehouses to the actual delivery to your doorstep," as the NPR report put it.
AI has helped Amazon innovate by hiring Uber-like contract drivers for rapid deliveries in large cities, bypassing its traditional FedEx, UPS and U.S. Postal Service partners. AI enables the company to determine the number of drivers needed at a given time, and even balances parcel volumes against the limited capacity of a driver's car or van.
Not every company can match Amazon in terms of resources and investments. But fewer still can afford to sit idly by as the "Amazon effect" continues to stoke customer delivery expectations and disrupt entire industries. AI-powered cognitive automation presents an epic opportunity for businesses and transport providers to finally solve the riddles of logistics optimization.
Those embracing AI can expect significant payback in speed, cost-efficiency, customer satisfaction and market share growth. Those who stick with the status quo may find themselves dispatching delivery trucks down a dead-end street.