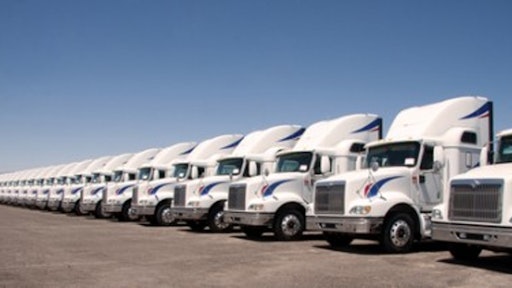 Getty Images
After more than two years of global upheaval, freight brokers must now contend with new challenges as they try to maintain and grow their businesses: the current economic climate, changing load rates and slower-than-normal freight demand. These economic and consumer trends all impact freight, with reduced rates, elevated capacity and uncertainty about the future.
An unusual peak season
With peak freight season already here and companies and retailers stocking inventory for the holiday season, we're witnessing a sharp slowdown that began in mid-September. The September LMI (Logistics Manager Index) reading only trails behind the April 2019 reading of 72, which marked the beginning of the freight recession of 2019.
After stocking up too much this past year, big retail brands are suffering from "inventory bloating," due to shifting consumer demand and the impact of the economy. Contributing to the slower demand, average consumer goods imports decreased by $4.5 billion in August. Meanwhile, rising interest rates and inflation have wreaked havoc on demand, leading to a flood of capacity. From there, rates have plummeted — and with tender volumes in decline, production is starting to slow down.
Even rail numbers reflect these concerns. According to the Association of American Railroads, freight rail volumes for September declined by 3.1% compared to the same month in 2021, and intermodal traffic was down 4.8% from last year.
Without the usual certainty of the spike during the fall and spring months, struggling freight companies may experience even more challenging times. To dig themselves out, freight brokers must prioritize two strategies: focusing on partnerships and relationship-building and incorporating technology to increase productivity and efficiency.
Partnerships and relationships
Freight brokers must focus on customer relationships and monitor the type of freight they haul — like household goods, food and beverages and essential retail. These segments have consistent demand throughout the year. They might not be the most favorable loads to haul as they're not expensive commodities. Still, these segments can keep your business afloat during low-tender volumes, so maintaining these relationships is essential.
Investing in freight brokers' relationships is one way to expand their network and discover new opportunities.
The freight brokerage market has grown significantly over the years, and projections don't show a slowdown. Freight brokers help elevate freight profits and increase efficiency by providing additional capacity, greater load and contract flexibility, near-real-time payments, and built-in industry relationships and knowledge. To be a good partner to the shippers and carriers they support, brokers should cultivate an in-depth understanding of daily market activity to inform their broader freight strategy.
Carriers and brokers should focus on diversifying their portfolios to include a healthy balance of contracted and spot freight to keep loads moving while stabilizing costs. Prioritizing frequent communication with customers will also enable brokers to gauge freight needs more accurately while bolstering relationships. These insights will enable carriers and brokers alike to anticipate when their tender volumes may begin to dry up and plan accordingly. Paying attention to slight upticks of tender rejections in other regions will indicate that capacity is tightening and volumes are beginning to trend downward.
Better technology for back-office efficiency
To survive the lean times and maximize their revenue during decreased demand, freight brokers need to digitize more of their processes. Denim's latest survey found that nearly 60% of companies are still submitting payment with paper checks, even though more than two-thirds of freight brokers agree eliminating paper checks would improve operations.
Most freight brokers said they spend roughly one-quarter of their time on operations — time they could be spending on increasing revenue and cash flow and ensuring they have access to the right talent to meet business goals. Rather than being held back by manual processes, brokers should seek out smart tools that help them respond to volatile market conditions. These solutions should automate back-office operations like invoicing and give them insights into their operations. By freeing up time, brokers can focus on mission-critical tasks and build their businesses.
Amid a fraught market, freight brokers will have to contend with the modern supply chain and its subsequent volatility. Rates will remain unpredictable, but freight companies don't have to proceed with uncertainty. By focusing on what they can control — improving carrier-shipper relationships and their own operations — they can make the most of this unusual peak season and plan for the coming year.