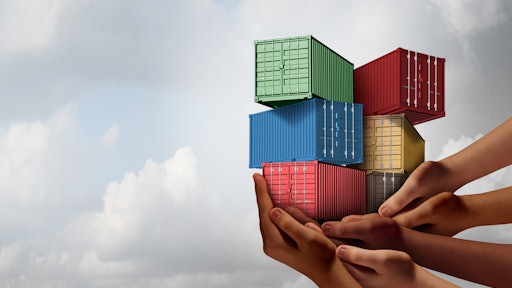 freshidea AdobeStock_142658862
E-commerce fulfillment is demanding, requiring faster shipment processing complete visibility and optimal inventory planning. Keeping up with these demands requires a new way of working with supporting technology that streamlines and accelerates all related processes. The stakes are high: if you do e-commerce well, there's a massive business opportunity at your reach.
In the warehouse environment, one function in the e-commerce ecosystem that is greatly improved with automation is the measurement and weighing of packages and palletized cargo.
This is especially important since this warehouse function is prone to human error and can be time-consuming and costly if inaccurate measurements cause ongoing charge backs. Being off as little as a quarter-inch can truly impact the bottom line of logistics service providers (LSPs) and forwarders when measurements are done manually.
While some warehouses currently automate the processing of inbound shipments, there certainly is room for advancement. Currently, warehouse personnel can photograph incoming parcels and documents and integrate them directly with the appropriate freight transaction in a warehouse management system. Also, sharing weight and measurement data with customers in real-time is possible which provides timely visibility to shipment status information.
The next generation of package measurement technology will be even faster, capturing even more shipment information using intelligent technology - artificial intelligence (AI) and optical character recognition (OCR).
By combining these two technologies, the measurement and weighing of cargo and transcribing of label data can be accomplished in seconds. Manual data entry will no longer be necessary. A powered conveyor belt and in-motion scale, also part of the system, will be fully integrated for a completely automated experience that is extremely efficient, fast and designed to use less manpower.
AI is a relatively untapped technology in the logistics space. The industry is only just now beginning to skim the surface of what's possible when AI technology is applied to logistics processes. There are a few freight technology solutions using machine learning and smart algorithms for specific logistics functions, but AI for freight technology is truly in its infancy, far from reaching its full potential. In general, less than 3-4% of the logistics industry is seeing any benefit from AI today.
Capturing lost revenue
Warehouse managers have discovered they are able to recoup $40 of lost revenue, on average, for every incoming pallet using an automation device that measures and weighs pallets and parcels, accurately recording the maximum dimensions and weights of each unit. Automating this function increases accuracy, improves productivity and time and cost savings are realized providing a more effective way to manage inbound freight volumes.
Speed to market
The growth in e-commerce has made speed to market a top priority for companies as they continue to gear up to deliver a great customer experience to the rising number of online shoppers. Customers have come to expect delivery in hours rather than days and immediate visibility to their in-transit shipments. Satisfying this new normal is a necessity for forwarders and LSPs that serve e-commerce shippers. Additionally, warehouse automation solutions are key to helping optimize inventory flows and fulfillment for dependable supply chain performance. Many shippers understand that a high performing supply chain is a strategic advantage that strengthens their relationship with customers.
Uncovering warehouse visibility
Data-driven warehouse visibility can provide complete, real-time process transparency from the moment when products arrive on-site to precisely when they're shipped out the door. This provides critical visibility to operational processes allowing LSPs to assess performance and identify potential pitfalls, as well as determine if adjustments need to be made to increase efficiency or help clients provide a better customer experience.
When warehouse processes are fully automated and backed by a comprehensive digital freight and supply chain platform, forwarders and LSPs are better equipped to effectively manage inventory, track shipments and streamline fulfillment. Additionally, this technology infrastructure makes it possible to put the power of accessing freight updates, documentation and reporting in the hands of shipper customers via an integrated customer portal.
When customers are empowered with easy-to-access, immediate self-service capabilities, friction is reduced. Cumbersome, time-consuming manual processes, such as phone calls and email inquiries about warehouse inventory and receipts, cargo releases and pickup orders are no longer needed. Customers have a faster, more efficient way to view inventory and key shipment details, such as part numbers, purchase orders, and status updates. They are equipped with visibility to shipment data allowing them to take action when exceptions happen to keep their supply chain running smoothly.
Dedicated logistics partner
E-commerce merchants find that working with a logistics company for warehousing support delivers significant value for their business, such as the ease of scaling warehouse space as their company grows; more effective inventory and inbound shipment workflow management; system integration with all stakeholders to a shipment and faster e-fulfillment. These are just some of the services that LSPs offer that help shippers meet their customers' expectations, drive efficiency and deliver a better customer experience.