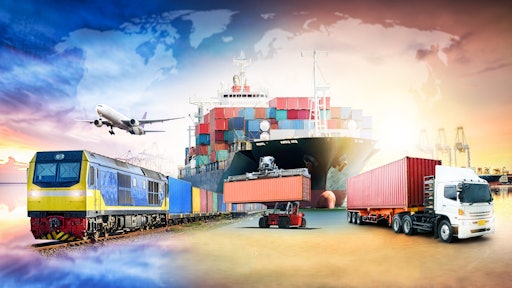 enanuchit/stock.adobe.com
After almost two years of surging e-commerce sales and shipment volumes, shippers and carriers are expecting a more subdued holiday season. Global consulting firm, AlixPartners, forecasts that holiday sales will increase between 4% to 7%, compared to 16% growth last year. Which, at the current inflation rate of 7.7%, means retailers would see a decrease in real sales. Similarly, e-commerce holiday sales are projected to grow 12.8% to 14.3% compared to the 2021 season, according to Deloitte's annual holiday retail forecast.
The slowdown can be attributed to several factors, with inflation and shifts in consumer spending playing major roles. Inflation has impacted the economy for months and that will likely continue to affect consumer spending habits throughout the holiday shopping season. Deloitte estimates holiday spending will remain flat year-over-year with an average $1,455 per household, but consumers plan to purchase fewer gifts (nine gifts versus 16 gifts in 2021). Despite the dip in retail sales compared to last year, NRF still expects "healthy" holiday spending between $942.6 billion and $960.4 billion.
NRF president and CEO Matthew Shay says, "While consumers are feeling the pressure of inflation and higher prices, and while there is continued stratification with consumer spending and behavior among households at different income levels, consumers remain resilient and continue to engage in commerce. In the face of these challenges, many households will supplement spending with savings and credit to provide a cushion and result in a positive holiday season." October retail sales results support this forecast, with results coming in above expectations for the month (up 8.3% YoY).
Consumers have also shifted spending from goods to services, entertainment and travel. In addition to a decline in retail sales, this shift could also make it difficult for some retailers to reduce elevated inventory levels.
Retailers have wrestled with excess inventory throughout 2022 as they stocked up on goods to ensure they could meet customer demand and avoid the stockouts that have plagued businesses over the past two years. However, softening demand left many with surplus inventory they have struggled to move. This led to record lows for warehouse vacancies and highs for rent.
Retailers have taken steps to clear out excess inventory and combat the effects of inflation by offering more deals and starting holiday promotions earlier than normal. Walmart, Target and Kohl's began rolling out their holiday deals the first week in October, while Amazon held its second Prime Day the same month.
"The shape of the holiday season will look different this year, with early discounting in October pulling up spend that would have occurred around cyber week," says Patrick Brown, vice president of growth marketing and insights at Adobe. "Even though we expect to see single-digit growth online this season, it is notable that consumers have already spent over $590 billion online this year at 8.9% growth, highlighting the resiliency of e-commerce demand."
Lower e-commerce sales, compared to previous years and more consumers opting to shop in-store or purchase online pick-up in store, will likely lead to lower parcel volumes. However, consumers reverting to traditional holiday shopping habits could result in the December shopping rush we've historically seen.
Last year, in light of tight inventory levels and widespread supply chain issues, consumers were encouraged to shop early. This led to weaker demand and a softer year-end shipping peak. This year, however, is expected to shift back to a more typical peak as low inventories and shipping delays are much less of a concern.
As a result, UPS expects package volumes to peak later in December compared to 2021, as consumers return more to pre-pandemic shopping behaviors. And FedEx is also preparing for a moderate peak season in terms of demand, and unlike previous years, has the space to bring on new customers during the holidays.
Despite lower volume projections compared to last year, UPS along with the other large delivery companies and retailers are preparing for a peak shopping season by hiring seasonal workers, although some significantly lower than last year. UPS announced plans to hire more than 100,000 workers (on par with hiring numbers from 2021 and 2020) while USPS plans to hire 28,000 seasonal employees (down from 48,000 in 2021).
NRF expects retailers will hire between 450,000 and 600,000 seasonal workers, compared to 669,800 seasonal hires in 2021. Specifically, Walmart plans to hire 40,000 seasonal workers (down from 150,000 in 2021), Target plans to hire 100,000 employees and Amazon is hiring 150,000 employees for the upcoming holiday season.
Infrastructure and technology investments will also help support volume surges that may come this holiday season. Investments in new package processing equipment and operational precision improvements will allow the U.S. Postal Service to expand its daily processing capacity to nearly 60 million packages this year compared to 53 million in 2021.
Higher Shipping Costs
Despite cooling demand, shipping costs are expected to remain high throughout the holiday season and into 2023. In October, UPS mirrored FedEx by announcing a 6.9% average rate increase for Ground, Air and International services, effective December 27, 2022. The company also announced higher accessorial charges, including for residential deliveries, packages requiring additional handling and deliveries to remote areas.
UPS justified the increases by saying this will help cover its higher operating costs and maintain service levels. "This helps to support ongoing expansion and capability enhancements as we strive to maintain the high service levels you expect from UPS," UPS said in a statement.
An outlook for 2023
The supply chain appears to be normalizing as we head into 2023. Although how supply chains readjust and what the next year will look like exactly remains uncertain in the face of inflation, other geo-political threats and shifting consumer behavior.
Inventories are expected to remain elevated throughout the beginning of the year as many retailers won't be able to unload everything this holiday season. Some retailers have said that they expect to cycle through their inventory by the end of the first half of 2023, which will likely result in lower import volumes for the first half of the year. Businesses will also likely be more cautious with how they approach managing inventories moving forward to avoid a repeat of 2022.
Moving forward, it's important for shippers to take more proactive steps to better position themselves in 2023. We've seen over the past couple of years how sensitive supply chains are when they face risks. Having resilient and agile supply chains will help mitigate risks and adjust to changes in consumer behavior. Shippers need to stay prepared by evaluating their supply chains to identify what improvements are needed moving forward, including diversifying sourcing locations to ensure goods/raw material can be obtained if another supplier is unable to provide or if costs are more reasonable from another one, and investing in technology to help manage visibility across supply chains, price and book of freight, and mitigate risk.