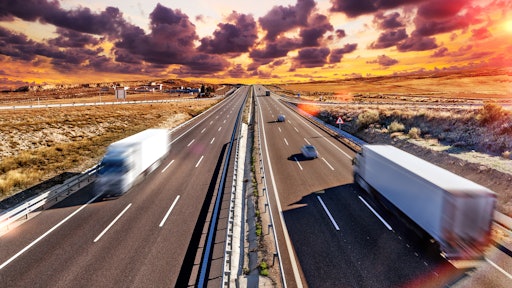 carloscastilla/stock.adobe.com.jpeg
The health of the trucking industry is fundamental to the domestic supply chain, the economy and our society. However, the industry is in a perilous state as new drivers are leaving within the first few years after receiving their CDL licenses and an increasingly larger number of older drivers are retiring. While there are numerous reasons why drivers are leaving, the low number of available, safe parking spaces is a challenge for long-haul truck drivers.
Parking availability has been a long-standing challenge as drivers often find they need to park on the sides of local roads and parking lots, creating a very real risk of robbery, theft and receipt of costly tickets from law enforcement. Fortunately, industry associations and trucking companies are stepping up efforts to push the government for real action.
In February of this year, the American Trucking Association (ATA) and the Owner-Operator Independent Drivers Association (OOIDA) called on U.S. Secretary of Transportation, Pete Buttigieg, to commit $755 million over the next five years to truck parking projects. There's never been a stronger sense of urgency.
Currently, the math simply doesn't add up. There are 3.5 million CDL holders in the U.S. but only 313,000 parking spaces available nationally — 40,000 at public rest areas and 273,000 at private truck stops — according to the 2019 Jason's Law survey. That's insufficient for the number of commercial trucks on the road at any given time. The East Coast's population density makes parking an even hotter commodity, yet states in the Northeast — Maine, Massachusetts, Connecticut, New York and Delaware — have the fewest parking spaces per truck mile traveled, and zoning laws prohibit new parking in suburban areas where it's most needed.
Pre-planning routes and using apps to locate where legal parking spaces exist doesn't mean those limited spots will still be available by the time a driver needs them. The lack of reliable options often leads truck drivers to take safety and financial risks.
As America grapples with profound supply chain disruptions, the last thing we need are drivers leaving the industry due to a lack of safe parking. The transportation industry can address this issue much more quickly if associations, trucking companies and the government work together to provide solutions.
When truckers can't find parking, all drivers are at risk
Truckers must comply with the Federal Motor Carrier Safety Administration (FMCSA) hours of service regulations, which specify the amount of time someone can drive. Drivers are required to take a 30-minute break after eight hours of driving and a 10-hour break after 14 hours of on-duty time. Finding a suitable place to park a 70-foot tractor-trailer is challenging and driving until finding the right spot can be dangerous. Although apps are available to help truckers locate available spots, data shows even in states with the most parking available during evening hours, more than two-thirds (67%) of those spots are filled (higher, in most cases).
As drivers search for parking, some may be tempted to work longer than the FMCSA allows, leading to fatigue. Each year, drowsy driving accounts for nearly 100,000 crashes, 71,000 injuries and 1,550 fatalities, according to the National Safety Council. Additionally, the National Highway Traffic Safety Administration (NHTSA) reports most drowsy-driving crashes occur between midnight and 6 a.m. or in the late afternoon when circadian rhythm — which regulates sleep — dips.
Although alarming, it's not surprising that more than one-third (36%) of crashes involving large trucks happen between 6 p.m. and 6 a.m., when drivers are forced to continue on when appropriate parking is unavailable.
Parking on the side of the road, often a driver's last resort, is also unsafe. A stationary truck near a road where other vehicles are traveling at high speeds is at risk of being rear-ended or side-swiped, especially if other drivers are distracted. NHTSA data shows more than 40,000 crashes occurred on the shoulder in 2019 and nearly 500 fatal crashes on the shoulder or roadside involved large trucks.
Additional consequences of parking limitations
The "to park or not to park" conundrum also puts drivers at financial risk. Violating hours of service regulations can result in fines, which can range from $500 to $15,000, depending on the level of severity. But parking illegally increases a driver's likelihood of getting ticketed, and tickets start at $500. Receiving either will be added to a trucker's permanent driving record, which can affect future employability.
Drivers who find themselves without options may be forced to park in an unsecured location, putting their cargo at risk. In 2020 alone, there were 1,676 thefts or attempted thefts, a 19% increase from 2019, a CargoNet report found. The average cost of theft jumped from $27,045 to $166,334 during that period.
Fines, tickets and the threat of stolen property all contribute to higher insurance rates. Insurance premiums have increased by 47% over the last 10 years.
The parking shortage has created a lose-lose situation for drivers. Given the choice between driving over hours, risking fines and potential collisions, or parking in an unsafe or illegal area, risking costly fines, collisions, theft or worse, is clearly no choice at all. It is unfair to penalize truckers for improper parking when there simply aren't enough safe parking spots available, and these costly fines for illegal parking may cause job seekers considering trucking as an occupation to think twice.
Government intervention is necessary
As the industry faces profound recruitment and retention problems that are already affecting the supply chain, let's not penalize drivers for the shortcomings of our infrastructure. They can't afford to wait, and the government needs to act now.
While the Infrastructure Investment and Jobs Act doesn't explicitly flag funds for parking projects, truck parking is an eligible expense. Among possible solutions, the government could incentivize private companies to build more parking spaces in pay lots or at gas stations. Right now, these companies generally make more money from gas and concessions than they could from parking. There are certainly more ways the U.S. transportation industry can implement public-private partnerships outside of the toll-road model.
Another option is to convert space at existing weigh stations into safe parking or expand parking at rest areas to accommodate more trucks.
Long-haul trucking is a demanding profession, with every aspect of the work monitored and controlled. It comes with great benefits like the ability to earn a good, steady income and working with cutting-edge technology, but inadequate parking makes it difficult to retain the best drivers and attract new ones to the industry. Resolving the truck parking issue will improve driver safety as well as benefit recruitment and retention, and transportation from coast to coast.
The bottom line is the industry has explained the problem and truckers have voiced their concerns. The time for talking is over, the time for action is now. Collectively, we must do better to support the drivers who keep our economy moving forward.