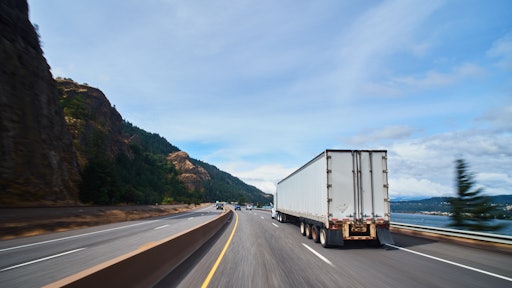 maxwellmonty/stock.adobe.com
The last mile is still one of the costliest parts of the shipping process, estimated to make up about 40% of the total cost of the process.
Undoubtedly, the biggest trend in last mile since the start of the pandemic was the substantial increase in consumer demand and online order volume across all product categories. This increase in volume was driven by a few different areas, including changing customer demographics (new populations joining in the e-commerce shopping experience), the rise of same-day delivery, and more. People were also repeating online orders and returning orders more frequently.
Aside from hiring more drivers where possible, the COVID-19 pandemic has pushed many final-mile carriers to invest more heavily in route planning solutions and advanced features such as photo capture and e-proof of delivery in preparation for dealing with volumes predicted to increase in several years' time.
These solutions are becoming more widely accepted and adopted, which is helping reduce driver hiring and retention costs, as well as reducing drivers' dwell time at doorsteps, allowing more packages to be delivered on each route while maintaining the customer experience.
In addition to the rising cost of drivers, there are also price increases in the overall cost of transportation and goods, such as packaging costs and interstate or border/customs taxation changes as well as utility bills.
What this means for last mile carriers is that first-time delivery rates are increasing, often leading to many new addresses on each route, and the reach of the network may be stretched to capacity. Here are a few things that last mile carriers should look for when it comes to route optimization systems.
Post-pandemic, many carriers are analyzing their performance and readiness for the next peaks in their businesses, and those with route optimization technology have been able to more accurately analyze this due to the richness of the dataset they enjoy. As the world moves away from the pandemic state, last mile carriers today often talk about readiness in terms of new services such as returns management, more automation in the customer service arena such as self-scheduling, as well as better management and better integrated visibility of third-party delivery agents, franchisees, and other driver type performance; all of which are empowered by route optimization technology.
Goals and benefits of route optimization
That said, the three main objectives that last-mile carriers typically have when implementing a route optimization solution are remain efficiency, sustainability and addressing the driver shortages.
With the dynamic change in online shopping customer requirements to service rural or remote areas, last-mile carriers are under pressure to find ways they can optimize the number of stops, satisfying time windows while minimizing operating costs and meeting customer experience expectations.
Carriers are also focused on minimizing delivery costs related to sustainability, such as reducing route mileage by not allowing re-routing along the same streets during the sequence and tracking driving
The driver shortage has also encouraged fleets to utilize route optimization technology to plan more efficient routes that require fewer drivers or drivers who are less familiar with the routes. There are some specific considerations that go into this, such as product type, SLAs, number of packages to be carried and even daylight driving vs. evening to late-night deliveries.
Commercial navigation systems can also help new or seasonal employees or franchisees feel more comfortable with their routes, providing accurate information that they need to know to do their job most effectively and safely.
Carriers' changing needs
Carriers' needs have changed quite a bit over recent years in several areas. Today, they are looking for comprehensive, commercial-vehicle specific route planning and navigation solutions that provide a wide variety of advanced features and integrations, including (but not limited to):
Scenario planning: Scenario planning is one of the top features of a route planning solution. Having the ability to forecast volumes over specific periods, plan for the optimal number of resources based on volumes including multiple delivery waves, create data-driven route designs and simulations, and more, is immensely useful. Even the most skilled and experienced route planners can benefit from leveraging a technology solution to find new opportunities and simulate specific scenarios.
Actual planned routes

: At a minimum, route planning solutions should always incorporate data about road utilization, widths and restrictions, traffic, weather, maintenance and historical city data. Other things carriers are looking for include distances for fuel, electricity points and related usage calculations, and the ability to incorporate driver knowledge into optimization decisions.

Optimized driver types or vehicle types

: In the current environment where carriers may be leveraging a variety of different types of drivers (franchise, gig drivers, part-time, full-time, etc.) and different types of vehicles (vans, cars, bicycles, electric vehicles and more), it is very important for tech solutions to be able to differentiate these personas and equipment in order to properly pay workers, plan routes that account for the proper vehicle dimensions, and more.

Delivery and collection flexibility

: Today, consumers have more options for delivery than ever before. Packages can be delivered to homes, a retail location or a locker. Some may need a signature, while others require a photo. Consumers can specify where a carrier should leave a package – at the front door, behind a bush, in the garage, or anywhere else. They may even want to give instructions upon arrival – a door code, "knock loudly," etc. Carriers are also expected to be able to provide an updated, real-time ETA or delivery window so customers know when to be home. All of this adds up to needing a great deal of flexibility in a solution for both customers and carriers to be able to provide great customer service and meet expectations.

Reporting

: There are many different metrics and types of data that can be collected, analyzed and reported. Ultimately, a great technology solution should provide useful, actionable insights and a variety of options for reporting. Can it track data on the volume of packages delivered, returned or damaged? Does it send satisfaction surveys to consumers? How about analyzing historical patterns and trends? Does the solution have the ability to integrate with back-office systems like HR or finance?
Scalability is key
Things like volumes, anticipated first-time delivery rate, dwell times, vehicle information, driver information, and date and time, are crucial. Additionally, what routes will consist of (including sequence of stops), returns on a routed solution (including arrival/departure times, and solution statistics including total mileage, cost, hours and violations) should be considered. If any of this information is incorrect, it will have in instant effect on the route and stop order provided to the driver navigation.
It's essential for route optimization solutions to have both the most up-to-date data and the ability to take in real-time data from the field. An effective system will pull all of this data to be able to determine the most optimal and cost-effective route for the fleet over time.
When it comes to investing in route optimization solutions, it's important to ensure that last-mile carriers are set up for scaling when it comes to peak season or addressing unexpected changes in consumer behavior. A system and technology may be suited for the demands of today, but with the forecasted trends of tomorrow, carriers must be prepared for how to scale up when needed.