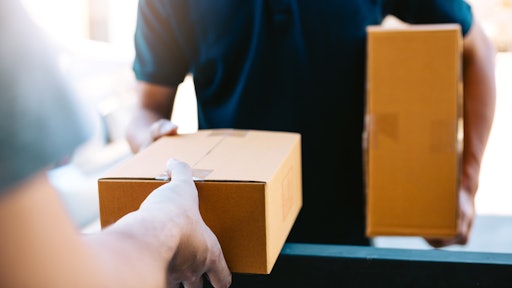 wutzkoh/stock.adobe.com
Given supply chain snarls have caused shipping delays and damages of all sorts within the past two years, it's clear the shipping experience continues to be an area of opportunity to improve shopper satisfaction. At a time where small and medium businesses (SMBs) face a plethora of challenges, they need insights into where supply chain breakdowns are happening and how they are impacting shopper preferences.
UPS Capital recently published a new report, Personalized Shipping Experiences: The Next Frontier for eCommerce, addressing the concerns of the modern-day consumer and the shipping issues they are experiencing. Surveying 1,000 U.S. consumers aged 18+ alongside 500 U.S.-based SMBs making $750K to $100M in revenue, the report found that supply chain risks are still top-of-mind, and shopper's priorities have shifted. Today's consumers want their packages delivered safely, first and foremost – everything else is becoming an afterthought.
For SMBs struggling with supply chain issues, now's the time to examine what today's shoppers really need. This will require prioritizing the last mile, as it's simultaneously the final touchpoint in a shoppers' experience and one of the largest opportunities to drive a positive customer experience.
Personalization above all else
Free or two-day shipping has become the gold standard shipping experience that consumers have come to expect, but shopper preferences have evolved in the face of a volatile supply chain.
The majority (80%) of shoppers would prefer other perks – such as last mile personalization, access to customer support and more – over two-day shipping or free shipping. This is a pivot in consumer expectations, and illustrates that shoppers are seeking more control over the shipping process to help ensure that their order will make it to their doorsteps unscathed. The top perk consumers say they would prioritize over 2-day shipping was the guarantee that their product arrives safely or would be immediately replaced. This indicates that SMBs that can provide more peace of mind around the shipping experience will gain a competitive advantage.
Overcoming the impact of negative reviews
In a similar vein, the number one reason a shopper would bother to leave a negative review is if a package was damaged or never arrived. This again demonstrates that supply chain issues over the past two years have resulted in packages increasingly arriving late, damaged, or in poor condition, driving heightened shopper frustration. Porch piracy has also played a role here, given over 210 million packages disappeared from porches across America in 2021.
Such negative reviews can hamper brand loyalty and ruin public perception. This is of particular concern to SMBs, many of whom have struggled to overcome current supply chain and inventory issues. As a result, 72% of SMBs stated that shipping incidents like porch piracy, loss and damage have negatively impacted their business' customer reviews in the past year.
Gaining back consumer trust may require SMBs to increasingly prioritize their shipping experiences. Consumers say that perks like picking a shipment's arrival date, getting real-time package tracking, or adding shipping insurance protection for lost, stolen or damaged items mean more to them now than getting faster (or free) shipping. Meanwhile, 87% of consumers reported they would be more likely to shop with a merchant if they could personalize their shipping experience. SMBs should consider exploring options that give consumers more control, such as shipping insurance, package tracking, offering access to multiple cost-affordable delivery options and more, to mitigate negative reviews and meet changing shopper preferences.
SMBs are shifting to drop-shipping
SMBs looking to streamline their own supply chains and create some cost-savings have begun turning to drop-shipping. This is an increasingly popular shipping fulfillment option in which the consumer receives goods directly from the supplier, as opposed to getting them from the merchant.
Nearly 90% of SMBs have reported a slight or significant increase in the use of drop-shipping since 2020. This shift represents SMBs breaking free of overhead costs, maintaining their own inventories and the complexities of having their own shipping infrastructure. If deployed properly, drop-shipping can help save money and get products in customers' hands quicker.
While this is certainly a viable option for SMBs looking to save money and avoid supply chain hang-ups, it does come with its own inherent risks that must be considered. Two-thirds of surveyed SMBs say they experienced an increase in loss, theft or damaged shipments made with drop-shipping, as opposed to shipments they've sent out on their own. This likely stems from SMBs having less direct oversight into packaging and shipping processes. To help mitigate these risks, SMBs using drop-shipping should consider shipping insurance as well as work with partners that have strong quality assurance protocols.
SMBs facing a multi-channel landscape
Today's SMBs are forced to navigate an ever-changing, ever-complex world of eCommerce marketplaces and digital platforms. While this can feel overwhelming, it's obvious that diversifying the channels used to sell goods is essential today. 97% of SMBs report driving revenue across online modes, social platforms, eCommerce marketplaces, their website, and brick-and-mortar. In most cases, revenue intake was widely dispersed across these channel options.
With this multi-pronged marketplace approach, SMBs must tailor and customize the strategies they're leveraging across channels. It is no longer enough to take what resonates on brick-and-mortar and try to capitalize on it online. While brick-and-mortar is included in multi-channel approaches taken by SMBs, they're relying on it less and less. 85% of surveyed SMBs sell just 25% or less of their revenue through brick-and-mortar storefronts. Meanwhile, 93% of SMBs surveyed said Amazon was their most-utilized marketplace, followed by social media platforms Facebook (87%) and Instagram (81%) as the second and third-most utilized.
As the reliance on traditional in-person shopping has plummeted, SMBs need to carefully map out their eCommerce strategy and personalize it by marketplace and platform. As strategies like social commerce continue to gain momentum, SMBs should consider more deeply integrating their selling platforms (such as Shopify) with social channels, personalizing the experience within those channels, and offering consumers shipping and CX perks to keep them coming back.
The last few years have been hard on SMBs, especially in the face of issues caused by a volatile supply chain. The good news is that consumers are increasingly clear on what they want to stay happy and loyal – package safety is their priority. SMBs can make improvements by creating shipping experiences customized to an audience of one.
Unless otherwise noted, all statistics herein are sourced from UPS Capital's report, Personalized Shipping Experiences: The Next Frontier for eCommerce