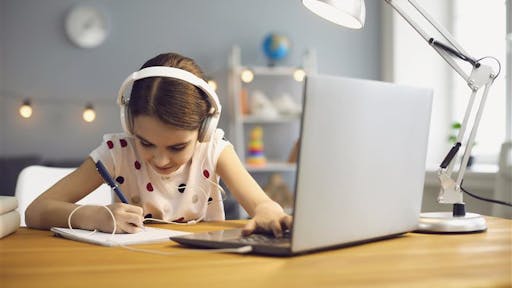 Studio Romantic - Online Education
March 16, 2020. That was the last day my two kids attended school in person. It was the day after I returned from MODEX 2020, and the day I was told to rush to the grocery store to stock up on toilet paper as though the world were ending. 
Fast forward to Jan. 28, 2021. That was the day my two kids returned to a hybrid in-person model.
It took three attempts to get my kids back into the elementary school. Not just because of rising COVID-19 numbers, but also because of the logistics behind making the return to school fun, safe and productive.
How do you keep elementary school kids socially distanced? Do you have enough personal protective equipment (PPE) for the staff? What happens when a child, teacher or other administrative staff member tests positive for the Coronavirus disease (COVID-19)? And, then the elephant in the room – is there even enough staff to willing and able to return to the school in person to make it work?
Whatever and however it pans out, it takes a lot of logistics to make returning to any in-person environment feasible.
From managing the bus routes (a school's fleet) to facilitating the PPE, logistics makes it possible for my kids to return to class—in person.
Logistics is why my kids received masks from the school, outfitted in the school colors with the school mascot.
Logistics is why my kids still received their materials via bus, even when remote, to keep the paperwork moving.
Buses continued to run their routes to drop off and pick up homework, paperwork and artwork, which kept the bus drivers employed, and my kids out from behind the chromebook and into a paperback book, just like the good 'ole days, or from early 2020.
Logistics makes the world go 'round. It's literally everywhere and touches everything you touch, wear, use, open and more.
And, logistics is how our nation can—and will—return to some form of normalcy, whatever and however it looks, in person or remote.