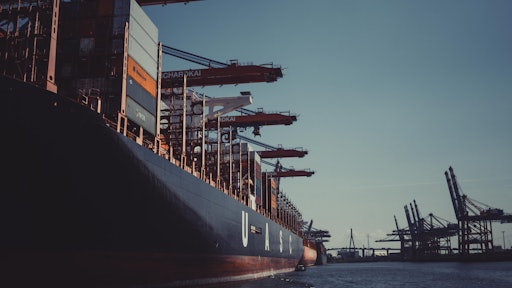 Sascha Hormel from Pexels
Supervisory Board Extends Contract of Joachim Schlotfeldt
The Supervisory Board of Hapag-Lloyd AG extended the contract of Joachim Schlotfeldt, its Chief personnel and global procurement officer (CPO), by two years, until March 31, 2023. Schlotfeldt joined Hapag-Lloyd in 1979. Over the course of his career, he has held various positions in Taiwan, Japan, Singapore, Spain, Portugal and, most recently, China. He subsequently served as managing director of Region Asia, Region Europe and then Region Asia again. Since April 1, 2018, he has been a member of the executive board of Hapag-Lloyd AG.
OmniTRAX Adds to its Industrial Development Team
OmniTRAX has added industry veteran Federico D. Díaz Page to the Industrial Development team. Diaz Page, who reports to Ean Johnson, vice president of industrial development, will work closely with economic and industrial stakeholders to bring new business to OmniTRAX properties in Texas & Oklahoma.
Tom Lynch Joins ASLRRA As Vice President, Congressional Affairs
The American Short Line and Regional Railroad Association (ASLRRA) has welcomed Tom Lynch as vice president, congressional affairs, completing ASLRRA's new in-house legislative team. Lynch comes to ASLRRA after an extensive Washington, DC-based career in transportation and infrastructure legislative and policy work. Lynch, along with recently hired Mara Stark Alcalá, will lead ASLRRA's efforts to pursue legislative support for issues facing short line railroads including tax policy, infrastructure grant programs and surface transportation policy.
TIA President & CEO Robert Voltmann Has Served the Organization for 23 Successful Years
Transportation Intermediaries Association (TIA), the voice of the third-party logistics industry, announced today that after a long and successful tenure, president & CEO Robert Voltmann, CAE, will be leaving the association at the end of September 2020. Voltmann joined TIA as CEO in June 1997.
Doug Clark, a longtime industry executive and TIA Honorary Life Member, will serve as TIA's interim President & CEO while the Board of Directors conducts its search for a new chief executive.
CSX Executive Vice President Ed Harris to Retire
CSX Corp. announced that Ed Harris, executive vice president, will retire from the company Aug. 1, 2020. As Harris' departure approaches, CSX's Safety and Facilities groups that had reported to him will transition to Jamie Boychuk, executive vice president Operations who was appointed to succeed Harris' leadership of the Operations function in October 2019.
Johnson County Judge Harmon Elected to Lead Regional Transportation Council
Johnson County Judge Roger Harmon was elected chair of the Regional Transportation Council on June 11 and will lead the 44-member transportation policymaking body for the next year.
Harmon replaces Denton County Judge Andy Eads, who has chaired the RTC through the beginning of the COVID-19 pandemic, which will continue to be an important issue as officials at all levels of government determine how to respond. Harmon, who was appointed to the RTC in 2001, will also lead the RTC during the 87th Texas Legislative Session, which begins in January.
Dallas County Commissioner Theresa Daniel is the new vice chair after serving as secretary for the past year. City Councilmember Ann Zadeh of Fort Worth was named secretary. Daniel has been a member of the RTC since 2018; Zadeh was appointed in 2017. The new officers will serve in their positions through June 2021.
Averitt Names 37-Year Industry Veteran Director of Corporate Business Development
Averitt Express recently named 37-year industry veteran Randy Beam as a Director of Corporate Business Development.
Beam's sales coverage area will include the western United States, comprising Washington, Oregon, California, Arizona, Nevada, Nebraska, Utah, Idaho, Montana, Colorado, North Dakota, South Dakota and New Mexico. He brings an array of experience to Averitt. His career began in 1983, and since that time he's served in a variety of positions, including outbound dock supervisor, sales representative, city sales manager, corporate account manager and senior director of corporate accounts.
PERC Announces New Director of Off-Road Business Development
The Propane Education & Research Council (PERC) welcomes Matt McDonald as its new director of off-road business development.
In his new role, McDonald will lead research and development and training projects with a focus on new product development and commercialization in the off-road and material handling markets. He will also assist in market communication strategy and outreach. Prior to PERC, McDonald was a general manager at Ferrellgas for nearly six years. He also served as an aircrew survival equipmentman in the United States Navy for four years.
Port of Oakland picks longtime shipping vet as Maritime Director
Longtime shipping industry executive Bryan Brandes has been named Maritime Director at the Port of Oakland. The Port said today he was selected following a nationwide search. Mr. Brandes, a 25-year maritime veteran, replaces John Driscoll who left to manage the Alabama State Port Authority.
Mr. Brandes will lead a staff of 20 responsible for one of the nation's 10 largest container seaports. Oakland's Maritime Director oversees everything from facilities management to real estate negotiations.
Companies in this article