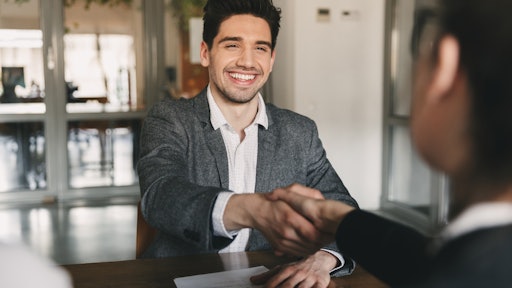 Drobot Dean
Former Kathmandu Chief Supply Chain Officer Caleb Nicolson joins TM Insight
TM Insight announced the appointment of Caleb Nicolson, former chief supply chain officer at Kathmandu, as general manager in New Zealand. The new appointment will strengthen TM Insight's ability to serve customers supply chain needs in New Zealand, particularly at a time of rapid change in the market. Nicolson will lead TM Insight's operations in New Zealand and work alongside the company's leadership team to deliver on TM Insight's strategy to design and deliver world-class supply chain solutions to customers across Australia, New Zealand and Southeast Asia.
Following $60M Series D Round, Parsable Announces Two New Senior Hires
Parsable revealed the appointment of two new senior hires to lead its next phase of growth. Oji Udezue joins as chief product officer, and James Huang joins as senior vice president of alliances and integrations. Parsable raised $60 million in a Series D round in August, highlighting the market opportunity, its leadership position and the accelerating necessity for Connected Worker technologies to ensure the performance and long-term resiliency of industrial companies.
These new appointments are focused on two critical areas that will drive momentum across the global market: Taking the Parsable Connected Worker Platform to the next level and driving even faster customer acquisition and scale of expansions, and secondly, to further build out a network of global alliance partners to significantly expand product and service distribution.
Salvatore A. Abbate Named Veritiv Chief Executive Officer
Veritiv has announced that Salvatore A. Abbate has been named the company's chief executive officer, and current board member Stephen E. Macadam has been named chairman of the board as Mary A. Laschinger, current Chairman and CEO, retires from the organization. Both appointments are effective Sept. 30, 2020. Abbate joined Veritiv in April 2018 as the senior vice president and chief commercial officer responsible for enterprise strategy and category management. Macadam joined Veritiv's board of directors in February 2020 after serving as president and chief executive officer of EnPro Industries, Inc. from April 2008 to July 2019.
Ellis Joins ESI's Sales Team from West Coast
ESI Group USA, a nationally accredited design-build engineering and construction management firm welcomes Maxine Ellis as their west coast regional manager. Maxine, is a seasoned business development professional and skilled relationship builder who possesses over 30 years of sales and sales management experience. With the addition of Maxine's office in Tracy, California to the existing office in Vancouver, Washington, ESI can continue to share its trusted design-build expertise to this growing area of the country.
Companies in this article