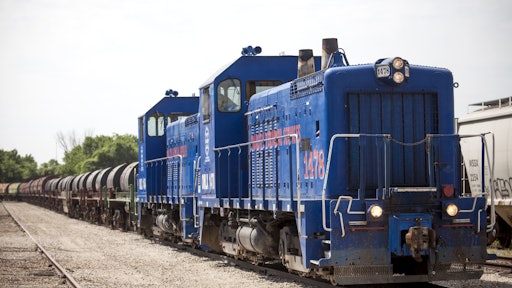 Not everyone is upset or suffering because of trucking's driver shortage and capacity issues—for railroads, it's an opportunity. 
"In 2018 we saw the perfect storm—driver shortage, tighter regulations, economic demand," says Glenn Riggs, senior vice president, corporate strategy at Odyssey Logistics. "With that, people are more willing to go intermodal. Every year for the last several, adoption has been going up. Last year it was up 3.9 percent over the previous year. This year, it's up 6 percent through September, the best nine months on record according to the Association of American Railroads." 
In the past, Riggs says, shippers viewed intermodal as an elective option, but the drawback was that lead times were longer and, because there is more impact and G forces acting on the cargo, it took more locking and bracing than trucks to keep the cargo secure. 
"That was detrimental to wide adoptions, but if, for example, you have a shipment from Ohio to California, and the truck costs $4,000 but intermodal $2,500, it's worth the issues." And, he adds, "If it takes two weeks to get a truck, and you can get intermodal in two days, even though it takes longer (to reach the destination), you're still ahead of the game." 
For railroads, expanded intermodal services can also be a revenue producer. Coal was once the No. 1 commodity on railroads, says Riggs. But with the shift to cleaner fuel and natural gas, railroads have lost revenue, so they're looking at intermodal favorably. 
"They see it as the growth to offset the loss and will continue as a growth opportunity," he says. 
Fuel costs, of course, have been volatile for years. Intermodal aficionados have less to worry about. The Association of American Railroads (AAR) says that, on average, U.S. freight railroads can move one ton of freight 479 miles per gallon of fuel. Additionally, moving freight by rail instead of truck lowers greenhouse gas emissions by 75 percent, the AAR says. 
Precision Railroading
Shippers need to move their goods faster than rail has been known for in the past, says Peter Touesnard, chief commercial officer at OmniTRAX, and the key to doing so is increasing efficiency. 
"I think the focus on the rail industry is more efficiency," he says. "It requires us to be more consistent as well as [being faster]. If goods are being moved from the West Coast to New England, and [the shipper] knows that the transit time is seven days, they can game plan to when the customer can expect those goods." 
One popular model is precision railroading system developed by the late executive Hunter Harrison at Canadian National Railroad and later Canadian Pacific. Harrison converted the railroads from a "hub-and-spoke system" where railcars would arrive, then car-by-car, formed into new trains. That often would be repeated en route to the final station. Instead of waiting for a full trainload, the train would leave at a specific time on a specific route, much the way commercial airplanes will leave on schedule, whether every seat is filled or not.  
"The efficiency comes with focusing on distance to destination and moving quicker," explains Touesnard. "Eliminate stops in a yard and move more consistently. Now Union Pacific (UP) is looking to emulate that model." 
On Oct. 1, UP launched "Unified Plan 2020," which will be rolled out in phases across its network. Its key principles include:
Shifting the focus of operations from moving trains to moving cars;
Minimizing car dwell, car classification events and locomotive power requirements;
Utilizing general-purpose trains by blending existing train services; and
Balancing train movements to improve the utilization of crews and rail assets. 
"Every Class I railroad in America is focused on it," says Touesnard. "Class I and short-line trains are becoming more focused. Trains are designed to operate for 24 hours. As one crew reaches its hours of service limit, another crew replaces it. It offers continuity, uses much less fuel and makes good average speed across the country." 
CSX Corp., a Jacksonville, Florida, transportation company that provides rail, intermodal and rail-to-truck services, recently reached a new haulage agreement with the BNSF Railway Co. to increase western access into the Ohio Valley. CSX also is enhancing its intermodal terminal about 30 miles south of Toledo, a region that serves about 30 million people. The service, which began in late October, will include an intermodal service between Los Angeles and the Northwest Ohio terminal. At the same time, CSX is expanding its existing East Coast port offerings to and from Northwest Ohio by adding service between the intermodal facility and the ports of New York and New Jersey. 
Odyssey Logistics, which specializes in transporting cold metal products on railroads, is also creating efficiencies by changing the way containers are handled. Domestic intermodal uses 53-foot containers that are the size of the trucks. However, containers that come into ports on the West Coast from Asia are in 20- and 40-foot ocean containers.
"It's regulated and you need special equipment on the train to brace it," Riggs says. 
Odyssey, through CMI Logistics, its intermodal metals transport business unit, developed a Load and Roll Pallet (LRP) that provides metal shippers maximum flexibility. Here's how it works: When an inbound truck arrives, a 52,000-pound capacity fork truck unloads the trailer and moves the material onto an LRP where it is blocked, braced and strapped in. The LRP then is moved via fork truck to the loading area where it is rolled into the container and blocked and braced. 
The Odyssey Load and Roll Pallet (LRP) permits safe, reliable and damage-free transportation of goods in closed ocean containers. Those containers are moved by consistent and regularly scheduled stack trains, offering unparalleled transit times in the intermodal marketplace

What's Next?
As with CSX, intermodal terminals are becoming more prominent. The AAR notes that many of the original rail terminals from the 19th century were converted into intermodal facilities by 1960. Today's technology, as with so many other logistics and supply chain arenas, is playing a huge role. 
"In recent years, railroads have spent billions of dollars to build and expand intermodal terminals (there are now 180 in the United States) and install modern equipment, including GPS-enabled cranes that can transfer intermodal containers between trains, trucks and ships in a matter of minutes," the AAR wrote on its website. 
Other technological advances at ports and terminals include zero-emission electric cranes, optical scanners and automated gates that allow trucks to enter rail facilities quicker, which reduces idling time and enhances security, wrote the AAR. A network of "smart tracks" outfitted with detectors provide real-time feedback on the status of the rail infrastructure and equipment.  
"Certainly a large percentage of shippers in the U.S. never used rail," says Touesnard. "That's where companies like ours are focused. If you're a shipper using trucks, we can provide lower cost from truck to railhead, rail across [the route] and to a truck on the other end. It's an education program to convert truck customers into rail/truck. It's not a slam dunk, but they will turn to rail if we give them additional services."
Barry Hochfelder is a freelance journalist who has covered a variety of industries in his career, including supply chain. He also served as the former editor of Supply and Demand Chain Executive. Hochfelder is based in Arlington Heights, Illinois.