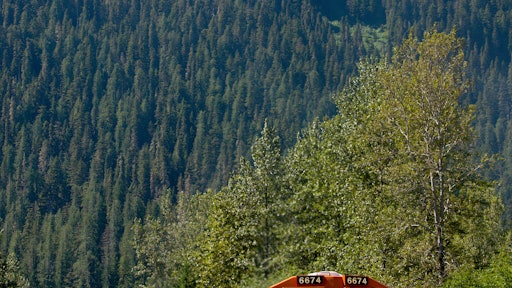 From consumer goods to automobiles and perishable products, an increasing number of shippers are finding that transporting products via North America's Class I railroads remains a cost-effective method of transport, while rail and intermodal transportation providers say they are supporting the supply chain with faster deliveries, infrastructure improvements and improved tracking capabilities. At the same time, rail and intermodal providers are seeing an uptick in demand driven by increased regulations within the trucking industry.
Paul Esposito, executive vice president of corporate affairs for Railex, a refrigerated third-party logistics provider based in Rotterdam, N.Y., says shippers today are in the position to use the best combination of modes to meet their needs.
"They can put basically anything they want to via rail so long as it allows the inventory to be handled in a boxcar manner," he says.
Rail is gaining market share from truck, Esposito adds. "The influx of intermodal and intermodal containers is making the conversion from truck to rail happen easier," he notes, explain that low diesel prices have slowed the move to rail, but he expects it to come back when fuel rates equalize.
Elizabeth Hill, general director for temperature-controlled intermodal at BNSF, says the pressures facing the trucking industry as a result of regulatory activity, such as the mandate requiring electronic logging devices, will continue to grow, creating more opportunities for the rails. The railroads are capitalizing on the market opportunities by investing in infrastructure.
Investments Aim to Keep Rail Competitive
The Association of American Railroads (AAR) states that the U.S. freight railroad system invests $26 billion annually in its network. "While perhaps out of sight and out of mind to many Americans, U.S. freight railroads play an integral role in supporting the health of the nation's infrastructure," said Edward Hamberger, chief executive officer of the AAR.
In 2014 and 2015 BNSF made an $11 billion network investment, adding more than 200 miles of double-track, 875 miles of Centralized Traffic Control to help manage rail traffic, 18 new sidings and 25 extended sidings. BNSF has also made a $3.5 billion investment on its Northern Corridor route.
BNSF is also completing a new bridge and secondary track in New Mexico, which means that all but four miles of the approximately 2,200-mile Southern Transcon route connecting the West Coast to major intermodal markets such as Chicago, Dallas/Fort Worth and Kansas City, will be double tracked this year.
Port Panama City in Florida is slated to double its throughput capacity with the development of a new rail-serviced forest products terminal. The port has acquired a 41-acre waterfront tract from WestRock Co. for the terminal, which will include a 250,000-square-foot warehouse for woodpulp, linerboard and related goods, a 48-car-capacity rail yard, a refurbished 38-foot-draft berthing area and a 10-acre laydown area.
Genesee & Wyoming Inc.'s Bay Line Railroad, which interchanges with CSX and Norfolk Southern Railway, will service Port Panama City. Wayne Stubbs, the port's executive director, says the terminal will position the port to handle sustained volume growth well into the future.
"Exports of paper and wood pellets helped propel the port to a record year in 2015, with more than 2 million tons of cargo moving across our docks," he says.
Florida East Coast Railway, based in Miami, has worked closely with PortMiami in Florida to reintroduce on-port rail service. PortMiami has partnered with the railroad, the U.S. Department of Transportation and the state of Florida to invest nearly $50 million to connect the port with the railroad's Hialeah intermodal yard and the national rail system.
Establishing on-dock intermodal rail service has opened new markets for the port and FECR, allowing containers at PortMiami to load directly onto awaiting trains, with FECR delivering truck-like service in certain markets.
"FECR currently moves around 45,000 containers annually at PortMiami and has the available capacity to handle up to 225,000 boxes yearly," notes Jim Hertwig, FECR CEO.
FECR offers delivery within the Southeast U.S. in two days. "Beyond Florida we connect to 70 percent of the U.S. population within four days via steel wheel interchange with two Class I railroads in Jacksonville," says Adam Bridges, senior vice president of strategic planning and marketing for Florida East Coast Railway.
Charles Penrow III, manager of U.S. logistics and U.S. DOT compliance at McCain Foods USA Inc., said the speed and on-time performance of the railroads has increased over the past year as coal and oil shipments have decreased.
"It is not necessarily that they're performing better. It is that they have less congestion," he explains.
AAR reports that coal shipments were down 29.6 percent in May 2016 compared to May 2015. Other commodities seeing decreases were petroleum and petroleum product loads, which were down 20.3 percent year-over-year for May, and metallic ores were down 12.9 percent over the same period last year.
However, in May half of the 20 carload commodity categories tracked by AAR posted gains compared with May 2015, including crushed stone, gravel and sand and chemicals.
Herman Haksteen, CEO of Cryo-Trans, says a large portion of the transportation industry is interested in boxcar rail, which he says is the most efficient way to move goods across the country.
"You have a lot of things that people think is from the past, but the past has been making a pretty strong comeback and it is surprising how many large companies have rail in the supply chain," he says.
One rail car can hold 3.5 truckloads, Penrow says. "Typically we're in a good range when it comes to rail being much more competitive for us," he says, adding that rail allows shippers to avoid hours-of-service regulations the trucking industry faces. "The downside is you can't ship rail to every place."
CN said constant innovation has been a key driver for the company and that it is constantly working with customers and stakeholders to build new products and services to drive more value, says Mark Hallman, a spokesman for CN, based in Montreal, Quebec.
As part of their overall improvements, railroads have been focusing on ways to speed transit times, which can help draw certain commodities to the rail, McCain Foods' Penrow says.
For example, Union Pacific has created a direct food train that originates in either California or Idaho and heads east, shaving days off of transit times. "I think the rails are getting smarter in looking at those opportunities," he remarks.
BNSF's Expedited Intermodal Service averages a transit speed of approximately 800 miles per day.
"Our speed and consistently is especially critical to our fresh food customers who rely on us to help them extend the shelf life of their products," says BNSF's Hill.
BNSF offers the only expedited service to and from Seattle and also offers expedited service to and from Chicago and St. Paul, Minn. to the Pacific Northwest, Hill says. The railroad has also introduced RailPASS, a mobile app designed to create an efficient and expedited gate experience for truck drivers moving loads in and out of BNSF hubs.
Nonetheless, McCain Foods' Penrow says there are some complexities that occur when shipping via rail.
"There are seven Class I railroads, so if you have stuff moving across different regions, you're going to hit one if not more," he points out, adding that the shipper can either negotiate rates with each railroad independently or pays one railroad to get rates to another railroad.
"Customer service can be an area of concern because you have to determine who you deal with and the root cause of an issue."
Companies in this article