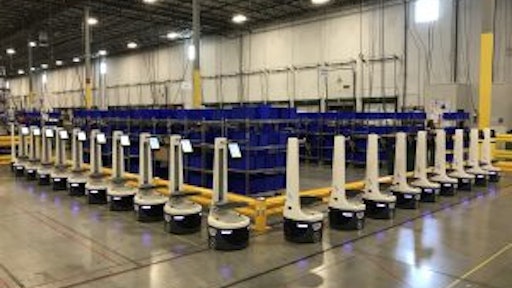 Locus Robotics
CEVA Logistics is looking to expedite the online fulfillment process for its clients by deploying autonomous robots in its Netherlands location.
Locus Robotics, autonomous mobile robots (AMR) manufacturer for fulfillment warehouses, announced the addition of a new international client CEVA Logistics (CEVA), an asset-light based supply chain management companies.
CEVA has deployed autonomous mobile robots from Locus at its Roosendaal, Netherlands location to handle online order fulfillment for their retail partner selling household and consumer goods.
"At CEVA we are committed to innovation for our business and our people," said Bart Beeks, managing director of North Europe, CEVA. "The addition of Locus to our operation is helping us to quickly achieve that vision."
Since launching the Locus solution in January 2020, CEVA is already closing in on 1-million-units-picked. Locus has helped to increase worker productivity and improve the overall workplace quality, and underscoring CEVA's vision as an industry innovator.
"Locus Robotics is proud to welcome CEVA Logistics as a new customer, supporting the company's warehouse operations in the Netherlands" said Rick Faulk, Chief Executive Officer, Locus Robotics. "Our purpose-built robotics solution seamlessly addresses the needs of CEVA's high-growth, high-volume warehouse; and has already led to significant productivity gains and increases in fulfillment accuracy. We look forward to continuing to work with them to drive operational efficiencies."