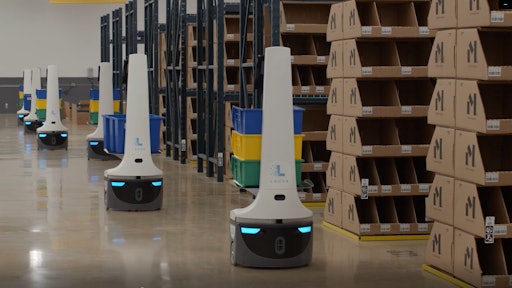 Locus Robotics announced they have crossed the 100 million units picked milestone. Locus is the first company to reach this mark in the warehouse AMR industry's history.
"We are excited to have reached this significant milestone – one that showcases the tremendous impact that our revolutionary, multi-bot fulfillment solution is having on productivity and throughput for our customers worldwide," said Rick Faulk, CEO, Locus Robotics. "This marks a significant moment in the industry. We continue to see tremendous year on year growth, and we look forward to continuing this momentum in 2020 and beyond."
The record-breaking 100 millionth pick took place at the DHL Supply Chain fulfillment facility in Hanover, PA, at 5:38 AM ET on Tuesday, February 4th.
"LocusBots have been a great addition to our family," said Eric Stipp, General Manager, DHL Hanover. "They're not only helpful in sharing the workload and ensuring that the team is exceeding pick numbers, but they're also fun to work with."
Worldwide e-commerce sales topped $3.5 trillion in 2019 and are expected to nearly double by 2023 to more than $6.5 billion (Statistica). Locus's collaborative robots drive productivity to ensure that retail companies and third-party logistics (3PL) providers can keep up with consumer demand and meet fulfillment goals in today's booming retail landscape, despite the widespread scarcity of warehouse labor. Customers, including DHL, GEODIS, Port Logistics, Verst Logistics, SANDOW, Marleylilly, and Radial, are consistently achieving 2X to 3X improvements in productivity when deploying the Locus solution.