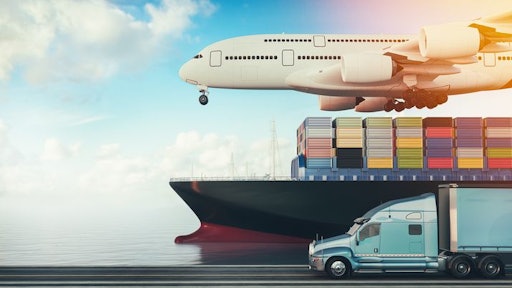 With 2018 drawing to a close, business leaders are looking ahead to 2019, and warily eyeing a mixed bag of bullish and bearish outlooks on the 2019 transportation market. While no one can predict exactly what the market will do next, one thing is certain: in C-suites, transportation and logistics has come to be viewed as a core competency -- and potentially a decisive strategic advantage -- rather than merely an expense.
A confluence of factors is driving this evolution:
Both B2B & B2C buying behavior and delivery demands have changed, with consumers and therefore consignees, demanding ever-faster, cheaper and increasingly visible shipping solutions.
As e-commerce sales continue to grow, the transportation industry is witnessing a shift from the once-typical cadence of full truckload shipments to warehouses, distributions centers and retail stores to an increased tempo of smaller, more frequent LTL shipments, which requires enhanced agility to successfully execute. In addition to the increased tempo, the complexity of what is being shipped is increasing.
Major brick and mortar retailers have introduced increasingly stringent and punitive compliance programs which can result in costly fines for shippers. These noncompliance fines can easily erase any "savings" a shipper may have expected from selecting a lower-cost carrier option.
While capacity constraints have eased slightly in recent months, there remains an imbalance of truckload supply and demand, driving rising transportation costs across all modes and highlighting the imperative to become a "shipper of choice." As a result, transportation costs are rising across all modes.
Speed, accuracy, flexibility and the ability to manage rising costs that threaten to swamp profits are the hallmarks of today's successful shippers. How do they do it? Answer: many shippers are increasingly turning to 3PLs for help. Here are some of the services that leading 3PLs can offer.
Advanced Transportation Management System (TMS) technology that:
Integrates all business systems
Captures data for business intelligence and strategic decision-making, including understanding true cost to serve
Provides real-time shipment visibility, through Macropoint, Fourkites or a similarly ELD-integrated technology
Includes enterprise-level functionality that was once only available to the largest shippers, configurable business process management, business rules engines, cloud integration and predictive analytics.
Access to a high-quality carrier network:
Unlike asset-based providers, 3PLs have virtually unlimited access to truckload capacity. This breadth of capacity options provides flexibility and allows shippers to find the optimal balance of price and service to fit their strategic needs.

3PLs' close relationships with carriers create new opportunities for shippers to deploy drop trailer programs,

in which full trailers are "dropped" at the receiver's dock, with the driver picking up an empty trailer and departing to pick up another load. Also, by avoiding potentially excessive load and unload times, the freight will be more attractive to carriers. Drop trailer programs also greatly reduce the incidence of missed delivery appointments- and the resulting fines.

In a volatile market, 3PLs that provide dedicated capacity options can be just the ticket. Dedicated capacity programs match trusted carriers to the appropriate freight and lanes with negotiated rates that are "locked in." This delivers competitive rates, insulation from market volatility, high-performance service, and capacity when and where it is needed.
Holistic, multi-modal solutions:
Today's dynamic transportation market requires shippers to be more flexible and nimble. 3PLs with comprehensive multi-modal service offerings can seamlessly handle freight ranging from a 50 lbs. small parcel to a 500,000 lbs. piece of heavy equipment- and everything in between- with the added ability of optimizing modes to ensure the right balance of cost and service. In addition, multi-modal expertise allows for the introduction of consolidation, multi-stop truckload and pool pointing solutions to drive further cost savings and efficiency gains.
Continuous Improvement Process:
Shippers can't afford to "set it and forget it"- optimizing your transportation and logistics requires constant vigilance. Seek out a 3PL with an established continuous improvement process to ensure you are staying on track and taking advantage of every opportunity to reduce total landed costs and create efficiencies.
People & expertise:
Your business needs and deserves dedicated resources to stay on top. A 3PL with a cultural focus on hiring, training, rewarding and retaining top talent is best positioned to provide you with experienced professionals that can focus on the day to day hassles of your transportation and free you and other resources to focus on strategic imperatives of your business.
Now more than ever, supply chain efficiency can make or break a company's success. By working in tandem with a knowledgeable 3PL, shippers can tackle changes to the marketplace and continue to compete, grow and thrive.